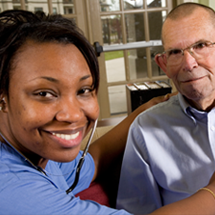 By Ed Dudensing
The increasing corporatization of skilled nursing facilities is a root cause of the hidden na­tional scandal of elder abuse.
Who owns nursing homes? The answer often depends upon who is asking. If a family caregiver is being shown around a leafy facility with the intention of shelling out thousands of dol­lars each month for their older loved one to reside there, corporate owners spare no expense in flaunting untrammeled devotion to their residents' comfort, health and well-being. If, like me, you're an elder abuse attorney with questions about a fatal abdication of care, the red carpet is rolled back up, the owners recede into the shadows and the facility claims to be barely keeping its head above water.
Eldercare facilities being gobbled up by private equity is nothing new. Proprietary chains have been owning and operating nursing homes since at least the 1960s, and the corporatized model of eldercare has been dominant for 40 years. A 1986 paper showed that more than 75 percent of nursing homes nationwide were owned by for-profit interests, a trend that has continued unabated.
But big money and remote management have not translated into greater accountability or high­er standards of care. Quite the opposite.
Nursing Homes and the Hazards of Corporatization
In 2007, The New York Times ran an investigative piece about the way private equity firms divided own­ership of nursing home chains into multiple companies, shielding themselves from lawsuits and regula­tory oversight. The investigation gathered government data on thousands of nursing homes across the country that were acquired by Wall Street investment companies such as the Carlyle Group, whose other assets include fast-food chains and electronics retailers. Unsurprisingly, standards of care did not improve under Dunkin' Donuts' ownership.
According to the Times article, residents at those nursing homes subject to mergers and acquisi­tions by private equity were worse off (according to various regulatory metrics) than they had been under the previous owners. The facilities at the center of this ruthless enterprise saw costs slashed and profits raised, before being quickly sold at significant markups to other cabals of faceless in­vestors.
Rinse, repeat
Treating the acquisition of nursing facilities like real estate flipping has had dire consequences for residents who have been passed from corporation to corporation. And, as Times reporter Charles Duhigg pointed out, the decline in care is mirrored by a stark lack of accountability and transparency: "The Byzantine structures established at homes owned by private investment firms … make it harder for regulators to know if one company is responsible for multiple centers. And the structures help managers bypass rules that require them to report when they, in effect, pay them­selves from programs like Medicare and Medicaid.
"By contrast, publicly owned nursing home chains are essentially required to disclose who controls their facilities in securities filings and other regulatory documents."
Public outrage over the Times article led to congressional hearings in the pursuit of more account­ability and transparency legislation, slated for implementation under the Affordable Care Act (ACA); however, the ACA's rules and regulations from 2011 merely kicked the can down the road, announcing that "the proposed provisions regarding the ownership disclosure requirements … will be finalized at a later date," while requesting comments from the public.
Toothless regulation has only encouraged more private equity firms to hitch their investments to the gravy train. Real Estate Investment Trusts (REITs) are gleefully snapping up dozens of skilled nursing facilities at a time. In 2018, the ominously named Locust Point Capital announced a $312 million fund for the sole purpose of acquiring senior care facilities. A month later, Funda­mental Advisors LP set their sights on acquiring a billion dollars worth of assets as part of a joint venture with Senior Care Development (SCD).
SCD's website proudly states that "there is a natural progression from developing the full con­tinuum of senior care facilities to acquiring and investing in them. SCD has done so selectively and successfully—often against prevailing industry opinion—while maintaining vigilance toward turn­around opportunities. We know how to interpret the underlying issues, jump on before the band­wagon rolls, and step off before it pulls up short."
Without stopping even to pay basic lip service to the notion of resident care, they go on to list some of the facilities brazenly described as "bandwagons," including 175 nursing homes in 19 states, purchased "under the financial pressure of an overheated insurance liability environment … at depressed values" and sold a few years later for $1.4 billion—double what SCD paid. The coup de grâce, they cheerfully boast, was the separation of "ownership of the real estate from the operating company," which allowed them to "contain patient liability and restore profitability—creating nothing less than a paradigm shift in the nursing home industry."
They're right about one thing. There has been a paradigm shift in the nursing home industry—the well-being of residents is now completely irrelevant to those responsible for providing it. Own­ers brag about raking in millions of dollars, then hide behind a web of corporate obfuscation when challenged about fatal lapses in care.
Tighter Regulation—Can It Drive Better Care?
Little has changed in the decade since The New York Times published its investigation. A 2016 study from Harvard Medical School showed that nursing homes frequently bought and sold by corporate chains tend to provide a lower standard of care. The transparency and accountability pledges laid out in the ACA have been shelved, and elder abuse is on the rise.
Labyrinthine corporate structures are not just shielding those responsible for criminal negligence, they are actively rewarding them for it.
Until regulations are tightened to ensure nursing facilities are run more like care centers and less like fast-food chains, the only recourse for victims of abuse and neglect is to pursue justice through litigation—an option not financially feasible for everyone. It is the duty of public policy makers to transform the industry by ensuring that federal and state certifications are awarded only to management companies that provide high standards of care to their residents. 
The eldercare industrial complex cannot be allowed free reign to maximize profits by dint of a callous disregard for the dignity and well-being of our most vulnerable citizens.
Ed Dudensing is a former deputy district attorney for California's Sacramento County and a cham­pion for elder rights. He represents victims of elder abuse in nursing homes and in assisted living fa­cilities; dudensinglaw.com/.