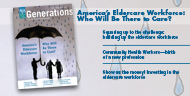 By Steven L. Dawson and Christopher A. Langston
Knowing is not enough; we must apply. Willing is not enough; we must do." With this quote from Johann Wolfgang von Goethe emblazoned above its imprint, the Institute of Medicine (IOM) in 2008 published the groundbreaking Retooling for an Aging America (IOM, 2008). Acknowledging the "impending crisis" of eldercare services in America, the IOM's report was remarkable in calling not simply for additional research, but—true to Goethe's words—also for immediate action toward fundamental reform.
Eight years have passed since Retooling's call for action; eight years spent watching the Baby Boom Generation begin its inevitable march out of the workforce and into retirement; eight precious years of conferences held, research papers written, additional commissions empaneled and "innovation" grants fielded. Yet in examining the many unfulfilled recommendations of the IOM's Retooling report, it is painfully clear that the arc of eldercare workforce reform is failing wholly to keep pace with the arc of eldercare service demand.
The IOM report was particularly striking in its call not only for mainstream reforms, such as increasing the number and competence of geriatric specialists in all health professions, but also for fully embracing both direct care workers and family caregivers as central members of the caregiving team. Below are several of the IOM report's unflinching recommendations:
Recommendation 1–1: Congress should require an annual report from the Bureau of Health Professions to monitor the progress made in addressing the crisis in supply of a healthcare workforce for older adults.
Recommendation 4–2: All licensure, certification, and maintenance of certification for healthcare professionals should include demonstration of competence in the care of older adults as a criterion.
Recommendation 4–3a: All payers should include a specific enhancement of reimbursement for clinical services delivered to older adults by practitioners with a certification of special expertise in geriatrics.
Recommendation 5–1: States and the federal government should increase minimum training standards for all direct care workers. Federal requirements for the minimum training of certified nursing assistants (CNA) and home health aides should be raised to at least 120 hours, and should include demonstration of competence in the care of older adults as a criterion for certification. States also should establish minimum training requirements for personal care aides.
Recommendation 6–2: Public, private, and community organizations should provide funding and ensure that adequate training opportunities are available in the community for informal caregivers.
Yet in the intervening eight years, these and most all the other IOM recommendations have largely been ignored. Failing to heed Goethe's admonition, we now have knowledge, perhaps even willingness—but very little action.
The ACA's Limited Impact 
The IOM report was issued in April 2008, well in advance of the December 2009 passage of the U.S. Senate's Affordable Care Act (ACA) legislation. However, only a few ACA provisions addressed Retooling's recommendations, and fewer still were subsequently authorized and appropriated. Federal funding for health professions training has thus changed little in the last eight years, as documented by Rani Snyder and Nancy Lundebjerg in this issue of Generations.
For example, while $200 million was provided in the ACA for generalist graduate education of nurse practitioners (including nurse midwives), the $10 million Geriatric Career Incentive Awards provision, created under section 5305e for faculty outside medicine, was never appropriated (American Association of Colleges of Nursing, 2010). And while the Geriatric Academic Career Award program was liberalized to include non-physician awardees, it was done so without expanding the number of potential awardees. Thus, in the single round of competition held since, only one non-physician has won an award (Health Resources and Services Administration, 2016).
Therefore, it is not surprising that the ACA's direct impact on the eldercare workforce has been minimal. Grants under the Personal and Home Care Aide State Training (PHCAST) program have run their course with only modest impact at the state levels, and the final report on PHCAST by the federal Health Resources and Services Administration is long overdue. New workforce development mechanisms, such as section 5101's National Health Care Workforce Commission, were never funded at all.
Finally, within the ACA's $10 billion Center for Medicare and Medicaid Innovation (CMMI), an encouraging focus on workforce issues in CMMI's first round of Innovation Challenge Grants eventually devolved into a mere count of the staff to be employed on the specific grants; in the CMMI second round of Innovation Challenge Grants, the focus on workforce issues was abandoned altogether (CMMI, 2014).
Workforce Cannot Bear the Weight of Reform
More broadly, as innumerable healthcare delivery reform efforts have attempted to address the complex and high-cost needs of older adults, such efforts have again and again been frustrated by a lack of staff with the skills and attitudes required to bear the weight of those reforms. Instead, public policymakers continue to ask our nation's healthcare workforce to focus primarily on mastering dramatic curative interventions—still the hallmark of U.S. healthcare—rather than on the daily ministrations of support, autonomy, palliation, and self-directed care for those who are living their final years.
Outside of government, professions also have been slow to act. With the exception of increased geriatric competency standards required by the now integrated Adult-Gerontological Advanced Practice Registered Nurse model—created by the termination of the stand-alone Geriatric Nurse Practitioner—standards have not changed for internal medicine, family medicine, social work, pharmacy, or other fields as suggested in the IOM's Recommendation 4−2.
Given the demand for better care, better health, and lower cost, we can no longer expect to address our chronic-care challenges with an acute-care-minded workforce. Unfortunately, this shift is far more radical than policy makers and our professions seem to comprehend: it demands a fundamental redesign of our nation's eldercare workforce—new roles, wider scopes of practice, truly interdisciplinary team structures that, in turn, require entirely different systems of skills training and deployment.
Undeniably, the pace of reform nationwide is too slow and too grudging. As Abby Marquand and Amy York document in our lead article, eldercare demand is mounting far faster than competent caregiver supply.
Thus it was with hesitation that we initially responded to the invitation from the Generations Editorial Advisory Board to co–guest edit this special issue on the eldercare workforce. We did not wish to oversee a publication that articulated in precise detail the overwhelming scale of the demographic challenge, while offering as solutions only aspirational goals and best-practice demonstration projects. We did not want to reinforce the false assumption that what is fundamentally a social and political problem—our nation's collective unwillingness to accept the inevitability of aging, parallel to our unwillingness to accept the inevitability of climate disruption—can somehow be solved with technical rearrangements at the margins of payment and service delivery "innovations."
In This Issue of Generations
Fortunately, the Generations Editorial Advisory Board agreed to let us assemble a brace of authors willing to confront both the political as well as technical realities of eldercare. You will find in this issue authors who acknowledge that the current trajectory of change is insufficient, and who also are willing to question the true effectiveness of many currently heralded "solutions"—from care coordination, to culture change, to online training. They explore in this issue the role of organized labor in the future of eldercare, as well as the impact—both positive and negative—of an increasing reliance on technology. They examine the continuing deleterious constraints on scopes of practice, and the realities of importing professional workers into the United States from poorer, developing countries.
And, of course, not all is bleak. The intervening eight years also have seen hard-fought progress achieved in many corners of our nation's gargantuan healthcare system. This issue of Generations includes a variety of promising practice-based initiatives that are proving to strengthen eldercare services, from the increasing importance of community health workers as described by Manmeet Kaur, to interdisciplinary team designs as described by Terry Fulmer, to empowering uses of technology as described by Leslie Kernisan.
A Call to Greater Urgency
Our intent for this issue of Generations is to ignite greater urgency—not simply to know, but to act. Our hope is that those who design new systems of eldercare finance and service delivery will no longer presume that a competent and caring workforce will just show up when called upon—no matter the level of compensation, no matter the absence of training.
Instead, we call within this publication for new finance and delivery system designs to start with the eldercare workforce, rather than to presume it. We call for those designing new systems of eldercare to always ask, "Who will provide this service? How many will be needed? What new roles must they assume? What new skills must they require? How will they be trained? Supported? Compensated?" We call for systems that are designed from the very beginning around the core, central relationship between the elder and the caregiver.
Yet finally, we acknowledge that genuine systems redesign is too fundamental a change to contemplate within the current political environment. And by that we do not mean only the seemingly endless two-party deadlock within our federal and state governments. We mean in addition the broader political discourse, even among ourselves and our eldercare professions, that fails to concede how wholly inadequate is the current trajectory of reform, given the inexorable demographics of so many elders needing care, and so few workers able and willing to provide that care.
Therefore, this issue is written for you. Until our professions and organizations raise the eldercare workforce to a far higher level of priority—equal to medical research, equal to consumer rights, equal to finance reform—then in the coming decade, all of those very same, central eldercare priorities will in turn be undermined. A first step would be a clear message from the leaders of our major eldercare institutions (consumer, provider, professional, labor, and insurer) that they are willing to reach out to each other across their organizational divides. That they are willing to begin the politically difficult, yet essential, task of reordering their organizational priorities to acknowledge the centrality of those who each day provide essential, hands-on care to our loved ones.
Yet, willing is not enough. We must do.
Inside this Issue of Generations
The Current State of America's Eldercare Workforce
Squaring to the Challenge: Who Will Be Tomorrow's Caregivers?
By Abby Marquand and Amy York
read on AgeBlog
The Mission, Work, and Advocacy of the Eldercare Workforce Alliance
By Jessica Nagro and Michèle J. Saunders
read on AgeBlog
America's Eldercare Service Availability Faces Mounting Economic Issues
By Marilyn Moon
The Essential Components of Quality Geriatric Care
By Gregg A. Warshaw and Elizabeth J. Bragg
The Direct Care Workforce—Raising the Floor of Job Quality
By Steven L. Dawson
read on AgeBlog
Training and Deploying an Effective Eldercare Workforce
The Right Person at the Right Time: Ensuring Person-Centered Care
By Heather M. Young and Elena O. Siegel
Community Health Workers—Birth of a New Profession
By Manmeet Kaur
Effective Interdisciplinary Teams: Do We Really Know How to Build Them?
By Terry Fulmer
Online Training—Can It Prepare an Eldercare Workforce?
By Laura N. Gitlin and Nancy Hodgson
read on AgeBlog
Life on the Homecare Front
By David Rolf
The SEIU Healthcare NW Training Partnership in Washington State
By Steven L. Dawson
Promises and Pitfalls: Technology and the Future of Delivering Eldercare
By Leslie Kernisan
Growing and Developing the Eldercare Workforce
The Migrant Direct Care Workforce: An International Perspective
By Robyn I. Stone
The Role of the Nurse in Person-Directed Care
By Christine Mueller, Susan Misiorski, and Anna Ortigara
Show Us the Money: Investments That Support the Eldercare Workforce
By Rani Snyder and Nancy E. Lundebjerg
read on AgeBlog
The Geriatrics Workforce Enhancement Program: A Major Eldercare Initiative
By Jan Busby-Whitehead, Ellen Flaherty, and Jane Potter
---
Steven L. Dawson was founding president of PHI in the South Bronx, New York City, and currently consults nationally to foundations and workforce programs. In March 2016, he was appointed Visiting Fellow at The Pinkerton Foundation to author a series of opinion briefs on low-wage job-quality issues. Christopher A. Langston, former program director of The John A. Hartford Foundation, writes and blogs at TheBrassCannon.org.
Editor's Note: This article is taken from the Spring 2016 issue of ASA's quarterly journal, Generations, an issue devoted to the topic "America's Eldercare Workforce: Who Will be There to Care?." ASA members receive Generations as a membership benefit; non-members may purchase subscriptions or single copies of issues at our online store. Full digital access to current and back issues of Generations is also available to ASA members and Generations subscribers at Ingenta Connect. For details, click here.
---
References
American Association of Colleges of Nursing. 2010. Patient Protection and Affordable Care Act, Public Law No: 111–148, Nursing Education and Practice Provisions. Washington, DC: American Association of Colleges of Nursing. Retrieved January 29, 2016.
The Center for Medicare and Medicaid Innovation (CMMI). 2014. Health Care Innovation Awards Round Two Project Profiles. Baltimore, MD: Center for Medicare and Medicaid Innovation. Retrieved January 29, 2016.
Health Resources and Services Administration. 2016. "2015 Geriatric Workforce Enhancement Program Awards." Retrieved January 29, 2016.
Institute of Medicine. 2008. Retooling for an Aging America: Building the Health Care Workforce. Washington,DC: The National Academies Press.