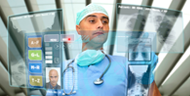 By David Lindeman
The capacity of the U.S. healthcare system is increasingly being tested by the demands of a growing aging and disabled population. Emerging technologies are positioned to play a critical role in addressing the challenges of the disproportionate level of chronic illness among elders, projected shortages in the long-term care workforce, the increasing costs of healthcare and demands on family caregivers. Technology offers the means for healthcare providers to improve the health and well-being of older adults in a more efficient and effective manner.
Historically, technology has contributed to improving the health of older adults through diagnostics, communications, imaging and health informatics. Now advances in how technology is used are reframing how healthcare will be delivered; how older adults, family caregivers, and service providers communicate; how the healthcare workforce is trained; and how older adults obtain access to care and services. These new technologies will not only improve the quality of care for older adults, but also will enhance quality of life, and contribute to their independence.
Several technologies are likely to have a particularly profound impact: health information technology (HIT), remote monitoring and telehealth, technologies for aging safely in place, mobile health technologies and workforce-training technologies, among others.
The rapid growth of HIT (led by the Office of the National Coordinator for Health Information Technology) is bringing about the robust adoption of electronic health records (EHRs), eliminating paper-based systems that contribute to missed diagnoses and medical errors. EHRs improve the accuracy of healthcare data and the ability to apply data analytics to improve patient care. As we move closer to nearly universal application of EHRs, older adults, who comprise a disproportionate share of the chronic care population, will quickly benefit from this explosion of timely and accurate data.
Remote monitoring and telehealth are also helping to remove physical limitations to delivering healthcare, while improving access. In an era of healthcare funding shortages, remote monitoring and other telehealth technologies have significant potential to decrease costs.
A study by the New England Healthcare Institute (NEHI) looked at the use of remote patient monitoring (RPM) for persons with heart failure. In an update from that study that began in 2004, RPM use resulted in a 60 percent reduction in hospital readmissions when compared to disease management and standard care protocols. NEHI determined that RPM could prevent between 460,000 and 627,000 heart failure–related hospital readmissions each year, with an estimated annual cost savings of up to $6.4 billion dollars.
Emerging technologies will play an increasing role in supporting older adults' preference to remain at home for as long as possible, too. Technologies that prolong elders' ability to live independently in their homes and communities include patient-safety monitoring technologies (e.g., fall detection and prevention, location-tracking), assistive devices, and modifications in the home or residential environment. These technologies help reduce in-home accidents, a major source of disability and death for older adults. Falls are the leading cause of injury in adults older than 65, and more than a third of this population falls each year in the United States. Advanced technologies for monitoring movements of older individuals are increasingly helping to identify those most likely to fall or those who have fallen, allowing for increased prevention and more timely assistance.
The rapid increase in mobile health (mHealth) platforms and mobile health apps not only allows for accurate, time-sensitive information to be transmitted among providers and between older adults and providers, but it offers opportunities for patients to manage their own healthcare. These tools can remind older adults to take medications on schedule or to transmit healthcare information to a medical office. And, the widespread adoption of smart phones and tablets by healthcare professionals is dramatically speeding up diagnosis and care decisions for older adults.
Over the coming decade, technology will be a transformative agent for both older adults and the healthcare workforce that supports them. However, advancing the use of these technologies equitably throughout the population will be a challenge.
Many older adults living with chronic illnesses do not have access to technology. And provider access to emerging technologies is extremely variable, particularly among para-professionals. Realizing the full potential of these technologies and their ability to change where and how care is provided to older adults will require continued public- and private-sector support for new payment and reimbursement methodologies, state and federal healthcare policy reform, and advocacy from provider, consumer and healthcare technology organizations.
---
David Lindeman, Ph.D., is the Director of the Center for Technology and Aging and Co-Director of the Center for Innovation and Technology in Public Health, at the Public Health Institute in Oakland, Calif.  
This article was brought to you by the editorial boards of ASA's Healthcare & Aging Network (HAN) and the Network on Environments, Services & Technology for Maximizing Independence (NEST).