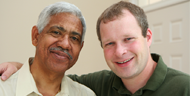 By Cal J. Halvorsen and Jim Emerman
The tens of millions of baby boomers and older adults in and nearing retirement are often portrayed as a drain on national and community resources. Securing the health and financial well-being of an aging population is pitted against other pressing priorities, notably against the needs of younger generations—children living in poverty, school districts struggling to remain financially solvent, or youth facing an endless future of under-employment and unemployment. How are we to care for older people when we need to create a better future for our children?
Rather than looking at the aging of our population through the lens of an age dependency ratio, in which fewer and fewer younger workers support more and more retirees, why not consider an "age abundancy ratio," in which baby boomers and older adults, armed with a lifetime of experience, are engaged to solve some of society's most pressing social problems—and while they're at it, continue to contribute to the tax base.
Already, throughout the United States, millions of people past midlife are making a difference in their communities through volunteering and careers geared toward the greater good—encore careers. But millions more must be activated to tap into this hidden resource. Doing so will help us build livable, safe, healthy, and welcoming cities and neighborhoods for people of all ages, for generations to come.
Age-Friendly Communities: The Next Frontier
In 2006, the World Health Organization (WHO) highlighted the unmet needs of older adults in cities and communities across the world. WHO noted in 2007 that for the first time, the majority of the world's population lived in cities. At the same time, the residents of these cities (for a list of cities, see WHO, 2007) were growing older, yet their communities weren't prepared to meet their needs. To help raise awareness and encourage innovation, WHO launched an initiative to foster the exchange of experiences and mutual learning about aging populations between cities and communities across the globe (WHO, 2007).
WHO outlined these eight topic areas to assess a city's age-friendliness: outdoor spaces and buildings; transportation; housing; social participation; respect and social inclusion; civic participation and employment; communication and information; and community support and health services.
To date, the major work occurring in those cities has largely ignored civic participation and employment. In the United States, people ages 65 and older make up one in seven Americans (U.S. Census Bureau, 2012), and that number only stands to grow. This large population of healthy, active baby boomers and older adults needs to be engaged to create safe, livable, and welcoming cities for other older adults and future generations.
What is more, beyond just including baby boomers and older adults (who make up nearly 15 percent of our population), we need to issue an urgent call to them to offer their talents, skills, and experiences to solve some of our largest problems—access to quality education, healthcare, and well-paying jobs, to name just a few.
They will answer the call.
Giving Back through Volunteering and Work
Part of what makes us human is the desire to give back and make a difference. Developmental psychologist Erik Erikson proposed that people at midlife undergo a major conflict between this impulse, which he called generativity, and stagnation—between contributing to the next generation or ceasing to be a productive member of society. He proposed that resolving this conflict in favor of generativity is one of the major developmental tasks of midlife (Erikson, 1959).
Erickson's theory has been tested and supported through social science research. Grant and Wade-Benzoni (2009) assert that the desire to give back to future generations comes from two motives: the desire to make lasting contributions and the desire to feel connected with others, both of which strengthen as we age. This desire is a way of striving for "symbolic immortality," according to Grant and Wade-Benzoni. Kruse and Schmitt (2012) take the research further, finding that people across cultures who are more generative are also more optimistic and satisfied with life. Our research indicates that nearly nine in ten Americans (87 percent) ages 50 and older report feeling a sense of responsibility to help those less fortunate than themselves (Participant Media and Encore.org, 2012).
Other research shows that baby boomers and older adults are finding ways to give back. A 2013 report by the Corporation for National and Community Service in Washington, D.C., found that American baby boomers and older adults have one of the highest levels of volunteerism. In 2011, 20 million people ages 55 and older gave more than three billion hours of service at a value of $67 billion. This is a ten-year high. Nearly three-quarters (72.4 percent) are volunteering informally by doing favors for and helping out neighbors.
As has become well-recognized, however, longer working lives are going to be an economic necessity for most of us. An Employee Benefit Research Institute survey found that 40 percent of American workers ages 45 to 54 have less than $10,000 saved for retirement, excluding the value of their primary residence or defined-benefit plans, and an additional 17 percent have between $10,000 and $49,999 saved for retirement. Although workers ages 55 and older have slightly higher retirement savings rates, their savings
rates aren't reassuring: Thirty-six percent of workers in that age range have less than $10,000 saved, with an additional 16 percent having saved only between $10,000 and $49,999 (Employee Benefit Research Institute, 2013).
The economic necessity of continued work, combined with generative desires, are two reasons why many Americans pursue "encore careers," changing the nature of their work past midlife not only to earn continued income but also to make a meaningful difference. Research by the national nonprofit organization, Encore.org, and the MetLife Foundation (2011a) shows that nine million Americans ages 44 to 70 already are in encore careers—working in education, healthcare, social services, nonprofits, public agencies, and even for-profit businesses that tout making a difference as a key priority. 
An additional thirty-one million Americans are interested in pursuing careers that provide a paycheck and make a meaningful difference to their communities. This is consistent with another finding: Approximately two in three people in this 44- to 70-year-old age group (64 percent) see the next stage of life as a time to keep working, with nearly equal numbers saying it is a time to use their skills and experiences to help others in paid or volunteer positions (31 percent) versus a time to cover expenses and maintain health insurance (33 percent).
Baby Boomers Build Community
Through civic engagement, volunteering, and encore careers, baby boomers and older adults are using their experience and talents to benefit local communities and causes. Following are some examples:
AARP Experience Corps: A Washington, D.C.–based nonprofit that recruits adults ages 50 and older to become tutors to improve the reading skills of children in kindergarten through third grade in underserved schools. AARP Experience Corps is established in twenty cities with nearly 2,000 volunteers who reach more than 22,000 students.
AmeriCorps: A federal program administered by the Corporation for National and Community Service, it engages more than 80,000 Americans of all ages in intensive service each year at nonprofits, schools, public agencies, and in community and faith-based groups. Although many Americans believe that AmeriCorps is only open to the young, many positions are open to people ages 55 and older and include such roles as giving in-home respite care to frail elders and disabled populations through the Legacy Corps program.
Boomers Leading Change in Health: A Denver-based initiative, it is designed to use the talents and energies of baby boomers to help guide families and people of all ages through the healthcare system. The program offers three ways for people older than age 50 to volunteer: as healthcare navigators, helping individuals and families wend their way through the healthcare system; as community health workers, promoting healthcare and connecting individuals and families to resources they need to live healthier lives; and as advocates who speak out and educate others about healthcare-related legislation or health-related issues important to community members.
Senior Corps: Another federal program administered by the Corporation for National and Community Service, it is the largest national and community service program for older adults in the country. More than 360,000 Americans, ages 55 and older, participate in programs like Foster Grandparents to mentor and tutor young children and teens; Senior Companions to provide assistance and friendship to adults who have difficulty with daily living tasks like shopping or paying bills; and RSVP, which offers diverse service opportunities at nonprofit organizations throughout the country.
Village to Village (VtV) Network: This group in Arlington, Virginia, helps to establish and continuously improve the management of local Villages, which are membership-driven, grassroots organizations run by volunteers and paid staff who coordinate access to affordable services for older adults in their communities. Services include transportation, health and wellness programs, home repair, social and education activities and trips, and discounts on goods and services. The VtV Network is a national peer-to-peer network funded by NCB Capital Impact and Beacon Hill Village, a groundbreaking Village based in Boston.
Encore Fellowships: A model piloted by Encore.org in Silicon Valley in 2009 with ten Fellows, it has spread throughout the United States with more than 200 fellows in twenty states in 2013. The model, which helps mid- to late-career professionals transition from the for-profit to the nonprofit sector by facilitating one-year, half-time fellowships in nonprofit organizations in need of a Fellow's specific talents, includes a stipend of roughly $25,000. To date, Fellows have brought their talents to education, healthcare, social services, and environmental organizations, and after the initial year, many Fellows have chosen to stay on, continuing their encore careers for years to come.
ReServe: A New York City–based nonprofit organization that recently expanded to Miami and Boston, it matches professionals ages 55 and older—called ReServists—with nonprofit organizations and public agencies in need of their expertise. Participating organizations pay $15 per hour, with $10 for each hour paid to the ReServist and $5 paid to ReServe to cover overhead.
Umbrella of the Capital District: A nonprofit organization founded in 1995 in Schenectady, New York, it has a dedicated work force of more than 100 local retirees who provide handyman work for other older adults living in the community. Community members pay a small, sliding-scale fee to join the program and are matched with workers to help them with routine repairs, homemaker service, transportation and accompaniment to appointments, and other odd jobs at $12 per hour. If services not provided by Umbrella are needed, its workers connect residents with resources from other organizations. These services help adults remain in their homes longer, preventing unnecessary institutionalization and increasing social engagement.
Can Baby Boomers Help Revive Detroit?
On July 18, 2013, the city of Detroit filed for bankruptcy, the largest such filing in U.S. history. Shifts in Detroit's manufacturing base, flight to the suburbs, and large-scale economic and political change have all contributed to a city in crisis that has landed in the national spotlight.
One element of the crisis—pension fund mismanagement and its distorted costs—has garnered much public attention and outcry. A simplistic reaction has been to point the finger at Detroit's pensioners. There is even a proposal to restructure Detroit's estimated $18 billion debt, in part by slashing city health and pension benefits long promised to retired city employees. (Davey and Walsh, 2013; Walsh, 2013).
Rather than looking to blame the aging population, what if we looked to them to build hope and a stronger region? The talents and experience of Detroit's aging population, devoted to solving its community's pressing problems, could be the single greatest resource in the city.
Progress is already afoot to engage people of all ages in community revitalization in Detroit. In 2013, the Detroit-based organizations of the Community Foundation of Southeast Michigan, the Luella Hannan Memorial Foundation, entrepreneurship hub TechTown, the Corporation for a Skilled Workforce, and Operation ABLE, an older worker training center, all joined forces with like-minded organizations in other parts of the state (including AARP Michigan) to discuss ways to engage baby boomers and older adults in volunteer and paid work to make a positive social impact statewide.
Other leaders from the Presbyterian Villages of Michigan, the Hannan Foundation, and the University of Michigan School of Social Work are conducting research on how to grow the Village model in the Detroit region, especially to help lower income older adults. As a response to severe economic uncertainty and a shortage of services, these leaders are working to make Detroit and other Michigan cities encore communities that tap the talents of baby boomers and elders. 
Communities around the country can learn from the lessons of Detroit's encore pioneers and other efforts underway. When there are so many examples of how to engage an aging population to help make our communities better places to live for people of all ages, there's no need to wait for a Detroit-sized crisis to start the movement.
From Age-Friendly to Encore-Friendly
To change our communities for the better, and in light of the demographic shift of a major part of the population into a life stage that is neither young nor truly old (those who might be unable to work, or facing end of life), community leaders and members should think creatively about how to make their neighborhoods, communities, or cities "encore communities."
Colleges and universities can recruit baby boomers and older adults for training in jobs that address some of our most challenging problems. Already, community colleges have taken the lead: The American Association of Community Colleges (2013) provides grants to member colleges through its Plus 50 Initiative to develop programs that train people ages 50 and older for careers in education, healthcare, and social services. Additionally, institutions of higher education can work with alumni, faculty, and staff, as these groups of people approach traditraditional retirement age, to think about how they can give back to their communities. Colleges and universities can host community discussions, spurring conversations about how the collective resources of the institutions can help not only older community members, but also residents of all ages, to engage in volunteer and paid roles that make a difference.
Communities need to provide opportunities for older people to gain financial security through work that would serve to augment other retirement resources. Financial planners and life and career coaches need to be able to offer advice that differs from traditional retirement financial planning, such as how to plan for a
career in a nonprofit setting that may pay less than a previous career, or how to save enough money to go back to school in later life. Corporations need to support people exiting their companies by providing exit ramps to new and engaging work. And nonprofits, governments, and other groups need to find a way to incorporate encore talent into their human talent strategies. (For examples, see the winners of Encore.org's Encore Opportunity Awards.)
Entrepreneurship programs and business incubators can include a focus on baby boomers and older adults. Already, Kauffman Foundation research finds that for twelve of the seventeen years from 1996 to 2012, Americans between the ages of 55 and 64 had the highest rate, or tied for the highest rate, of entrepreneurial activity of any age group (Fairlie, 2013).
Research by Encore.org and the MetLife Foundation (2011b) indicates that 25 percent of Americans between the ages of 44 and 70 are interested in starting their own businesses or nonprofit organizations as their next acts, with nearly half of those—approximately twelve million people—saying their priority would be to focus on solving community problems. Helping these potential encore entrepreneurs create new
businesses could be a triple win for our communities—creating jobs, addressing community needs, and securing the financial well-being of those involved. To encourage this trend, the U.S. Small Business Administration commenced an Encore Entrepreneurs online course to help potential entrepreneurs older than age 50 learn important details about beginning, running, and financing a small business (U.S. Small Business Administration, 2012).
People who aspire to an encore career need advice and assistance as they explore their futures. Nonprofits like Philadelphia's Coming of Age, and Discovering What's Next, a Bostonarea nonprofit, already offer workshops. Advice books geared toward people older than age 50 looking to change careers are also becoming more prominent, including Kerry Hannon's Great Jobs for Everyone 50+: Finding Work that Keeps You Happy and Healthy . . . and Pays the Bills (Hoboken, NJ: Wiley, 2012) and Marci Alboher's The Encore Career Handbook: How to Make a Living and a Difference in the Second Half of Life (New York, NY: Workman, 2012). Career and life coaches can develop their skills to provide help as well.
And, importantly, local nonprofits, grassroots organizations, and community leaders should make the call for people in the encore stage of life to give back through work and community service. To make full use of encore talent, they need to be welcoming and consider ways to offer flexible opportunities that take advantage of the skills of the older population that were developed over a lifetime, whether that involves training younger workers, serving as a mentor to at-risk youth or young mothers, or helping a nonprofit develop a marketing plan.
Aging is a fact of life, but it brings more than chronic disease and death—it holds a wealth of talent, skills, and experience, treasure that should be used to benefit older adults and, to a higher degree, benefit society as a whole. 
---
Cal J. Halvorsen, M.S.W., is director of research and evaluation, Encore.org, Ann Arbor, Michigan. He can be contacted at chalvorsen@encore.org.
Jim Emerman, B.A., is executive vice president, Encore.org, San Francisco, California. He can be contacted at jemerman@encore.org.
Editor's Note: This article is taken from the Winter 2013-2014 issue of ASA's quarterly journal, Generations, an issue devoted to the topic "Aging in Community." ASA members receive Generations as a membership benefit; non-members may purchase subscriptions or single copies of issues at our online store. Full digital access to current and back issues of Generations is also available to ASA members and Generations subscribers at Ingenta Connect. For details, click here.
---
References
American Association of Community Colleges. 2013. "Grants Available to Community Colleges to Start Plus 50 Encore Completion Programs." Retrieved July 26, 2013.
Corporation for National and Community Service. 2013. "Senior Volunteering at a 10-Year High." Retrieved July 15, 2013.
Davey, M., and Walsh, M. W. 2013. "Billions in Debt, Detroit Tumbles Into Insolvency." The New York Times, July 18. Retrieved July 30, 2013.
Employee Benefit Research Institute. 2013. 2013 Retirement Confidence Survey. Retrieved July 18, 2013.
Encore.org and MetLife Foundation. 2011a. "Encore Career Choices: Purpose, Passion and a Paycheck in a Tough Economy." Retrieved July 17, 2013.
Encore.org and MetLife Foundation. 2011b. "Encore Entrepreneurs: Creating Jobs, Meeting Needs." Retrieved August 1, 2013.
Erikson, E. H. 1959. Identity and the Life Cycle. New York, NY: W. W. Norton & Company. Fairlie, R. W. 2013. "Kauffman Index of Entrepreneurial Activity: 1996–2012." Retrieved August 1, 2013.
Grant, A., and Wade-Benzoni, K. A. 2009. "The Hot and Cool of Death Awareness at Work: Mortality Cues, Aging, and Self-Protective and Prosocial Motivations." Academy of Management Review 34(4): 600–22.
Kruse, A., and Schmitt, E. 2012. "Generativity as a Route to Active Ageing." Current Gerontology and Geriatrics Research (Article ID 647650); doi: 10.1155/2012/647650. 
Participant Media and Encore.org. 2012. "The Marigold Effect." Retrieved July 19, 2013.
U.S. Census Bureau. 2012. "2012 National Population Projections." Retrieved July 18, 2013.
U.S. Small Business Administration. 2012. "Encore Entrepreneurs: An Introduction to Starting Your Own Business." Retrieved July 30 2013.
Walsh, M. W. 2013. "A Proposal to Freeze Pensions in Detroit." The New York Times, September 26. Retrieved September 30, 2013.
World Health Organization. 2007. Global Age-friendly Cities: A Guide. Retrieved July 18, 2013.