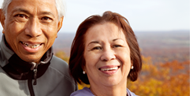 By Elizabeth J. Bragg and Jennie Chin Hansen
The exciting news is that people living to age 65 in the United States will have an average life expectancy of an additional twenty years (Administration for Community Living, 2013). Less exciting is that even if remaining independent and living at home, seven out of ten of us will likely need assistance for three of those years (Redfoot, Feinberg, and Houser, 2013; Lynn, 2013). This assistance would include help with everyday activities such as bathing, dressing, preparing meals, or paying bills.
In our current structure of healthcare delivery, there are not enough trained caregivers (family or paid professionals) for older adults. However, there is another, perhaps more efficient system where we partner with patients, and, coupled with the use of evolving technology, we can focus on factors that most influence the health of a population to deliver care more effectively. We need not only to be informed of the current limits of Medicare coverage, but also to embrace a new framework that enables solutions for the best, safest, and most economical care. Tweaking current solutions will be insufficient. This article explores the current landscape of healthcare delivery: the lack of preparedness and capacity of the current workforce for an aging society.
The Personal Side of Aging
Particularly as we enter our seventies, eighties, and nineties, questions related to aging begin to take prominence. Who will we ask to honor our wishes and goals as well as to advocate for us so that we live with dignity, meaning, and security? How do we receive the best care that addresses our symptoms, perhaps through palliative care instead of unwanted medical and surgical interventions?
How many family members or friends might be willing and able to help provide care as we age? Marriage is the most important predictor of having someone to help, as partners and adult children often arrange or provide the care (Redfoot, Feinberg, and Houser, 2013). But what if you are single, childless, or have just one child who lives in another state and has a full-time job? If no one is available, might we consider a robot caregiver or another emerging smart technology?
Most older adults plan to remain in their own homes until death (National Conference of State Legislatures and AARP Public Policy Institute, 2011). For those of us who are or who have been caregivers, we have wondered who will be there to help us. Can we afford to pay for help? Many people still are surprised that Medicare does not pay for many services we might need to help us stay in our home. On average, annual home health aide services (at $20 per hour, twenty hours per week) cost almost $21,000, and adult daycare (at $70 per day, five days per week) costs about $18,000 (Kaiser Commission on Medicaid and the Uninsured, 2013).
Multi-Fold Challenges for the Workforce
In the current configuration, there are not enough trained workers. There is another configuration wherein partnering with patients and other disciplines, along with the use of evolving technology, can lead to aligned care solutions. We must embrace a framework that enables the best, safest, and most economical care, whether we are discussing the health of an aggregate population or more customized care for the growing number of older adults with complex care needs. It is especially important to consider those who are older than age 85—the fastest growing population in the country—who will likely experience a 50 percent chance of having dementia (Alzheimer's Association, 2014).
Background on the aging demographic
The current aging of the population means a growing number of older adults with high levels of disability living in community. Thirty-seven percent of adults who are ages 65 and older (14 million individuals) have a disability (Rich et al., 2012). The number of frail older people (older than age 65 with any disability) is projected to increase from 11 million in 2010 to 18 million in 2030 (Redfoot, Feinberg, and Houser, 2013), due to 10,000 Americans turning age 65 every day from 2011 to 2029 (Rousseau, Firth, and Jankiewicz, 2013).
While many older adults remain healthy and active, 70 percent of this cohort, because of physical and cognitive impairment, will need some assistance with long-term services and supports (LTSS) to remain in their own home. LTSS help people perform routine daily activities that allow them to remain independent in their homes. These activities would be difficult or impossible for them to perform on their own, such as eating, bathing, dressing, toileting, medication management, handling finances, or shopping (Rich et al., 2012).
Most Americans will eventually rely on the LTSS system, either as consumers or as caregivers providing support to family and friends. Those older than age 80 will be even more likely to need LTSS because of additional functional and cognitive limitations (Alzheimer's Association, 2014). Most of this care is provided by unpaid family caregivers, whose numbers are decreasing (Redfoot, Feinberg, and Houser, 2013).
Family care partners
Unpaid family workers come at a cost. Time away from work means lost wages and Social Security contributions and lost retirement. While an older family member may need support for an average of three years (Rousseau, Firth, and Jankiewicz, 2013), there are few programs that provide long-term help for family care partners. At the federal level, the Family Medical Leave Act provides twelve weeks of unpaid leave, not the three years generally needed (Schuster, 2014).
Some caregivers are limited in the care they can provide because of age, poor health, careers, and other responsibilities. They cannot do the job alone. Additionally, family care providers' roles have expanded greatly, from providing personal care and household chores to performing highly skilled medical and nursing tasks that used to be provided in the hospital (Redfoot, Feinberg, and Houser, 2013). In one study of family caregivers, their own needs included the following: assistance with navigating service systems, with stress management and coping strategies, with financial issues and insurance coverage, with communicating with professionals, with learning direct care tasks, and with understanding disease processes (Yedidia and Tiedemann, 2008).
It is unrealistic to rely as much on family caregivers in the future because of a decline in their numbers. From 2010 to 2030, the number of caregivers ages 45 to 65 will increase by 1 percent, while the number of older adults (ages 80 and older) will increase by 79 percent (Redfoot, Feinberg, and Houser, 2013). This trend will continue for the next two decades (2030 to 2040 and 2040 to 2050), resulting in a decrease in the caregiver-to-care-receiver ratio from 4.1 to 2.9. In 2010, there were 7.2 individuals ages 45 to 65 for every person ages 80 or older (Redfoot, Feinberg, and Houser, 2013).
Paid and professional caregivers
Two Institute of Medicine (IOM) reports, one in 2008 and a second in 2012, highlighted the inadequacy of the available geriatric healthcare workforce to meet the demands of the rapidly aging and changing population (IOM, 2008, 2012). In 2010, our research concluded that "despite considerable effort over the past twenty years, there are still not enough healthcare professionals with the preparation and knowledge to provide optimal care to older adults" (Bragg and Hansen, 2010).
With the number of family caregivers declining as the number of older adults dramatically increases, it is urgent to implement policies that improve training and reimbursement of the clinical workforce to provide skilled chronic and geriatrics care, as well as LTSS. Currently, only 13 percent of older adults receive long-term care from paid providers, mostly (80 percent) from direct care workers such as home health aides, certified nursing assistants, and personal care aides (Rousseau, Firth, and Jankiewicz, 2013). The Bureau of Labor Statistics (2014) has projected that from 2012 to 2022, the need for personal care aides will increase by 49 percent to 580,800, home health aides by 48 percent to 424,200, and nursing assistants by 21 percent to 321,200. That does not mean these positions will be filled or that the individuals who fill them will be trained and fully competent to care for older adults.
The remaining 20 percent of the paid workforce comprises physicians, nurse practitioners, nurses, pharmacists, social workers, and therapists, all providing the care needed to manage underlying health conditions that lead to frailty or disability (National Health Policy Forum, 2014). Unfortunately, the number of trained professionals has not kept pace with the increase in older adults. The number of geriatricians who are expert physicians and can care for this older adult population has remained flat at around 7,000 for more than ten years. There are fewer than 1,800 certified geriatric psychiatrists (American Board of Medical Specialties, 2012).
Mainly because so few nurse practitioners sought certification in gerontology, the examination was eliminated in 2013 and replaced with an adult-gerontology certification exam (National Council of State Boards of Nursing, 2008). While this change will increase the number of nurse practitioners who have some gerontology skills, it runs the risk of eliminating true experts in the field. Only 7,739 registered nurses are certified in gerontology (American Nurses Credentialing Center, 2013) and there are more than 3.1 million nurses. There are 2,569 pharmacists certified in geriatric pharmacy (Thomas R. Clark, personal communication, November 10, 2014). There are only 1,721 physical therapists certified in geriatrics (American Board of Physical Therapy Specialties, 2014). Few social workers are credentialed in geriatrics.
Preparing the workforce for a changing society
Regardless of the type of healthcare worker, there is not enough of a prepared workforce, and in the short time frame left to address the problem, the gap will not be met with our current structures. Other ideas, perhaps from other cultures, must be adopted to meet our society's needs. The United States spends more dollars on medical care than most countries in the Organisation for Economic Cooperation and Development, but lags behinds in most measures of health outcomes (Murray et al., 2013). Healthcare accounts for only 10 percent to 25 percent of the variance in health over time, while health behaviors account for 30 percent to 40 percent, and social and economic factors, 15 percent to 40 percent. Yet healthcare receives the greatest share of resources and attention (University of Wisconsin Population Health Institute, 2014).
Health-professional training and reimbursement systems emphasize diagnostic and treatment services instead of focusing on factors that have the most influence on the health of a population (Sox, 2013). A growing body of research shows that today's healthcare system neglects the significant role that social needs (nutritious food, transportation, adequate housing, and employment assistance) play in Americans' health (Robert Wood Johnson Foundation, 2011). Other countries distribute their healthcare spending differently, with fewer medical care dollars and many more social care dollars.
Using robot caregivers and other smart technology
One idea in far greater use in other countries is robot caregivers. Robots could help mitigate our workforce crisis by supplementing human care. Benefits from care by robots could include helping to lift heavy patients; talking, listening, or reading to patients; preserving patient dignity, especially with toileting; and, decreasing the care load of family caregivers. Equally important, robots could decrease high rates of neglect and abuse of older adults by assisting overwhelmed human caregivers and replacing those who are guilty of intentional negligence or mistreatment (Aronson, 2014).
Employing other smart technology is imperative. In one study, a telephone-based symptom monitoring system, equipped with smart technology, coached caregivers and included an electronic alert symptom. With this system, caregivers' well-being improved, and patients had 44 percent fewer days of moderate or severe symptoms compared to patients who received usual care (Colwell, 2014).
Main and Slywotzky's (2014) consumer-driven Health Market 2.0 (the future health market) envisions a health industry dramatically different from today's, with enhanced technology making us much less reliant on cures and more reliant on practices that keep us well. The Health Market 2.0 movement raises consumers' understanding of their health status in real time, aided by personalized apps, wearable sensors, and social networks that encourage behavioral change. The focus will be on helping consumers to stay healthy, catch issues early, and avoid expensive and potentially debilitating hospitalizations. Now, there are sick-care interventions that use smart care teams to deliver care; their models include both frail elders and polychronic smart care teams.
Medicare Benefits: Steps in the Right Direction
Medicare plays no role in financing LTSS, which is both expensive and often burdensome (National Health Policy Forum, 2014). Medicaid is the dominant source of payment for LTSS, but is available only to individuals with limited income. In 2012, Medicaid paid for 61 percent ($134.1 billion) of all LTSS spending, followed by families' out-of-pocket spending, which accounted for 22.4 percent ($49.3 billion) (Congressional Budget Office, 2013).
How can Medicare be linked to the services and supports that many beneficiaries need to stay independent? What role can Medicare play in support of family caregivers? Budget is policy, and Medicare policy is going through some modest but notable changes that can help a LTSS population.
Since January 1, 2013, Medicare started paying for transitional care-management services following a patient's discharge from a hospital (CMS, 2013). This benefit can provide critical support for some families and consumers, because 21 percent of Medicare patients are admitted to the hospital each year, while those with two to three chronic conditions have a 13 percent admiss
on rate compared to the 30 percent rate for those with four or five chronic conditions (CMS, 2012). Once admitted to the hospital, 20 percent will be readmitted within thirty days of discharge and 34 percent within ninety days (Jencks, Williams, and Coleman, 2009). The Community-based Care Transitions Program, which was created by Section 3026 of the Affordable Care Act, is a major component of the Partnership for Patients to test models for improving care transitions from the hospital to other settings, reducing readmissions for high-risk Medicare beneficiaries, and documenting measurable savings to the Medicare program (CMS, 2012).
In addition, for the first time, Medicare has addressed payment for non–face-to-face services involved in managing the care of people with multiple chronic conditions. As of January 2015, the Centers for Medicare & Medicaid Services (CMS) is reimbursing physicians and other healthcare providers for a separate fee ($40.39) for chronic care management delivered outside of regular office visits for individuals with multiple conditions. This service can be billed once per month for qualified patients (Frieden, 2014).
Medicare, which covers 50 million Americans and whose members account for about 80 percent of deaths each year, is considering reimbursing healthcare providers for holding conversations with patients on advance care planning. Some private insurers already are covering such conversations, and, if Medicare did so, many more would provide such coverage (Institute of Medicine, 2014a).
Older patients receive most of their healthcare in primary care office settings. Within the current healthcare system, primary care practices usually are not equipped to provide the broad array of LTSS required by patients with multiple chronic illnesses or disabilities, even though evidence shows that these services play as important a role in a person's health as medical treatment or prescription drugs (Robert Wood Johnson Foundation, 2011). Local area agencies on aging provide a wide array of LTSS to older individuals and their caregivers. Typically, however, they are disconnected from primary care providers.
Similar to the current efforts to integrate behavioral health with medical care, there needs to be an integration of LTSS providers with primary care providers so that older adults and their families can be connected easily to these services when needed. As part of the Comprehensive Primary Care Initiative developed through the CMS Innovation Center, Medicare is partnering with commercial and state health insurance plans and offering bonus payments to primary care doctors who better coordinate care for their patients (CMS, 2014).
These Medicare benefits are steps in the right direction to assist older persons (and their families) having multiple chronic conditions and functional and cognitive limitations to receive the care they need and want.
Medicare Financing of Graduate Medical Education
Although the graduate medical education (GME) system has been producing more physicians, it has not produced an increasing proportion of physicians who choose to practice primary care. Nearly all GME training occurs in hospitals—even for primary care residencies—in spite of the fact that most physicians will, ultimately, spend much of their careers in ambulatory, community-based settings. In addition, GME curricula rarely cover content on care coordination, team-based care, costs of care, and health information technology. All are critical components of the transformative care needed now. The statutes governing Medicare's GME financing were developed at a time when hospitals were the only sites for physician training. Because reimbursement is strongly tied to Medicare inpatient (hospital) days, it discourages training in the community (Institute of Medicine, 2014b).
There is no mechanism for tying payments to the workforce needs of the healthcare delivery system. There also is no requirement that after their graduation from a Medicare- or Medicaid-supported residency program, physicians must accept or provide services to Medicare or Medicaid patients (Institute of Medicine, 2014b). The authors feel strongly that knowledge of, and competency in, aging and geriatrics be requisite for all graduates, given both the majority source of Medicare education funding and the demographics that point clearly to chronicity and complexity.
A Transformative Framework
Societal needs cannot be ignored in this fast approaching era of increased numbers of older adults. We know that the clinical workforce is insufficient in terms of numbers and preparation, and unpaid care partner ratios are falling as support needs grow. Also, sensitivity to well-being, quality care, and costs is on the rise.
There is hope, however, in increased use of data for better understanding and focus on populations, as well as innovation in care delivery that prevents over-medicalization and inadvertent care that creates greater dependency. We can be more creative in maximizing how we deploy our existing workforce, incorporating quickly evolving technology, and realizing that policy and regulations can and must be changed so that contemporary needs can be more effectively met. Notably, new solutions will come with different partners, such as the Vermont Support and Services at Home (SASH) housing providers and the YMCA, which already show great success in tackling health and care of older adults with chronic disease (SASH, 2014; Span, 2014).
America is a country that will continue to innovate for needed solutions. The current situation with our healthcare delivery system calls for applying an entrepreneurial spirit and our best smarts to create work value and meet societal needs. Let us unleash the leadership needed to assure we can live in a society that provides dignity, and makes for an interdependent country that can continually learn and improve. How we provide care can—and must—transform.
---
Elizabeth J. Bragg, Ph.D., R.N., is an associate professor in the College of Nursing, and Department of Family & Community Medicine, at the University of Cincinnati in Cincinnati, Ohio. She can be reached at Elizabeth.Bragg@uc.edu. Jennie Chin Hansen is the former CEO of, and now senior strategic advisor to, the American Geriatrics Society in New York City.
Editor's Notes:
The entire Summer 2015 issue of Generations is available on AgeBlog thanks to the generous support of The Benjamin Rose Institute on Aging, Compassion & Choices and Robert Wood Johnson Foundation President's Grant Fund of the Princeton Area Community Foundation. Click here to read more.
This article is taken from the Summer 2015 issue of ASA's quarterly journal, Generations, an issue devoted to the topic, "Medicare at 50." ASA members receive Generations as a membership benefit; non-members may purchase subscriptions or single copies of issues at our online store. Full digital access to current and back issues of Generations is also available to ASA members and Generations subscribers at Ingenta Connect. For details, click here.
---
References
Administration for Community Living, U.S. Department of Health and Human Services. 2013. "A Profile of Older Americans: 2013." Retrieved March 18, 2014.
Alzheimer's Association. 2014. "Alzheimer's Disease Facts and Figures." Retrieved March 18, 2014.
American Board of Medical Specialties. 2012. "Certificate Statistics." Retrieved March 18, 2015.
American Board of Physical Therapy Specialties. 2014. "Specialty Statistics." Retrieved March 18, 2015.
American Nurses Credentialing Center. 2013. "2013 ANCC Certification Data." Retrieved March 18, 2015.
Aronson, L. 2014. "10 Reasons Why Robot Caregivers Might Not Be So Bad." The New York Times, July 31. Retrieved March 18, 2015.
Bragg, E. J., and Hansen, J. C. 2010. "A Revelation of Numbers: Will America's Eldercare Workforce Be Ready to Care for an Aging America?" Generations 34(4): 11–9.
Bureau of Labor Statistics, U.S. Department of Labor. 2014. Occupational Outlook Handbook. Retrieved March 18, 2015.
Centers for Medicare & Medicaid Services (CMS). 2012. Chronic Conditions Among Medicare Beneficiaries, Chartbook: 2012 Edition. Retrieved March 18, 2015.
CMS. 2013. "Frequently Asked Questions About Billing Medicare for Transitional Care Management Services." Retrieved March 18, 2015.
CMS. 2014. "Comprehensive Primary Care Initiative." Retrieved March 18, 2015.
Colwell, J. 2014. "ASCO: Smart Technology Monitoring System Improves Care at End of Life. Cancer Network." March 15, 2014.
Congressional Budget Office. 2013. "Rising Demand for Long-term Services and Supports for Elderly People." Retrieved March 18, 2015.
Frieden, J. 2014. "Medicare Pay for Coordinating Care Too Low." Retrieved March 18, 2015.
Institute of Medicine (IOM). 2008. Retooling for an Aging America: Building the Health Care Workforce. Washington, DC: The National Academies Press.
IOM. 2012. The Mental Health and Substance Use Workforce for Older Adults: In Whose Hands? Washington, DC: The National Academies Press.
IOM. 2014a. Dying in America: Improving Quality and Honoring Individual Preferences Near the
End of Life. Washington, DC: The National Academies Press.
IOM. 2014b. Graduate Medical Education that Meets the Nation's Health Needs. Washington, DC: The National Academies Press.
Jencks, S. F., Williams, M. V., and Coleman, E. A. 2009. "Rehospitalizations Among Patients in the Medicare Fee-for-Service Program." New England Journal of Medicine 360(14): 1418–28.
Kaiser Commission on Medicaid and the Uninsured. 2013. "Five Key Facts About the Delivery and Financing of Long-term Services and Supports." Retrieved March 18, 2015.
Lynn, J. 2013. "Reliable and Sustainable Comprehensive Care for Frail Elderly People." Journal of the Amerian Medical Association (JAMA) 310(18): 1935–6.
Main, T. and Slywotzky, A. 2014. "The Patient-to-Consumer Revolution: How High-tech, Transparent Marketplaces, and Consumer Power Are Transforming U.S. Healthcare." Retrieved March 18, 2014.
Murray, C. L. J., et al. 2013. "U.S Burden of Disease Collaborators. The State of U.S. Health, 1990–2010: Burden of Diseases, Injuries, and Risk Factors." JAMA 310(6): 591–608.
National Conference of State Legislatures and the AARP Public Policy Institute. 2011. "In Brief: Aging in Place: A State Survey of Livability Policies and Practices." Retrieved March
18, 2014.
National Council of State Boards of Nursing. 2008. "Consensus Model for APRN Regulation: Licensure, Accreditation, Certification, and Education." Retrieved March 18, 2014.
Since we're living 25 years longer, we'll need more fee for non-face-to-face services from Medicare because older adults live with several chronic conditions. As health monitoring devices become more available and since people want to age in place, these services will increase. My mom was monitored very closely at home due to CHF and it gave the family comfort. I wrote this article on how family members can use activities of daily living to better understand the level of care a loved one needs.