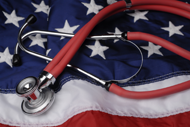 By Weston Donaldson and Heather Smith
Maria (a fictional example) is a 71-year-old Latina transgender woman admitted to the geriatric extended care unit of a hospital. A Vietnam-era veteran who served three years in the Army, Maria was divorced 15 years ago and has three children, two of whom live out of state. She lives with Silvia, her partner of five years. Although she says she has been relatively healthy, Silvia told VA providers that Maria has had increasing trouble remembering things, and has needed more assistance with paying bills, cooking and properly taking her medications.
Maria was admitted to the hospital complaining of dizziness and confusion following two consecutive falls at home. She was transferred to the long-term-care unit for rehabilitation and evaluation prior to discharge. Although generally compliant, she tended to be anxious, resulting in her being irritable with staff. Silvia visited periodically but appeared unsure of how to interact with staff regarding Maria's care. When it came to her toileting needs, staff were unsure which bedpan to bring her. They chose to bring one for female veterans to support her gender identity, but realized that it was incompatible with her anatomy. Maria was embarrassed and angry, and staff were apologetic and ran to find an alternative bedpan.
Given established health disparities between lesbian, gay, bisexual, transgender, and queer (LGBTQ), as well as non-LGBTQ older adults, it is important to ensure the care provided in long-term-care settings, such as nursing homes and assisted living communities, is supportive to sexual and gender minorities, and sensitive to their unique needs and challenges.
Many LGBTQ elders express fear at the thought of entering a long-term-care facility, believing they will be denied entry, mistreated or not given proper care because of their sexual identity, gender expression and gender identity (www.thetaskforce.org/outing-age-2010/; www.lgbtagingcenter.org/resources/pdfs/NSCLC_LGBT_report.pdf).
Staff at these facilities should demonstrate a welcoming and LGBTQ-affirming stance, as well as provide not just treatment as usual, but also care that reflects an understanding of the unique perspectives that LGBTQ individuals have and the challenges they face.
This has become a matter of increasing priority in the Department of Veterans Affairs (VA), which in recent years has stated its mission to "serve all who served," including LGBTQ veterans. Despite changes at the federal and administrative levels of the VA, including the repeal of Don't Ask, Don't Tell and the nationwide legalization of same-sex marriage, many LGBTQ veterans continue to feel unsure about coming out to providers due to decades of stigma and discrimination.
At the Clement J. Zablocki VA Medical Center in Milwaukee, Wis., we piloted an online training tool designed to enhance the LGBTQ cultural competence of staff working in geriatric extended care units in the hospital. Multidisciplinary staff in nursing, social work, occupational and physical therapy, psychology and administration participated. The training provided information on the unique gender, racial, ethnic, sexual and generational factors that affect the lives of older LGBTQ veterans, using the opening vignette for reference.
Staff learned about "families of choice" and the importance they hold for LGBTQ people. They read about special considerations for caregiving among LGBTQ people, and significant health disparities among older LGBTQ adults. The training content also described specific considerations and strategies to assist staff in working directly with LGBTQ veterans.
Prior to and following participation in the training, staff completed questionnaires measuring their knowledge, self-efficacy and attitudes with respect to older LGBTQ veterans. Preliminary results showed that staff across disciplines reported increased knowledge about the lives and needs of older LGBTQ veterans, and that they felt better able to provide care to older LGBTQ veterans following the training. Staff members' attitudes toward LGBTQ veterans remained essentially unchanged, although overall they tended to be neutral to favorable.
We were thrilled with the enthusiastic response that staff of all roles and disciplines had to the training content. Informally, many staff members expressed that they learned something new and were glad to see an increase in education on this topic. Trainings designed to increase cultural competency among staff have been shown to be similarly effective in helping staff provide more culturally competent care to special populations they serve (www.tandfonline.com/doi/abs/10.1080/03601277.2012.701114; www.ncbi.nlm.nih.gov/pubmed/24341968; www.ncbi.nlm.nih.gov/pubmed/24313259). This project was unique in that it focused on the needs of older LGBTQ veterans, highlighting veteran-specific needs as well as practical ways that staff working in the VA can help this population. We continue to collect data and analyze it to establish the efficacy of this valuable training module, with the hope that it can be a useful tool for VA long-term-care staff in the future.
For more information on older LGBTQ adults and aging, check out the following links:
National Resource Center on LGBT Aging
Services and Advocacy for GLBT Elders (SAGE)
Weston Donaldson, Ph.D., works as a clinical geropsychologist at Aurora Mental Health Center in Aurora, Colo. Heather Smith, Ph.D., ABPP, is lead psychologist at the Zablocki VA Medical Center and associate professor in the Department of Psychiatry and Behavioral Medicine at the Medical College of Wisconsin, both in Milwaukee, Wis.
This article is brought to you by the Editorial Committee of ASA's LGBT Aging Issues Network (LAIN)