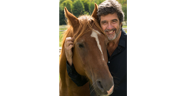 By Alison Biggar
Tim Hayes met his first horse at age 48. Two decades later, he travels the country giving clinics in natural horsemanship and demonstrating the unique connection humans share with horses and how it can salve spirits and ease troubled minds.
Born and raised in New York City, Hayes pursued psychology in college, but after failing organic chemistry, he turned to his second love, film and television. He created his own film and TV production company and spent 35 years directing, writing and producing TV commercials and movies.
A Life-Changing Encounter
While visiting friends on a vacation in the 1990s, Hayes was introduced to a family with a cattle ranch in Bruneau, Idaho, and there he got on his first horse. "Something happened then that changed my life forever," he says. "There was something about horses that I just loved, but I didn't know why. I was never afraid, I was fascinated. I wondered how these huge, powerful animals could be so peaceful and nice to be with."
Hayes spent the next three years on that ranch learning how to ride, rope, brand and generally be a cowboy. He also studied under Tom Dorrance, a master of natural horsemanship—a method of training horses (and humans) that keeps what's natural for horses at the forefront of the human mind. What's natural for horses, says Hayes, "is vast open spaces, living in herds and traveling about 20 miles a day to graze. What's natural for humans is saddles, bits, stalls and horse trailers."
Natural horsemanship entails establishing a trusting relationship with the horse before riding it, and perceiving that relationship from the horse's point of view as a prey species. Because horses are constantly on the lookout for danger and worried about potential predators, including humans, it's key, says Hayes, to learn their methods of communication in order to effectively train both parties.
After his years on the ranch, Hayes took another five to perfect the art of natural horsemanship until he felt capable of passing along his knowledge. By 2003, so many people were coming to him for instruction that he retired his film career and began teaching natural horsemanship full time. For the past 15 years, he has conducted clinics worldwide.
The Wonders of Equine Therapy
Treading this new path, Hayes observed the intense psychological bond that can develop between horses and humans once they trust each other—a connection he saw play out repeatedly. "There's a wonderful thing that happens between humans and horses when they start to create a relationship," says Hayes. "I discovered in my teaching how horses can be used therapeutically, for emotional recovery.
"I was fascinated by why and how this happens. What is it about a child with autism, a veteran with PTSD, a troubled teen … what is it about all three that [when they're with] a horse, this [interaction] lends itself to incredible healing?" Hayes was amazed by the successes he witnessed when equine therapists at barns worked with horses and humans.
Soldiers who had returned from multiple tours in Iraq and could barely speak, and who had little luck with months of talk therapy and prescription medications, opened up after only minutes with horses, working to earn their trust. There were similar results for autistic children: in one instance, after only a few sessions spent with horses, Hayes saw an 8-year-old autistic child speak to her mother for the first time. Even hardened inmates enrolled in equine programs at correctional facilities were mellowed by the levels of vulnerability and humility required to gain a horse's trust.
Hayes noted that when many who are closed down simply interact and connect with these giant animals, it can bring them to their most vulnerable state. Then, equine therapists enter the process, helping people to make sense of their past experiences and conditions, and learn how to move forward.
The clearly impressive therapeutic benefits of interacting with horses inspired Hayes to write Riding Home: The Power of Horses to Heal (New York: St. Martin's Press, 2015). "I wrote the book to explain why interacting with horses has this incredible therapeutic effect, and to raise awareness of it in society," he says. "Everyone reads about veterans with PTSD, about their suicide rate, about how traditional talk therapy and prescription medications are failing these men and women. But so few people know about the incredible results [veterans] can realize in working with horses."
Stories of Healing, Solace
The book contains success stories—stories of connection and healing that can be emotionally wrenching to read. Parents of autistic children talk about how, for the first time, their sons and daughters feel accepted unconditionally as a child and not as a child with autism. Veterans marvel about the power of connection with horses—how these animals allow them to open up and heal the shame they feel about their experiences in combat. Even recalcitrant and addicted teens find solace and hope.
Riding Home also relates Hayes' own healing story. The son of an alcoholic father, he spent years working through his demons, but finally really reached a new level of joy through his work with horses. He has a valued relationship with one particular horse, Austin, that Hayes says reflected his personality traits—heightened awareness, approachability and kindness. It's a particularly telling part of horse psychology, according to Hayes, that humans are drawn to horses that mirror their personalities, strengths and weaknesses.
"I really understood what made me me, and working on the painful parts allowed me to share that with others, to show how healing through horses was so beneficial. Horses draw out compassion— they are the masters of compassion," says Hayes.
---
For more information, visit www.hayesisforhorses.com.
Editor's Notes: This article appears in the July/ August 2015 issue of Aging Today, ASA's bi-monthly newspaper covering issues in aging research, practice and policy. ASA members receive Aging Today as a member benefit; non-members may purchase subscriptions at our online store or Join ASA.
Image courtesy of Kerry Hayes
I appreciate this article.  Before working as a Service Coordinator at a HUD building for elders and adults with disabilities, I worked with people with developmental disabilities.  From there and in my own life, I know the healing power of horses.  I wish that there were more opportunities for people of all incomes to share time up close with horses -- and for all horses to have the opportunity to have this type of interaction.  Thank you so much!