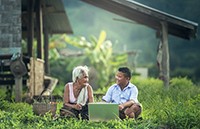 By Verna M. Cavey
Having now lived in retirement communities for a decade, I value this opportunity to write from the perspective of a resident (of independent living), and respectfully offer a few thoughts.
I worked for many years in education, but it took retirement for me to reach the peak of satisfaction in work and in all other compartments of my life—social, spiritual, emotional and intellectual. That's saying a lot.
At 72, the critical piece for my friends and myself is community, and the essence of community is hu­man connection. Everything else is secondary. Yes, in retirement communities such as mine, budgets need to be followed and excellent programs may be run, but, if the people who live and work in these communities feel ignored or neglected, there is a systemic failure.
The workers in our retirement community dwell in private areas beyond residents' view. Resi­dents do as well, in their own hidden worlds.
Amid the space of our larger retirement community, we residents have our mini-communities, sharing a glass of wine and friendship behind our apartment doors. We also have the outside sup­port of family and friends. And staff who are so caring become close to us. All of these people nur­ture us, emotionally and physically.
But there are challenges in communities such as ours: I watch residents in independent living units try to hide their increasing losses of memory and other functions. Many people residing here have left their homes for a tiny apartment; now they fear less privacy and personal space in as­sisted living.
I confess, I feel the same. What is not spoken holds power. Finding the right listening tools, which will help residents express confidences to trusted personnel, offers a crucial path toward creating a home environment that is comforting.
True community allows aging people to light the internal spark that is unique to them, what­ever it may be. Further, we welcome being heard. National organizations are opening doors to el­ders' views: We are invited to present at conferences, sit on panels and committees, participate in research and write articles.
Characteristics and Strategies Can Foster Community
Person-centered and resident-directed communities mean more than just terminology to put into reports; they are places with specific characteristics that take hard work to create and to keep alive.
Although some communities don't feature all of these options, in true community, organic gar­dens are cared for lovingly. Residents find courage singing and performing in a musical in front of an audience, and that ritual unites and delights. Listening circles are a safe place for problem-solving among staff and residents; these circles train people how to facilitate and collaborate, nec­essary skills in a turbulent world and critical to modern, effective management. Armed with such managerial skills, community members can approach challenges with knowledge and energy in­stead of fear. In an egalitarian community, all are empowered.
Scholars in organizational manage­­ment tell us that we ignore culture at our own risk. Every element of a culture—language, beliefs, sanctions, rituals, artifacts—contributes to creating a unified community. Understanding our cultures at much deeper levels will facilitate that.
Intergenerational relationships keep us vibrant. Currently, in an affiliation with the University of Denver, I am honored to be working with smart, empathic graduate students in social work who consistently teach me and shake up my thinking. My fellow residents and I are richer every time we interact with them. One holiday, international students who were alone on campus visited their el­der classmates, bringing small gifts. All of us need to feel part of a larger world and to be exposed to exciting ideas and profound emotions.
Finding a Community: Defining What Is Important
Of special importance is curiosity—to maintain one's curiosity is a gift that aids both residents and staff. When I pondered growing older and dealing with issues such as immobility, I learned that the library will bring books, music and film to my home. Publications keep me up to date on alter­native therapies that I can try for chronic pain, as well as with information about health decisions that I can make when I am dying.
For residents and staff looking for a place of safety and support, I recommend Jill Vitale-Aus­sem's book on community, Disrupting the Status Quo of Senior Living: A Mindshift (Baltimore, MD: Health Professions Press, 2019). Com­passion­ately and intelligently, this pioneer of senior living and resident-directed communities offers instruction and re­flec­­­­tion.
Her writing moved me away from a weak, abstract sense of community, fostering in me a firmer grasp of what is essential.
Over the years as a resident, I have known pleasure and incredible meaning and purpose. I have also known deep frustration and sadness. Whether we residents feel happiness or sadness often depends upon if we are given true roles to play in our community—ones that will allow us to tap into our better selves. When unheard and pushed aside, residents can experience an almost un­bearable sense of loss.
At 72, I have dreams—and I fulfill them. That has truly surprised me. And, it delights generations younger than myself. We can get the word out that aging can be a rich and productive time of life.
Verna M. Cavey lives in Denver, Colo.; her background is in the social and be­havioral sciences and in lifelong learning.