By Richard Adler
Millions of Americans—as many as 43.5 million according to a recent national survey—are engaged in providing care for family members or friends who are ill or disabled.
The good news is that in recent years, the topic of caregiving has gotten more public attention than ever before as the result of a steady stream of reports and articles documenting the scale of caregiving and highlighting some of the challenges faced by caregivers. The bad news is that too many caregivers work in isolation with little recognition or support from others. And the burden of caregiving nationally may be growing.
The Future of Caregiving for Elders
While today there are seven potential caregivers for every person needing care in the United States, by 2030, that ratio will drop to four caregivers for each care receiver, according to a 2013 AARP report (goo.gl/I5J72E). Clearly, action is needed, but what kind of action?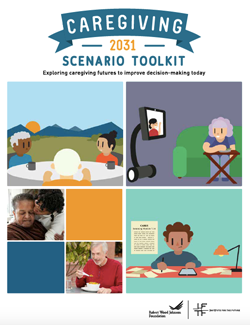 To explore this question, the Institute for the Future, with support from the Robert Wood Johnson Foundation, conducted a project to explore the future of caregiving, with a focus on care provided to older adults. The Institute started with a literature review and a set of expert interviews to ensure an understanding of the current state of caregiving and key trends. Institute researchers then used this data to create three digital video scenarios for caregiving in the year 2031 (www.iftf.org/caregiving2031).
Rather than attempting to portray a "best case" or "worst case" future, each scenario (of two to three minutes' duration) tells a story about a different path away from a caregiving crisis. The scenarios portray the potential benefits of various interventions, but they also include possible unintended consequences of each.
A Rubik's Caregiving Cube: Three Scenarios
One obvious candidate for supporting caregivers is technology. The first scenario, called "Angels in the Floorboards," explores the potential of technologies such as smart homes, personal digital assistants and telepresence robots to alleviate caregiver burdens. The scenario shows how an adult child, with a full-time job and a family to raise, attempts to use these tools to help her support her mother, who lives alone across town and has Parkinson's disease. The scenario illustrates how technology can make caregiving at a distance more feasible, but it also depicts some of the challenges that come with managing complicated new tech systems.
The second scenario, "Neighbors Care," focuses on the needs of older adults who have no children or other close kin who can provide them with needed care. According to Lynn Friss Feinberg, senior strategic policy advisor, AARP Public Policy Institute, the proportion of people ages 85 and older without any surviving children will increase from 16 percent in 2000 to 21 percent in 2040 (goo.gl/qn5ufR). The scenario explores both the potential and the limitations of new financial and social arrangements to support this growing cohort.
The third scenario, "The CARER Act," examines the implications of integrating informal caregiving with the formal healthcare system by imagining the creation of a new role, a "certified caregiver" who receives subsidized training and support (along with periodic testing) from professional healthcare providers. While such an innovation could improve the quality of care provided, especially care that involves performing complex medical tasks, by adding formal certification and payment for family caregivers, it also has the potential to disrupt relationships that have been largely informal.
The scenarios are now available online, along with an introductory video and a downloadable "toolkit" that provides discussion questions and structured exercises based on the scenarios, along with a list of resources for further reading. The toolkit offers alternative approaches to exploring the scenarios based on whether one is able to devote a full day or just an hour to thinking about the future of caregiving. It is the Institute's hope the scenarios will be used widely to provoke fresh thinking about what can be done to alter our nation's caregiving trajectory.
Richard Adler (radler@digiplaces.com) is a distinguished fellow at the Institute for the Future, an independent nonprofit research and consulting organization in Palo Alto, Calif. To view the scenarios and access the support materials, visit www.iftf.org/caregiving2031.