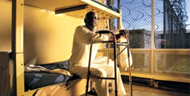 By Tina Maschi
The aging prison population crisis is gaining international attention as researchers, scholars, journalists, human and civil rights advocates detail the rapidly growing numbers of older adults in prison and the high human and economic costs of warehousing older adults in prison, according to 2012 reports from the ACLU and Human Rights Watch.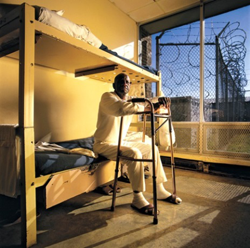 In 2010, colleagues and I conducted a study ("Trauma and Coping among Older Adults in Prison: Linking Empirical Evidence to Practice," forthcoming in The Gerontologist) of 667 adults ages 50 and older in a northeastern state prison system. Study findings revealed the previously overlooked issue in this population of undetected and untreated cumulative traumatic life experiences and their cost to prisoner's physical and mental well-being. Such experiences occurred prior to entering prison, while in prison and in anticipation of release from prison. 
As a group this aging prison population has experienced a lifetime of cumulative disparities and discrimination based on characteristics such as age, race or ethnicity, physical and mental disabilities and substance-abuse histories, as well as social structural factors such as poverty, lack of education and punitive sentencing policies.
Some lifetime and cumulative experiences include: childhood or adult exposure to violence (being a victim or witness to physical or sexual assault); unexpected and expected loss of a loved one; caregiving stress; medical neglect; family separation; being diagnosed with a serious physical or mental illness; discrimination (based on race, gender, sexual orientation); homelessness; combat in war; and, natural and manmade disasters.
Figure 1: What Older Adults Report About Current Sources of Trauma and Stress Adults In Prison (n = 677; Qualitative Findings)
Health Status
Healthcare
Prison Environment 
(Interpersonal, Structural, Cultural)

Thrombosis in left leg, anti-embolism socks
Pains in chest and diagnosed leakage in graft
When I found out I had cancer and Hepatitis C
Stint in aorta
Gender dysphoria–Transgender
Coming to prison while infected with HIV and dying in prison
Have diabetes, lack of treatment
Asthma attack
Heart problems
My health, my heart
Raped, Hepatitis B
Hepatitis C
Strokes
Going blind in prison
Deaf
Cancer
Heart attacks
HIV/AIDS, pneumonia, cancer
Personal medical issues

Dying in prison from poor healthcare
Diabetic treatment, lack of
Poor healthcare
Prison medical department's failure to treat my heart problems
Fear of dying in prison
Left abandoned by family, friends
Failure of medical department to treat my injuries and illnesses
Denial of healthcare
Getting my medication
Five-year hunger strike, 12 hospitalizations

Solitary confinement
Raped
Killings in prison yard, mess hall
Malicious disciplinary charges used to lock me up in closed custody illegally
Guards killing inmates—abuse, heart attack
Assaulted by a young mental patient
Corrections officers abusing authority
Beaten by corrections officers, guards attacked and beat me unprovoked
Five-year hunger strike, 12 hospitalizations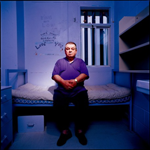 About two out of three participants reported experiencing trauma and stress in prison, such as being physically and sexual abused, bullied, neglected, exploited by staff and younger inmates, denied food and water and put in solitary confinement (see Figure 1, above).
Many participants also reported lingering subjective distress from earlier life experiences, including from childhood, and the influence of such distress on their current physical and mental well-being. Past and current subjective distress included feeling horror and worry that someone would get hurt at the time of the event, and feeling moderately to extremely affected by these events in the past year.
Table 1: Coping Resources and Resilience Among Older Adults in Prison
ROOT: Basic Needs (Survival & Foundation in Love and Family)
PHYSICAL: Exercise (Yard, Run/Walk, Yoga, Sports), Medication
COGNITIVE: Find Peace Within, Think Positive, Making Healthy Choices, Puzzles, Read
EMOTIONAL: Counseling, Support Groups
SPIRITUAL: Church, God, Pray, Service to Others
SOCIAL: Family, Friends, Peers in Prison, Program Participation, Yoga
PARTICIPATORY: (Leadership, Participation, and Empowerment) Teaching, Leading a Book Club, Being a Paralegal, Advocacy, Group and Workshop Facilitation
Participants' On How They Cope with Stress in Prison
"Exercise, work (strip/buff floors), write letters, talk on the phone"
 "I became a jogger & sprinter at 56 years old. I run 5 miles per day and sprint 105 yard sprints every other day"
 "I love to work"
 "I participate every Monday in group therapy. Cage Your Rage program 10 weeks"
"Programs, exercise, palliative care worker, working with at risk juveniles, etc."
"Focus on victim program, exercise, computer workforce, community awareness day, HIV/ AIDS group"
 "NA and AA"
"I pray. I try to meditate and read a great deal to take my mind off worries"
"I do yoga"
"Read my Bible, I am a minister now. I do all things The Word way"
"Prayed to God, got in touch with family members and did a whole lot of jogging exercise"
Our study also found that one out of three participants reported success in managing stress by using positive coping resources in the following domains: root (taking care of basic needs); physical (exercise); cognitive (positive thinking); emotional (compassion); social (family and peer contact); spiritual (praying, meditating); and, participatory (leadership and advocacy) (See Table 1 and photos 2 and 3, above).
The older adults in prison who reported coping resilience also were more likely to report higher levels of physical and mental well-being.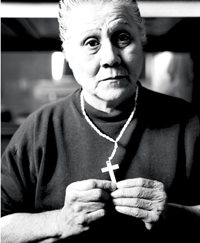 As the findings show, lifetime experiences of multiple types of trauma, stress, grief, separation and loss are common among older adults in prison. What we call "policy" trauma also may occur as a result of punitive prison policies and practices, which in turn place elders at risk for later-life physical and mental decline.
Clearly, these are areas that classify as elder justice and human rights issues. These rights include not being subjected to torture and cruel and unusual punishment, rights to family, social and economic security and the right to health and well-being. It is important to note in our study findings that there are stories of triumph over adverse life circumstances and stressful conditions of confinement, too.
As the human rights and elder justice movements advocate for elder rights, we must not neglect older adults behind bars. The aging community can take a leadership position and build a coalition to advocate for more compassionate practices in the criminal justice system. These types of practices would foster human dignity, respect and positive coping, especially for older adults. Infusing compassion, forgiveness and mercy into our interactions with and study of older adults in prison holds the promise of disconnecting the link between traumatic grief and recidivism. It also has the potential to foster reconciliation between the survivors of crimes and those who committed them.
---
Tina Maschi, Ph.D., L.C.S.W., A.C.S.W., is an associate professor at the Fordham University School of Social Service in New York City, and founder and executive director of the Be the Evidence Project.
Images courtesy of the Ron Levine, Prisoners of Age
From the editorial committee of ASA's Network on Multicultural Aging (NOMA)
Help us improve AgeBlog and rate this post by clicking here! 
---
Further Reading:
"Trauma and Coping among Older Adults in Prison: Linking Empirical Evidence to Practice," by Tina Maschi, et al. (in press)
"Trauma, Stress, Grief, Loss, and Separation Among Older Adults in Prison: The Protective Role of Coping Resources on Physical and Mental Well-Being," by Tina Maschi, et al.
"The Case for Human Agency, Well-Being, and Community Reintegration for People Aging in Prison: A Statewide Case Analysis," by Tina Maschi, Mary Beth Morrissey and Margaret Leigey
"Aging, Mental Health, and the Criminal Justice System," by Tina Maschi, Samantha Sutfin and Brendan O'Connor
"The High Cost of the International Aging Prisoner Crisis: Well-Being as the Common Denominator for Action," by Tina Maschi,  Deborah Viola and Fei Sun
"The Heterogeneity of the World Assumptions of Older Adults in Prison: Do Differing Worldviews Have a Mental Health Effect?" by Tina Maschi and Judith Baer
"The Aftermath of Childhood Trauma on Late Life Mental and Physical Health: A Review of the Literature," by Tina Maschi, et al.  
"Forget Me Not: Dementia in Prisons," by Tina Maschi et al.
 "Trauma and Stress Among Older Adults in the Criminal Justice System: A Review of the Literature with Implications for Social Work," by Tina Maschi, et al.
 "Trauma and Life Event Stressors Among Young and Older Adult Prisoners," by Tia Maschi et al.