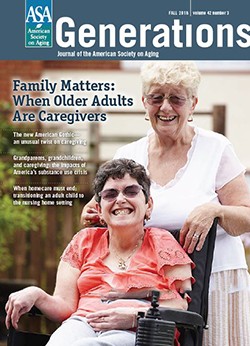 Caregiving is a challenge for many Americans, but what does it take to be a 21st century caregiver as an older adult? How do such caregivers get by, what resources are available to them, and what solutions and supports may be on the horizon to help?
In "The New American Gothic: Older Americans as Caregivers," Guest Editor Mercedes Bern-Klug proposes a new take on American Gothic, in which older adult caregivers are as the subjects, embodying the face of American caregiving today, because many of today's and tomorrow's caregivers will come from the ranks of older adults. This introductory article lays out challenges facing such caregivers, and outlines articles in the issue. Also, Bern-Klug suggests we need 21st century social and communication skills to tackle modern-day family challenges such as divorce, remarriage, and co-habitation. An ability to clearly articulate needs on both sides of the caregiving dyad will be critical.
Jaia Peterson Lent and Adam Otto, in their article, "Grandparents, Grandchildren, and Caregiving: The Impacts of America's Substance Use Crisis," detail the ways in which substance use, and particularly the opioid epidemic, hurt America's families, placing greater responsibility on grandparents to care for their grandchildren. The article also addresses the challenges older caregivers face, which are physical, social, and mental-health related. But despite caregiving challenges, grandchildren fare better from a behavior and mental health standpoint when being cared for by grandparents than they would in the foster care system.
In "Thoughts and Strategies for Moving an Adult Child Into a Nursing Home," Paige Hector discusses the difficult decision of moving an adult child with disabilities into a nursing home. The article gives an overview of nursing home operations, including regulatory oversight that family members must understand, and it details aspects of the decision-making process, identifying questions to ask staff to achieve a successful transition.
Kate Lang and Eric Carlson, in their article, "Making Ends Meet (or Not): How Public Policy Affects Caregivers' Income," describe roadblocks presented by federal policies to caregivers, especially regarding financial security. Medicaid law limits payments for spousal caregiving and the Family and Medical Leave Act imposes limits based on employer size and family relationship. Neither state nor federal governments pay for caregiving leaves, and the Social Security Administration does not give work credits for people providing care for free. The article also brings up one bright spot, which are Medicaid protections against spousal impoverishment, which may be temporary, and recommends ideas for policy change.
ASA is pleased to offer this latest issue of Generations, which will reach ASA members and subscribers in October 2018. Single copies of the issue can also be purchased from our website.