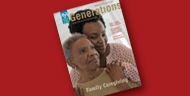 By Kathleen Kelly and Jennifer Wolff
It has been more than ten years since there was an issue of Generations devoted to family caregiving (Winter 2003–2004). At that time, the Family and Medical Leave Act was only ten years old, and states were in the early adoption and implementation stages of the National Family Caregiver Support Program. Models of caregiver interventions and support were being tested—especially with families caring for Alzheimer's patients—but the call was to move beyond individual programs and change health and social service systems to include family caregivers as care partners. Although no comprehensive policy or program to support family caregiving exists today, and widespread integration of family caregivers in delivery processes remains an aspirational goal rather than reality, the pace of dialogue and interest has quickened notably in the past five years, in ways that are most likely beyond the expectations of those working in this field a decade ago.
Four Factors in the Evolution of Family Caregiving
What caused this acceleration? There is no single answer. But four factors that loom large are a growing awareness of population aging and the need to prepare for an increase in Americans of very old ages with significant health needs, the passage of the Affordable Care Act (ACA), the proliferation and diffusion of new consumer and health information technologies, and the concerted (but amorphous) advocacy campaigns calling for changes in federal and state policies affecting family caregivers.
The ACA's passage in 2010 provided a wealth of opportunities and benefits to consumers, and for changing healthcare incentives. The primary benefit was the expansion of healthcare insurance for everyone and for states that expanded Medicaid, and access to healthcare for lower income individuals previously left without services. While gaps remain, the ACA increased investment in prevention and wellness through expansion of Medicare and Medicaid benefits.
But the ACA also changed the Centers for Medicare & Medicaid's (CMS) goals and incentives to embrace the Triple Aim of better care, healthy people and communities, and care that is affordable; and to reward quality and outcomes over individual procedures. It also funded broad initiatives through CMS, the Center for Medicare & Medicaid Innovation, and the Patient-Centered Outcomes Research Institute to test and improve patient-centered outcomes, quality measures, care transitions, care management for at-risk older adults, managed healthcare, and long-term-care services. These changes have led to a greater understanding of the connection between healthcare and long-term services and supports (LTSS) for individuals and families.
Technologies and the disruption they bring to old business paradigms are in a rapid change cycle. High-speed Internet access, big data analytics, mobile and wearable devices, electronic medical records and telemedicine, and the use of a wide variety of social media and information programs are commonplace. More older adults and their families have access to health information and medical records, with the aim of increased portability of information between health and related social services. Innovation incubators for new products and services to improve the quality of life for those with physical and cognitive disabilities and their caregivers are multiplying across the country. In the past decade, the majority of individuals in the United States have changed the way they look for and receive information, and conduct personal business. For advocates, technology has dramatically changed how policy and media campaigns are organized and implemented.
While gridlock continues in Congress, advocates keep making their case, laying the groundwork for educating new members, and building a bipartisan caucus to work on family caregiver policies now and into the future. Federal legislation is being introduced on a number of issues, perhaps not with the expectation of passage, but with the goal of educating Congress and staff on family care issues. Capitalizing on greater opportunity at state and local levels, advocates have been especially effective in the past five years in passing legislation on paid family leave, paid sick days, expanding hospital-to-home transition protocols that involve family caregivers, and refining state Alzheimer's plans and other policies to involve elements of support for caregiving families. Even local communities have taken up the charge of age- or dementia-friendly community planning, with many efforts including family caregivers in their design. And finally, after years of advocacy, the effort is underway to produce an Institute of Medicine report on family caregiving and healthcare, slated for publication this year.
Today, there is a groundswell of activities that cross service delivery, research, and policy development. This issue of Generations explores some of these efforts. Lynn Friss Feinberg's and Carol Levine's provocative article provides an historical overview of family caregiving and its evolution from an entirely private affair into a topic of broader social discourse. The authors examine why attitudes and expectations regarding the roles of family have remained largely unchanged in the face of dramatic shifts in social programs, gender roles, family structure, and the increasingly complex care experienced in old age.
Family Caregivers Within Systems of Care
Several articles pick up where Feinberg and Levine leave off by discussing progress, opportunities, and challenges with respect to supporting family caregivers within systems of care. Barbara Gage and Asmaa Albaroudi provide an overview of quality measurement and how recent efforts support moving toward family caregiver–reported quality measures within healthcare and LTSS. Nancy Lundebjerg and Amy York, plus three members of the Eldercare Workforce Alliance, speak to the perspectives of nurses, social workers, and direct care workers around developing competencies to support family caregivers in professional practice. Alan Stevens's and Jennifer Thorud's article discusses the "value proposition" and how the shift toward population health transforms the perspectives of integrated delivery systems stakeholders and incentivizes proactive identification and support of family caregivers as partners in care.
The transformation of care processes that has been motivated by the ACA presents new opportunities to test and diffuse care models that support older adults and their family caregivers. David Bass's, Leisa Easom's, and colleagues' article presents the challenges and opportunities of efforts to replicate and translate evidence-based interventions more broadly in community settings and through healthcare and LTSS delivery. Drawing on lessons learned in implementing an Administration on Community Living (ACL)–funded effort to diffuse the BRI Care Consultation, they discuss critical issues in implementation science when bringing programs to support family caregivers to scale, including model fidelity, oversight, and evaluation within the context of complex external environments and varied stakeholder groups. Ester Carolina Apesoa-Varano and colleagues take stock of the scientific literature on multicultural family caregiving, and recommend an agenda to better accommodate and respect the diversity of sociocultural factors in interventions, policy, and practice.
The Landscape of Caregiver Support
Programs and policies to support family caregivers are ever evolving, and several articles in this issue examine the current landscape of family caregiver support. Greg Link discusses important programs to support family caregivers funded by the ACL and the Administration on Aging, including the National Family Caregiver Support Program, the Alzheimer's Disease Supportive Services Program, the Lifespan Respite Care Program, and Aging and Disability Resource Centers. Carol Zernial describes a promising program to reach family caregivers who may be socially or geographically isolated, using low-cost and widespread telephone-based education and support. Finally, Grace Andruszkiewicz and Katy Fike describe emerging technology trends and products that focus on improving older adults' independence and easing the challenges and difficulties faced by family caregivers.
Three articles address the role of the workplace in supporting older adults. Lisa Gwyther's and Bobbi Matchar's article discusses an innovative workplace program, the Duke Employee Elder Care Consultation, which for the past fifteen years has supported employees of the Duke community during times of crisis. Drew Holzapfel's and colleagues' article provides a macro-level perspective on workplace support of family caregivers. The authors describe the factors that led them to develop ReACT (Respect a Caregiver's Time), a corporate coalition that seeks to develop ways to help businesses better support family caregivers in the workplace. Vicki Shabo discusses advances in federal and state workplace protections pertaining to family caregivers, including flexible schedules, paid and unpaid sick time, state policies to enhance eligibility and benefits of the Family and Medical Leave Act, and insurance protections in the event of family caregiving–related job loss. All of these authors call for more widespread dialogue regarding workplace supports for family caregivers, plus action to better balance competing issues of economic security for individuals, families, employers, and society—and to better respect the dignity of older adults, workers, and
their families.
Family Caregiving in Policy, Law, and Public Awareness
Finally, three articles drive home current issues in policy, elder law, and public awareness. Gail Gibson Hunt and Susan Reinhard discuss contemporary issues in federal and state policies for family caregivers. They describe the growing diversity of families and demographic trends that portend a "caregiving cliff," the demise of the CLASS Act, forward-thinking programs such as those sponsored by the Department of Veterans Affairs, and summarize wide-ranging policy activities sponsored by states and local government. Charles Sabatino walks readers through the maze of complex legal challenges commonly encountered by family caregivers in an article identifying existing resources and approaches that may alleviate uncertainty and conflict with regard to decisional capacity, surrogate decision-making, information access, abuse and neglect, and personal care agreements for paid care. Bobbi Cordano and colleagues at the Wilder Foundation describe the efforts of one community to catalyze action through elevating awareness and support of family caregiving with a public awareness campaign.
Hunt's and Reinhard's article concludes, saying: "We all must keep in mind the universality of family caregiving," and it challenges readers to take a walk in a "caregiver's shoes." It seems that society and systems of healthcare and LTSS delivery now may be poised to increase meaningful but incremental system changes that better support families. It may be that shifting demographics and the realization that there will be fewer unpaid caregivers in the future have helped create a sense of urgency around this issue. But while changes that conceptually embrace "person- and family-centered care" into broader health and social service systems are laudable, we must move beyond appreciation to meaningful partnership and support. Plus, fundamental issues of financial support must be expanded to better support caregiving families so that they may continue to support individuals in the community, when desired.
Emerging Trends in Family Caregiving
The articles in this issue of Generations point to a number of emerging trends, challenges, and opportunities in the support of older adults and family caregivers. Reflecting upon the articles in their entirety, several emerging issues loom large, and the following merit particular attention with respect to policy, practice, and research:
Incorporating family caregiver perspectives in care delivery. As the quality measurement enterprise accelerates through valuebased purchasing, it will be critically important that conceptual appreciation of family is incorporated in measures that are used to monitor the quality and value of care delivered to persons with complex health needs who rely upon a family caregiver. Likewise, efforts to promulgate engagement in care must attend to the needs of family caregivers, through their explicit representation in policy-related discussions related to relevant populations (e.g., people with Alzheimer's Disease and dementia) and settings of care (e.g., LTSS financing and delivery).
Moving toward person- and family-centered care. This will require not only the development of quality measures and governance structures that incorporate the perspectives of family caregivers, but also a healthcare and LTSS workforce that is more skilled and better prepared to work within family systems. Bringing about truly personand family-centered care will require broad changes in the development and diffusion of educational curriculum and training, as well as standardized competencies. When individuals rely upon or desire the involvement of family caregivers in care, family caregivers should be respected and supported with the requisite skills, knowledge, and information to engage in treatment decisions or to oversee or enact the care plan.
Improving the incorporation of technology into the process of family caregiver assessments and into the development of electronic care plans that span time and space. Family caregivers must be better incorporated in the development and evaluation of technological solutions to support patient and family engagement and information transparency and accountability. Attention must be given to family caregivers in the development and evaluation of consumer health information technologies, including shared access to the provider-sponsored patient portal.
Incorporating into interventions adaptive models that attend to the needs of diverse populations (beyond race and ethnicity), and that accommodate varied organizational and community settings. To help diffuse interventions that have been proven to be effective, funders should prioritize further study and translation of interventions using embedded designs that are integrated within care processes rather than in isolation from systems of care.
Unfortunately, this issue of Generations brings us no closer to consensus on the answer to the following important question: Who is responsible for care of older adults in the community? From this question, others naturally arise: Is this care the responsibility of family, society, or a partnership of both? If society has a role, how far should support extend? Will it target only those with financial need, or will it extend to middle-income families to ensure their long-term financial health? Will society fund services sufficiently to provide affordable substitute care on a sliding fee scale that will enable family members to continue to work? Or will we continue to see significant numbers of caregivers leave the workforce annually to support the health needs of a family member? Will society fund accrual of Social Security credits that ensure a basic retirement income to those family members who have left their jobs for full-time caregiving? Should job training be provided to those re-entering the workforce after stepping out to care for a family member?
The words love, duty, honor, and reciprocity all are used to describe reasons family members care for one another. But in providing the care that families often want, we also must ensure family caregivers are supported by quality, targeted services, through health and social service systems that recognize them as care partners, and by providing meaningful financial support that meets immediate needs and ensures retirement security for the future. 
---
Kathleen Kelly, M.P.A., is the executive director of the Family Caregiver Alliance in San Francisco. Jennifer Wolff, Ph.D., is associate professor of Health Policy and Management at the Johns Hopkins Bloomberg School of Public Health in Baltimore, Maryland.
Editor's Note: This article is taken from the Winter 2015/2016 issue of ASA's quarterly journal, Generations, an issue devoted to the topic "Family Caregiving." ASA members receive Generations as a membership benefit; non-members may purchase subscriptions or single copies of issues at our online store. Full digital access to current and back issues of Generations is also available to ASA members and Generations subscribers at Ingenta Connect. For details, click here.