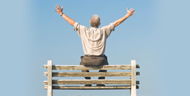 By Kathy Greenlee
Today, somewhere in our nation, no one responded to her screams when a woman living in a nursing home fell. Today, the son of a man living in assisted living stole money from his father's checking account. Today, a caregiver argued with a woman living in her own apartment, and the woman ended up with a black eye.
Elder abuse—in all of its forms—is an outrage against humanity.
What do we strive to reach in our old age? We all have one, complicated goal: independence. We hope for independence so that we can live a good, long life. But abuse robs elders of this goal. People who are victims of elder abuse lose their trust and sense of security, their money and their dignity.
Formal Response Systems Needed
How is our society supporting these elders who experienced trauma today? How are we helping them rebuild their trust and reclaim their independence after these betrayals? While we hope they have the loving support of family, friends and faith communities to help them reclaim their independence, but we know this isn't always the case. We need formal and informal responses to abuse. Formal supports—the ones developed through federal and state policies—vary depending upon where these individuals live and receive services.
For the woman living in a nursing home, federal regulations require the facility to immediately report and investigate the neglect; federal regulations also require her state's survey agency to receive that report and investigate complaints. If the facility fails to change its practice and surveyors cite the facility, the federal government publicly posts this information to make others aware of the problem and can bring enforcement action against the facility. Meanwhile, the nursing home resident has access to a long-term-care ombudsman. Ombudsmen serve as advocates to work with residents to improve facility services and to support her efforts to reclaim independence.
We built these federal regulatory and advocacy systems as a nation in response to high-profile reports of horrors in nursing homes in the 1970s and 1980s. Since then, our nation has made great efforts to improve the care and quality of life of our elders living in nursing homes—and we have more work to do.
But today, more elders receive long-term services and supports (LTSS) in residential care facilities (including assisted living) and in their own homes than in nursing homes, and that trend will continue. How—and how well—do we support them?
Support for States' Response to Abuse
States, not the federal government, have the lead oversight role to ensure quality of care and quality of life for consumers of most home- and community-based services (HCBS). Where assisted living, in-home aides and most other HCBS services are regulated, the state licensing and regulatory agencies, not the federal government, develop and enforce the standards. States design and implement Medicaid HCBS waivers (which provide LTSS in homes and communities, rather than in institutions). States or local entities provide adult protective services (APS).
We in the Administration for Community Living (ACL) are proactively supporting states to build stronger APS programs by developing best practices and designing a data system for states' voluntary use. President Obama included $25 million in his Fiscal Year (FY) 2015 budget request to Congress for first-time funding to implement the Elder Justice Act and continue this momentum.
The next step is for Congress to include this request in the FY 2015 Labor HHS Appropriations bill. In July, the Senate Subcommittee included $10 million of this request in its reported bill and draft subcommittee report, but the bill has not yet passed the Senate or House. If funded, the ACL will use these funds to implement the nationwide APS data system, support research to translate promising interventions from other violence prevention areas to elder abuse and evaluate the effectiveness of such interventions.
ACL's mission is to "maximize the independence, well-being, and health of older adults, people with disabilities, and their families and caregivers." Because abuse robs elders of their independence, well-being, even their health, our mission makes this work imperative. The Administration on Aging, part of ACL, has been leading efforts for many years to restore elders' stolen independence through legal services and other elder rights programs established by the Older Americans Act. We support the independence of residents living in assisted living, board and care homes, and nursing facilities through the Long-Term Care Ombudsman program, and we are working to finalize regulations to strengthen its impact.
We are helping to coordinate federal efforts, through the Elder Justice Coordinating Council (made up of 11 partners), to respond to instances of abuse, to raise awareness of this crisis and to increase focus on the critical need for research. Our federal partners also are working on prevention efforts—such as abuse-prevention training for nursing home staff and educating individuals who manage other people's money. The Department of Justice has launched an Elder Justice Website with resources for elders and their families, advocates, prosecutors, financial professionals and a range of service providers who work with older adults.
I have been encouraged to find many other partners who, when they are made aware of the challenge, have committed themselves to join in the goal of ending elder abuse. It is my hope that you, the reader, will be part of this ever-growing number of allies by engaging in the following actions:
Join us in supporting the President's FY 2015 Elder Justice Act funding request;
Find other ways to help by checking out the recently released Elder Justice Roadmap; and
Prepare to engage in the 2015 White House Conference on Aging, with LTSS and elder justice as identified topics of focus. Watch for the future roll-out of the website; www.WhiteHouseConferenceOnAging.gov.
It takes all of us to support an older adult, even more so the one who has endured the trauma that has stolen her independence. And it takes a team—caregivers, friends, health professionals, legal services, advocates, community and faith organizations, plus federal, state and local government entities—to help her reclaim it.
---
Kathy Greenlee is Administrator of the Administration for Community Living and Assistant Sec- retary for Aging at the Department of Health and Human Services.
Editor's Note: This article appears in the November/December 2014 issue of Aging Today, ASA's bi-monthly newspaper covering issues in aging research, practice and policy. ASA members receive Aging Today as a member benefit; non-members may purchase subscriptions at our online store or Join ASA.