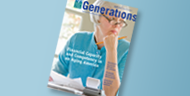 By Daniel C. Marson and Charles P. Sabatino
The capacity to manage one's financial affairs, known as financial capacity, comprises a broad range of conceptual, pragmatic, and judgment abilities, used across a range of everyday settings, that are critical to the independent functioning of adults in our society (Marson, 2001; Marson et al., 2000). Financial capacity has been defined in general terms as "the capacity to manage money and financial assets in ways that meet a person's needs and which are consistent with his/her values and self-interest" (Marson, Hebert, and Solomon, 2011).
Financial capacity represents a broad continuum of activities and skills, which can vary considerably across individuals based on their background and experience (ABA/APA Assessment of Capacity in Older Adults Project Working Group, 2008). For example, the financial skills and experience of a retired investment banker differ enormously from those of a retired school custodian on a fixed income.
From a clinical standpoint, financial capacity may best be conceptualized as a series of domains of activity that each have specific clinical relevance (Marson, 2001; Marson et al., 2000; Griffith et al., 2003). Examples of such financial domains would include having basic monetary skills, carrying out cash transactions, managing a checkbook and a bank statement, and exercising financial judgment. This domain-based approach is clinically oriented and consistent with the presumed multidimensionality of financial capacity and its variability across individuals. It is also consistent with the legal doctrine of limited financial competency adopted within most state legal jurisdictions, which recognizes that an individual may be legally competent to carry out some financial activities and not others (Marson, 2001; Marson et al., 2000; Grisso, 1986).
The Financial Capacity of Older Adults: A Growing Problem
Although financial capacity is essential for all community dwelling adults, it is a topic with particularly important implications and urgency for older adults: there is a tremendous and underappreciated "financial capacity problem" posed by our rapidly growing older adult population. Older adults represent that portion of the U.S. population most vulnerable to impairment and loss of financial skills and capacity, as a result of the effects not only of Alzheimer's Disease and related dementias, but also of normal cognitive aging.
At the same time, older adults hold a disproportionate amount of wealth in the United States. Older adults ages 65 and older currently comprise only 13 percent of the population (APA, 2011) and 21.4 percent of family households in the United States (Pilson, 2011; Laibson, 2011), but hold 34 percent of the nation's wealth (Pilson, 2011; Laibson, 2011). This combination of wealth, cognitive decline, and impaired financial capacity represents a tremendous and growing challenge to our society. Given that overall household wealth in the United States in 2009 was estimated at $53.1 trillion, the amount of wealth currently held in older adult households amounts to a staggering $18.1 trillion (Laibson, 2011).
With the continued aging of our society, and the tidal wave of Alzheimer's and related dementias building over the next few decades (estimated at 14 million persons in the United States by 2050), both this percentage and overall older adult wealth will only increase, and issues of financial capacity in elders will become ever more prevalent and urgent. These changing circumstances also provide an opportunity for rethinking how we as a society plan for the future, and how clinicians, social services providers, lawyers, and financial industry professionals can best serve the aging population.
Financial Capacity: A Four-Pronged Perspective
Despite its critical importance in everyday life, financial capacity has been surprisingly neglected in research concerning older adults (Marson, Hebert, and Solomon, 2011; Marson, Triebel, and Knight, 2012). In this issue of Generations, we seek to illuminate the topic of financial capacity in older people from four vantage points: economic, clinical, legal, and public policy. We have accordingly divided the issue's fifteen articles into four sections, which correspond to each of these perspectives.
The first section, called "The Financial Landscape of Retirement: Challenges and Opportunities," concerns the complex economic and financial context in which older adults now function. In order to understand and appreciate the importance of financial capacity in our aging society, we first must consider the economic and retirement landscape and challenges that older adults must navigate and overcome. Thus, the first set of articles addresses the changing financial world for older persons, the financial players and products, and the challenges of the economic recession, retirement income stability, and diminished financial literacy and capacity of older investors.
Larry Polivka opens the issue and launches this important discussion with a thought-provoking piece on the changing financial world of elders, which is perhaps most clearly marked by the shift from employer-based defined benefit plans (pensions) to employeemanaged defined contribution plans (IRAs). Polivka notes with concern that retirement security has eroded over the past thirty years because policy makers and corporations have not prepared well for the retirement of the baby boom generation.
Even for educated adults with well-honed financial skills, the ever-changing world of financial products and services can be baffling. Ryan Wilson gives a succinct yet comprehensive discussion of the financial professionals and products in today's financial world, the confusing range of capacities and loyalties of those professionals, and the corresponding opportunities, risks, and pitfalls for older adult investors. Against this financial landscape, Annamaria Lusardi introduces the critical issues of cognitive aging and diminished financial literacy in older adults—the special focus of this issue of Generations. Lusardi's careful empirical work has clearly demonstrated that financial literacy declines in later life, and is reflected in increasing levels of irrational decision-making by older adults. This theme of impaired financial decision-making is then amplified in Naomi Karp's article that describes the results of a recent survey of financial service professionals who were questioned about issues of diminished financial capacity they encountered in their elderly clients. The results show a financial services sector increasingly concerned about issues of diminished capacity, but still in the early stage of crafting effective solutions that balance client protection with respect for autonomy.
The issue's second section is called "The Clinical Perspective on Financial Capacity of Older Adults," and concerns the clinical dimensions of the financial capacity problem in older people. The underlying key causes of declining financial capacity in elders have to do with brain aging and accompanying cognitive disorders such as Alzheimer's Disease and related dementias. As a result of these cognitive changes, older adults frequently experience new and alarming problems managing household finances, making poor financial decisions, and being exploited. Not surprisingly, clinicians treating older adults are increasingly being asked by families, other clinicians, attorneys, and judges to evaluate and offer clinical opinions regarding financial capacity (Widera et al., 2011). In particular, internists and geriatricians, who function on the front lines of dementia care, must contend frequently with financial capacity issues in their older adult patients (Widera et al., 2011). Kristen Triebel and Daniel Marson lead off the clinical section  with an article describing the clinical warning signs of diminished financial capacity in older adults with cognitive impairment and dementia, and steps that family members can take to communicate such financial concerns and to protect an elderly person's finances. Amy Knight and Daniel Marson follow this with an article about exciting new neurocognitive and neuroimaging research that is helping us to understand the brain networks and cognitive functions that underlie both intact and impaired financial
capacity in older adults. Scientific progress in this area may ultimately lead to earlier detection by clinicians of older adult patients at risk for diminished financial capacity, and allow both patients and family members to take protective steps before poor decisionmaking and/or exploitation occur.
A key aspect of diminished financial capacity in older adults is increased vulnerability to financial exploitation by others, exemplified in the clinical and legal doctrine of undue influence. Stacey Wood and Pi-Ju Liu discuss the concept of undue influence in relation to financial capacity, describe clinical models for analyzing and understanding situations of potential undue influence, and apply these clinical models in two intriguing case studies presenting typical exploitation scenarios. The final article in this section, by colleagues Lynn Flint, Rebecca Sudore, and Eric Widera, addresses the increasingly important role of physicians and other clinicians as they encounter issues of declining financial capacity in their elderly patients. These roles include assisting patients and families with advance planning for future incapacity, being alert to signs of impaired financial capacity and conducting brief assessments as needed, making appropriate referrals to experienced consultants for formal assessments, and reporting financial elder abuse.
The third section, called "The Legal Perspective on Financial Competence of Older Adults," focuses on different legal aspects of the financial capacity problem. The legal system provides an important alternative perspective: financial capacity is a medical-legal construct and the law has developed its own frameworks and procedures for determining whether an individual possesses sufficient decisional capacity to be legally permitted to manage his or her finances independently. In cases where an individual has lost, or is at risk for losing, financial competency, the legal system has also developed a variety of mechanisms by which decisional authority for finances can be properly transferred to others. In addition to adjudicating questions of financial competency, the legal system is challenged more than ever by increasing numbers of financial elder abuse cases, handled under both civil and criminal statutes and proceedings, as well as by issues of the property rights of different minority groups.
David English begins this section with a concise discussion of the legal concept of surrogate financial decision-making, and the different legal tools and procedures that patients and families can use to address and manage future impairment or loss of a loved one's financial abilities. These tools include more flexible alternatives such as the durable power of attorney for financial affairs, revocable living trusts, and representative payeeships, as well as less flexible alternatives such as formal legal conservatorship through the probate court (also known as guardianship of the estate).
The depth and breadth of elder financial exploitation in our society cuts across economic, educational, and cultural boundaries, and responses to exploitation are multidimensional, complex, and evolving. The multifaceted legal problem of financial elder abuse is addressed by Lori Stiegel, who describes how financial exploitation is defined and how it manifests, its scope, costs and dynamics, and the myriad ways it can be addressed by the justice system.
The next article in this section addresses the legal challenges faced by one minority group, the LGBT community, in carrying out successful personal and family retirement planning. Using the analogy of a tripod, David Godfrey cogently delineates the unique challenges faced by LGBT individuals and couples attempting to build a secure retirement plan on the three "legs" of Social Security, pensions, and savings and investments. The section concludes with an article by William Brisk, an experienced elder law attorney, who provides a pragmatic view of financial competency issues as they emerge in the context of his legal practice with older adults and their families. In particular, the article provides welcome guidance regarding the distinction between capacity and competency—terms that often are entangled.
The final section of the journal, "Programs to Support the Financial Capacity of Older Adults," comprises articles that reflect educational, institutional, and governmental responses to the financial capacity problem in older adults. The first article (page 94), written by Robert Roush and colleagues in the nationally recognized Elder Investment Fraud and Financial Exploitation (EIFFE) program, discusses the EIFFE's educational premises, goals, and accomplishments to date. Funded by the Investor Protection Trust, this innovative program uses continuing medical education and other teaching forums to educate physicians and other clinicians about issues of diminished financial capacity in their older adult patients, the associated risks of exploitation and investor fraud, and steps that can be taken to protect these patients and families. The theme of institutional protection for impaired elderly clients (both from themselves and others) is addressed next in an article by Joseph Snyder that discusses financial programs developed by banks—together with municipal agencies—to protect vulnerable older clients who have declining financial capacity.
It seems appropriate that a final article about the federal government's role in the financial education and protection of elders serves to wrap up both this section and the entire issue. Hubert H. Humphrey III, assistant director of the new Office of Financial Protection for Older Americans, Consumer Financial Protection Bureau, in Washington, D.C., discusses the origin, goals, and great promise of this new office and agency, whose charge it is to undertake "activities designed to facilitate the financial literacy of individuals who have attained the age of 62 years or more… on protection from unfair, deceptive, and abusive practices and on current and future financial choices" (U.S. Congress, 2010).
Summary
Despite its importance in everyday life, financial capacity has been a relatively neglected topic in economic, clinical, legal, and public policy research concerning older persons. As reflected in this issue of Generations, however, financial capacity is now receiving increasing public policy attention. In particular, the topic has become especially significant because of the "financial capacity problem"—the issues in an aging society presented by widespread declining financial skills and vulnerability of older adults who hold a disproportionate amount of the nation's wealth. We believe the articles in this issue illuminate critical economic, clinical, legal, and public policy aspects of this financial capacity problem. Taken together, they throw a much-needed and concentrated light on a decisional capacity that is of fundamental importance for patients and families, healthcare,legal, and financial professionals, governmental agencies, and policy makers.
---
Daniel C. Marson, J.D., Ph.D., is a professor of neurology in the Department of Neurology and director of the Alzheimer's Disease Center, University of Alabama at Birmingham, in Birmingham, Alabama. He can be contacted at
dmarson@uab.edu
.
Charles P. Sabatino, J.D., is the director of the ABA Commission on Law and Aging at the American Bar Association, Washington, D.C., and a member of the Generations Editorial Advisory Board. He can be contacted at
charles.sabatino@americanbar.org
.
Daniel Marson's research is supported by grants from the National Institute on Aging (5 R01 AG021927) and the National Institute of Child Health and Human Development (1R01 HD053074).
---
References
American Bar Association (ABA)/American Psychological Association (APA) Assessment of Capacity in Older Adults Project Working Group. 2008. Assessment of Older Adults with Diminished Capacity: A Handbook for Psychologists. Washington, DC: American Bar Association and American Psychological
Association.
American Psychological Association (APA). 2011. Fact Sheet: Age and Socioeconomic Status. www.apa.org/pi/ses/resources/publications/factsheet-age.aspx. Retrieved September 27, 2011.
Griffith, H. R., et al. 2003. "Impaired Financial Abilities in Mild Cognitive Impairment: A Direct Assessment Approach." Neurology 60(3): 449−57.
Grisso, T. 1986. Evaluating Competencies: Forensic Assessments and Instruments. New York: Plenum Press.
Laibson, D. 2011. "Age of Reason." Closing keynote presentation at the 23rd annual Morningstar Investment Conference, Chicago, IL, June 2011.
Marson, D. C. 2001. "Loss of Financial Capacity in Dementia: Conceptual and Empirical Approaches." Aging, Neuropsychology and Cognition 8: 164−81.
Marson, D. C., Hebert, K., and Solomon, A. 2011. "Assessing Civil Competencies in Older Adults with Dementia: Consent Capacity, Financial Capacity, and Testamentary Capacity." In Larrabee, G. J.,
ed. Forensic Neuropsychology: A Scientific Approach. 2nd ed. New York: Oxford University Press; pp. 401−37.
Marson, D. C., Triebel, K. L., and Knight, A. J. 2012. "Assessment of Financial Capacity: A Neuropsychological Perspective." In Demakis, G. J., ed. Civil Capacities in Clinical Neuropsychology. New
York: Oxford University Press. pp. 39−68.
Marson, D. C., et al. 2000. "Assessing Financial Capacity in Patients with Alzheimer Disease: A Conceptual
Model and Prototype Instrument." Archives of Neurology 57(6): 877−84.
Pilson, M. 2011. "Declining Cognitive Ability Presents Challenges to Boomer Finances." Real Time Economics. blogs.wsj.com/economics/2011/06/10/decliningcognitive-ability-presents-challenges-to-boomer-finances/.
U.S. Congress. House. 2010. The Dodd−Frank Wall Street Reform and Consumer Protection Act. HR 4173. 111th Congress. 2nd sess. sec. gov/about/laws/wallstreetreformcpa.pdf.
Widera, E., et al. 2011. "Finances in the Older Patient with Cognitive Impairment." Journal of the American Medical Association 305(7): 698−706.
---
Editor's Note: This article is taken from the Summer 2012 issue of ASA's quarterly journal, Generations, an issue devoted to the topic "Financial Capacity and Competency in an Aging America." ASA members receive Generations as a membership benefit; non-members may purchase subscriptions or single copies of issues at our online store. Full digital access to current and back issues of Generations is also available to ASA members and Generations subscribers at Ingenta Connect. For details, click here.