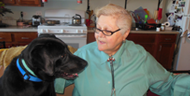 By Marti Smith
Born and raised on an Illinois dairy and grain farm, I moved to Chicago in the 1970s in search of a more gay friendly place to live. My first apartment in Chicago was in the Lakeview neighborhood in an area known as "Boystown," just blocks from Wrigley Field. Several years later, I reluctantly had to leave this neighborhood as the rent became too expensive.
Last year I returned to Boystown when I moved into the newly constructed Town Hall Apartments. Town Hall Apartments was a great fit for me as it is affordable thanks to housing vouchers from the Chicago Housing Authority. More importantly, Town Hall Apartments are LGBT-Friendly, so I knew I would be welcome as an out lesbian. Town Hall Apartments, co-owned by Heartland Alliance and Center on Halsted, is one of the first LGBT-Friendly senior living residences in the country.
I am acutely aware that without the rental subsidy I would not be able to afford to live here. I also never thought I would experience such profound financial hardship in my later years, but being diagnosed with Stage 4 throat cancer 18 years ago changed that. I was faced with numerous, expensive-to-treat side effects. I accrued credit card debt to pay for the treatments, causing financial ruin. My situation is not unique. Many residents of the Town Hall apartments have serious, long-term health challenges.
Much progress has been made in recent years by the LGBT rights movement. However, as an LGBT older adult I did not want to move into a senior residence for fear of facing discrimination. I have heard stories from others that they are subjected to bullying or abuse from other residents and staff. As a result, many LGBT older adults are forced back into the closet, hiding their sexual orientation to avoid the consequences of being outed as gay. Many of my fellow Town Hall residents have said, "I don't want to go back into the closet at this stage of my life. I don't know what I would do if I didn't live here."
I feel safe here identifying proudly as a card-carrying lesbian. Most of us living at Town Hall do not want to live behind closed doors, isolated and alone. We humans are social animals and I can think of nothing worse than spending my later years living alone, isolated and locked away in fear. In the Town Hall apartments we live in community.
The residents of Town Hall are a remarkably diverse group. When I moved into Town Hall, I was admittedly disappointed, though not surprised, to discover a sizable number of residents identify as heterosexual. Gay and straight, we are a melting pot of racial, ethnic and cultural backgrounds. With the recent Supreme Court ruling enabling gay marriage throughout the country I was reminded that this ruling was made possible by long-term efforts to educate all people about this issue.
So we here at Town Hall, perhaps because of our differences, have learned to accept each other and learn from one another. We are moving from tolerance, to respect, to acceptance of those different from us. This is not an easy task. As we continue, a work in progress, we can all learn to live here with dignity and pride.
I realize I am fortunate to live in such a supportive environment and mindful that many of my LGBT peers do not share this opportunity. I am proud to call Town Hall apartments home.
---
Marti Smith is a 70-year-old semi-retired lesbian living in Chicago's Town Hall Apartments with her dog, Roxy. She is employed part-time as an usher at Lyric Opera and is an active member of Center on Halsted's senior advocacy program.
Photo courtesy of Marti Smith.
This article was brought to you by ASA's LGBT Aging Issues Network.
Check your mailbox (and online) in early November for Aging Today's In Focus section called "A Place to Call Home: Where Will We Live as We Age," for more important articles on the evolution of elder housing, from low-income options to the psychology of moving to creative solutions for older adults who would rather age-in-place.