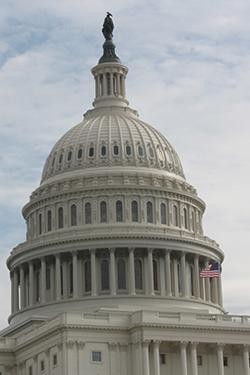 By Anna Galland
Since Donald Trump and the Republican Party took full control of our federal government in January 2017, they've unleashed acute attacks on our democracy, on our fundamental values and on the health, safety and dignity of Americans from all walks of life, including older adults.
With Republicans in Congress continuing to threaten devastating cuts to—or even the dismantling of—Medicare and Medicaid, as well as pushing policies aimed at benefiting big corporations and the wealthy at the expense of everyone else, their unchecked power remains a crisis for our country.
Engagement and Resistance Build
But there's an inspiring flip side to this dark context. A powerful Resistance movement has arisen, moving millions of people to take civic action, many of them for the first time. Together, this broad movement has engaged in visible public protest, turned out people en masse to town hall meetings, spurred millions of phone calls to Congress and added tens of millions of signatures to petitions. In doing so, the movement has affected legislative outcomes and has already shown we can stave off some of the worst assaults on our country—while laying the groundwork for a broader revival in our democracy.
A tumultuous political climate has transformed everyday Americans into ad­­­­­vocates and activ­ists. Individuals who never anticipated being involved in fighting for justice are doing so every day, whether by lifting up their voice on social media, rallying at congressional offices and on Capitol Hill or running for office.
Over the past year, we have seen that when we as individuals make our voices heard and mobi­lize together, members of Congress will listen—and powerful grassroots resistance movement or­ganizations have made it easy to plug in. Existing nonprofit organizations such as MoveOn, ACLU, Planned Parenthood, United We Dream, Color of Change and many others have been joined by newer grassroots groups, including Indivisible, Women's March, Swing Left and a host of others.
Volunteering and taking action with organizations such as these can be a personally transformative experience. Volunteers find hope, inspiration and increased confidence in the process of making a call to Congress, attending a local meeting with fellow concerned members of the community or talking to voters about a candidate seeking office. And when taking these actions as part of an organization or movement, each individual voice is contributing a resounding cacophany that elected leaders, the national media and others who shape our nation's policies can't ignore.
Yoked together into strategic campaigns, millions of individual actions are our best hope for creating change and confronting those who've enabled our current toxic discourse. Whether it was the millions of Americans who made the Women's March the largest national day of activism in our nation's history, or the 60,000 people who joined MoveOn's first "Ready to Resist" confer­ence call to learn how to organize or the thousand people who gained organizing skills through MoveOn's Resistance Summer training program and then kept organizing in their communities, people joining together at the grassroots have been able to head off some of the worst excesses of the current administration, while laying the groundwork to change prevailing power dynamics through elections.
And amid an outrageous and sometimes disheartening news environment, taking sustained action is the best way to fuel hope—justified hope—for our country's future, including the shape of the safety net and social insurance programs that older adults should be able to count on, not just in this era, but for generations to come.
The fight to defend healthcare is an important case study for how the Resistance movement has succeeded in blocking the worst of President Trump's agenda—and moving from individual ex­pression to collective advocacy, both in blocking a disastrous policy and in proactively setting the policy agenda to move our country forward.
President Trump has said his top priority was to repeal Obamacare, and he promised to do it on day one of his presidency. This effort was blocked repeatedly because, with the support of organi­zations such as MoveOn and many others, millions of individuals spoke out, showing up in record numbers via phone, email, petitions, at town halls and in the press. MoveOn members alone made more than a million phone calls to Congress, and hundreds of thousands attended town halls. These collective actions not only created the context for blocking repeal efforts in the Senate, they have sparked proactive proposals for positive progress for healthcare access, including the in­creasing drumbeat for Medicare for All.
We need to organize to stop our nation's current disastrous trajectory and to take us forward to a better future for ourselves, our kids and our grandkids. Our vision can be one of a country and world that holds a place of honor and dignity for everyone—one where we take care of each other.
Ultimately, an essential way to help achieve this vision is to ensure that our elected officials are aligned with it. Our job now is to take the Resistance to the ballot box to elect candidates who sup­port our vision for a better future and a country where everyone can thrive, including elders who rely upon the safety net. We need to organize for an economy that lifts up everyone. For access to healthcare for all. For peace and for racial, climate and gender justice.
Between now and Election Day, let us work to turn the Resistance into an electoral force that can make good on that vision by endorsing candidates, volunteering for them, supporting them with financial contributions and elevating their stories on social media. And then all must turn out to vote. If this past year and a half has yielded lessons learned, it's that Americans of all ages and backgrounds are up to the challenge. 
Anna Galland is executive director of MoveOn.org. To get involved in MoveOn's campaigns, re­ceive email updates and-or text alerts, sign up at moveon.org.
Editor's Note: This article appears in the May/June 2018 issue of Aging Today, ASA's bi-monthly newspaper covering issues in aging research, practice and policy nationwide. ASA members receive Aging Today as a member benefit; non-members may purchase subscriptions at our online store.