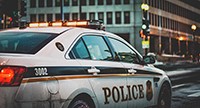 By Jessica Empeño
Imagine this: You knock on the door of your dad's bedroom to see if he's okay. All of a sudden – BANG! – then a sharp pain, and you realize you've been shot.
Your dad has dementia. He thought you - his daughter - were an intruder. He grabbed a gun thinking that he needed to protect himself.
What do you do? Do you call 911? Will the police understand he has dementia and he didn't know what he was doing?  Will he be arrested? 
I wish I could say this was a fictitious, worst-case scenario. But this was a very real situation our team at Alzheimer's San Diego handled recently.  Thankfully, the daughter didn't have any lasting injuries, and when her father was arrested (per California Penal Code 246.3 "negligent discharge of a firearm"), we were able to help advocate for his release. But it could have been much worse for everyone involved.
Many don't realize how often law enforcement encounters people with dementia in the community.  On a regular basis, they respond to everything from domestic disturbances (which may be a person with dementia who has become agitated toward an overwhelmed caregiver) to missing person cases (which may be someone who has wandered and become lost).  These are tough calls - and while our first responders have the heart and compassion, they don't have the time, training or resources these families need...that's where we come in.
Over the years, we have developed collaborative relationships and wonderful partnerships with local enforcement agencies - working together to support our community.
Developing relationships with law enforcement takes time, patience and mutual respect. In my First Responder Training and Programs to Support People with Dementia webinar on August 7, 2018, I'll share what we have learned from our partners in uniform and the best practices that helped build the collaboration between Alzheimer's San Diego and our local law enforcement agencies.
Jessica Empeño, MSW is a social worker and VP of Programs and Family Services at Alzheimer's San Diego, where she is responsible for the development, leadership and delivery of innovative programs to support families impacted by Alzheimer's disease and other forms of dementia. Alzheimer's San Diego is an independent nonprofit organization with deep roots in the local community and a dedication to improving quality of life for families living with dementia. Free programs and supportive services provide families with access to compassionate and knowledgeable social workers who assist with disease information, local resources and care options, practical solutions as well as advice and emotional support.