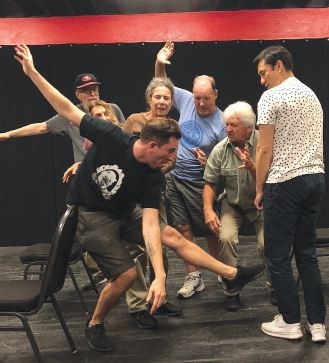 By Barbara Meltzer
It was an average Saturday morning in Los Angeles, yet there I was in a studio walking around the room flapping my arms and cooing as I gamely tried to transform myself into a mourning dove. I was taking Aretha Sills' weekend intensive improvisa­tion workshop, playing a "game" called "Animal Imag­es." Why am I here, I won­dered, as I flapped and cooed. And that was before I started conversing in gibberish.
I have never wanted to be an entertainer and still get nervous when I speak to groups. Appearing "foolish" is one of my greatest fears. But I have always believed that somewhere inside of me, the little girl who was shy, quiet and not very playful was long­ing to be set free.
In a moment of vulnerabil­ity, I revealed this to my friend Paul Sand, who happens to be an original member of Chi­cago's The Second City impro­visational comedy group. He suggested that I take an im­provisation class and recom­mended Aretha Sills, the daughter of Second City founder Paul Sills and grand­daughter of Viola Spolin, the originator of Theater Games.
No Script, No Regrets
Improvisation is all about spontaneity and being in the moment. There's no script and nothing to memorize. As an example, Sills had that Saturday directed three players to be seated in the middle of the room. Two would speak in gibberish. The third person had the difficult job of translating. It was very funny, and while the words meant nothing, it was fascinating to see how much body lan­guage and tone suggested a story.
So many opportunities to look foolish, I thought, but with trepidation and a dose of courage, I jumped feet first (literally) into Sills' class. We were a multi-generational group of 15 people (called "players" in improv lingo), and I was the oldest and the only first-timer.
While trying not to compare myself to others—one of my greatest skills—I participated in every­thing. In improv there is no right or wrong, no good or bad. Soon one begins to feel safe. By the second day of the weekend workshop, I sensed the little box opening and before I knew it, freedom flew out and "foolish" had transformed into "playful." Spolin said that playing these games is a sort of vacation from one's everyday self, and the routine of everyday living. She's right about that, but it's so much more. Though exhausted after six hours a day (one for lunch) of playing, I felt myself swelling with pride and eager to share my story with others. I was already thinking about starting a class in my city.
Improv Benefits Older Adults
Inspired by my experience in the group with multiple ages, I decided to check out improv classes created just for older adults. Second City's home, Chicago, seemed a good place to start. Sure enough, they have a class for people ages 55 and older called "Humor Doesn't Retire." According to Becca Barish, L.C.S.W., Second City's Director of Wellness Programs, the class provides many ben­efits to "players," including increased positivity, a sense of comfort and ease with the unexpected and increased self-awareness.
"Participants often report that the changes result in enhanced problem-solving abilities and greater facility in social situations," says Parish, who is also a Second City–trained improviser. When asked about the class, 80-year-old member Helen Haugsnes said, "I want the whole world to know improv dissolves that crust of old fogey with an injection of elixir from the Fountain of Youth."
The nonprofit Mob Rule, Inc., has held an improv class for older adults in Santa Monica for al­most 20 years. Many of the participants, who range in age from 70s to 90s, have formed a strong community. According to Second City–trained instructor Brian Hamill, "Many of the students have become very close and help each other through illness and the loss of spouses. In addition, the spontaneity of improv enables folks to be less fearful of the unknown and to more readily see solutions for real life experiences."
I chatted with 80-year-old Luba, who has been a class member for about three years. Once ago­raphobic, she said, "Improv opens your child mind. It's like recess. There is no wrong way to do things and this makes me feel more confident in others areas of my life. It gives me a reason to leave my home and be with people who are now my friends."
Participating in an intergenerational class appealed to me, so I asked Sills about what the ben­efits might be versus those gained in classes open only to older adults.
She said, "I think older players are able to bring the whole of their experience to workshop, which elevates the level of play for everybody, and I find that younger players take inspiration from realizing aging doesn't mean giving up playing. We all benefit in so many ways from getting to be free of all the labels the culture imposes on us (young, old, etc.) and just be fellow players sharing a moment together."
There are groups for players who prefer to only work with other older adults. "I think older adults believe they are not welcome or feel uncomfortable because 'improv' classes can skew young, but in reality I want them to know they are needed and wanted," says Sills. It works best when we all play together."
I will be taking more improv classes. Though the fear still lingers, the "new" Barbara is eager to "play." Or as Spolin has said, "Get out of your head, into the space and await the invisible stranger." Thanks to Sills' class, I found the stranger—and she happens to be me.
Barbara Meltzer is founder and principal of the Los Angeles–based public relations and marketing agen­cy, Barbara Meltzer & Associates. She can be reached at barbara@meltzerpr.com or by visiting www.melt­zer pr.com. Meltzer served previously on the Aging Today Editorial Advisory Committee.
Editor's Note: This article appears in the January/February 2019 issue of Aging Today, ASA's bi-monthly newspaper covering issues in aging research, practice and policy nationwide. ASA members receive Aging Today as a member benefit; non-members may purchase subscriptions at our online store.
Where to Find Improv
 
Sills/Spolin Studio of Improvisation
Aretha Sills offers workshops, which use the methods of improvisational theater innovators Viola Spolin and Paul Sills, in Los Angeles and around the country.
Contact: www.violaspolin.org/workshops
 
Improvisation for Parkinson's
This class gives students with Parkinson's a chance to laugh together and learn the tenets of improv: patience, listening, not second-guessing oneself and focusing on others. Participants can gain confidence and effective cognitive behavioral skills that include problem-solving, emotional work and identification. Improv games and exercises, which apply humor in an interactive, supportive environment, are based on Viola Spolin's work. The class is held at Second City in Chicago.
Call: The Training Center, 312-664-3959
 
Improvisation for Caregivers
Classes focus on offering individuals in a caregiving setting more agency, support and informed agility to navigate within the caregiving space. Classes are free and held at the Lou Ruvo Center for Brain Health—Cleveland Clinic, Las Vegas, Nev.
Contact: Ruth Almen at Almenr2@CCF.org or call 702-483-6054
 
The Memory Ensemble
An eight-week theater intervention program for persons with early-stage Alzheimer's disease and related conditions, The Memory Ensemble is an improvisation experience for people with memory loss. It is offered by the Mesulam Cognitive Neurology and Alzheimer's Disease Center of the Northwestern University Feinberg School of Medicine and the Lookingglass Theatre Company, in Chicago.
Contact: cnadc-admin@northwestern.edu.
 
A Theater Improvisation Wellness Activity for Seniors
Conducted by Brian Hamill of Mob Rule, Inc. (a nonprofit community outreach project), this two-hour improv games and skills workshop, held in Santa Monica, Calif., is fun and safe, with an emphasis on wellness.
Call: 310-394-9871