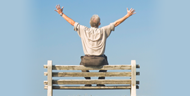 By Charlotte Yeh
The myths of aging are stubborn. For generations, these myths have been a drag on the possibilities people ages 50 and older see for themselves, and they have maintained a stranglehold on the notion of well-being at this later stage in life. Despite reams of research countering the false narratives spun by these myths, they persist.
We've heard them all, over and over: You can't teach an old dog new tricks, you are destined to have dementia, you will lose your memory, you will suffer from empty nest syndrome, your brainpower will wane, and you will become less social and more isolated.
Most of these myths originate from an arc of life we have been conditioned to expect—that life's discoveries reach a pinnacle during adulthood, the so-called prime of our lives. Shortly after the pinnacle, a long, steady decline begins into retirement, old age, and frailty—periods where it is assumed that the spirit of discovery fades and life slows down. This arc has been the norm for centuries.
The problem with this worldview on aging is that it relegates people to bystander status; it douses any flickering interest individuals may have in being able to age on their own terms. This mindset holds nothing self-empowering about aging; it implies that aging "happens to us" rather than the more empowering perspective that aging unfolds with our guidance.
But the march of time has finally begun to work its magic on the myths of aging. Research insights, medical advances, changes in work and the workplace, technological innovation, and other shifts have helped people ages 50 and older move the goalposts. And as their expectations, needs, and aspirations have evolved, new rubrics for "healthy aging" and "well-being" have emerged. More and more, we are resetting the terms of aging.
AARP Avenues to Better Health
Begun in 2008 through work between AARP Services, Inc., and several healthcare carriers, AARP Avenues to Better Health was created as a platform to find, encourage, and pursue innovative ways to meet the challenges that everyday Americans ages 50 and older face in navigating the healthcare system, in understanding Medicare, and in finding personal health security and independence.
Rooted in AARP's mission to "enhance the quality of life for all as they age," AARP Avenues to Better Health is a far-reaching platform that reflects many efforts to develop transformative ideas on the way healthcare is delivered, used, and understood by consumers. It also addresses the way consumers view long-standing programs such as Medicare, and attempts to bring to realization programs, initiatives, research studies, and education focused on three goals—to improve the personal health of Americans ages 50 and older; to help this cohort better understand their health; and, to improve the overall health of America's communities.
To date, this initiative has generated projects on delivering coordinated care based on patient needs, addressing health literacy levels, expanding physician communication and education, developing patient treatment support initiatives, creating online health and wellness resources, conducting research studies, and publishing results for the advocacy and health policy community to evaluate. Under the initiative, AARP Services, Inc., and UnitedHealthcare established a compre- hensive health literacy and plain-language program that included UnitedHealthcare employee training, communication evaluation tools, reference resources, and member surveys. As a result, these efforts have now become the cornerstone of how UnitedHealthcare communicates with Medicare plan members.
Also under this initiative's umbrella, UnitedHealthcare started an integrated case management program that would coordinate care for consumers with MediGap coverage. The program was based on the premise that people with high-risk chronic conditions could benefit not just from more coordinated care, but also would experience better overall health and quality of life when the coordinated care also focused on providing "whole-person support." Caring for the whole person, in this case, means understanding consumers' lifestyle goals and healthcare needs, then making these the central focus of the care provided.
AARP Avenues to Better Health embraces the challenges of meeting the healthcare needs of Americans ages 50-plus through the many programs that have been established during these initial years and by encouraging each participating healthcare carrier to pursue initiatives on their own.
(Re)Setting the Terms of Aging
Vitality and personal growth are the new normal. People in their fifties and older are happier than ever (Heart+Mind Strategies, 2012). They score high on the "happiness index," live with purpose and connectivity, and reinvent themselves constantly. They care about legacy more than money, and only a third believe they will stop working. They aren't even close to finished with what life has to offer.
This more empowered take on life and aging is spilling over into older adults' views on health. Healthcare coordination programs trialed as part of AARP Avenues to Better Health (see sidebar, below) show that people ages 50 and older feel better positioned to exert influence on their health by taking more responsibility for it and by putting it in the larger context of their lives. The lexicon has accommodated this thinking, as "healthy aging" and "well-being" have become holistic frames—for defining not just physical health but also mental health, social connection, functionality, hearing, seeing, community engagement, and stage-of-life possibilities.
In resetting the terms of aging, the new message people ages 50 and older deliver to their healthcare providers is, "This is who I am, and this is my story. Everything in my story—my age, income, education, triggers, pain points, and whatever else affects my health, behavior, and perspective—dictates what matters to me. And this is where we should start shaping my healthcare." It is a more assertive kind of healthcare message, one that reflects an awareness and understanding of the whole person.
Healthy aging and well-being also align well with a corollary of the conventional wisdom (The Boston Foundation and The New England Healthcare Institute, 2009) that 20 percent of health status is due to genetics and 20 percent is due to medical care provided—meaning that 60 percent of health status is due to social, behavioral, and environmental factors—things that people can influence. Evidence suggests that social, behavioral, and environmental factors are responsible for 70 percent of colon cancer cases, 70 percent of stroke cases, 80 percent of heart disease cases, and 90 percent of adult-onset diabetes cases.
The target, then, is better management of social, behavioral, and environmental factors. If people ages 50 and older are resetting the terms for how they take care of their health, it is that 60 percent bucket that they and their providers will need to address, together.
For people ages 50 and older, health is a piece of life's puzzle, an outcome of overall well-being. It is embedded in complex lives that include family, work, leisure, and so many other things. The more we know about what quality of life means to this cohort, and what cuts away at this quality of life, the less they will feel like bystanders in their own health. The Avenues to Better Health initiative has revealed that healthcare largely is about attitude training—engaging people ages 50 and older in their care so that they can tap into the resiliency and optimism they seem to have in abundance.
(Re)Modeling Healthcare
Healthy aging and well-being not only have empowered people ages 50 and older with useful frames for managing their health, but also they have become leverage points for recasting the healthcare model, for rebalancing how healthcare is understood among consumers and clinicians.
Clinicians and consumers often view health through different lenses. For clinicians, health tends to be more about test results, infection rates, and morbidity, etc. For consumers, health is more of a tool to live your best life. Predictably, clinicians and consumers would likely have distinct takes on the outcomes of, say, applying health technology. If, for example, health technology could help a diabetic patient track his or her sugar control, that's nice. But would it allow the patient to dance at her granddaughter's wedding?
At a time when people ages 50 and older are increasingly invested in self-empowered aging, the question to clinicians is, "To what extent is healthcare delivery keyed to consumers' resilience, optimism, vitality, and their 'what's next?'"
Part of the answer lies in the emergence of a new model of care—the consumer model—that asks how the consumer experiences care. It matches healthcare with life circumstances and preferences. The job of healthcare providers in this model is to grasp what the world looks like through the consumer's eyes—then work with him or her to address those concerns.
Hearing loss is a good example. In the medical model of healthcare, hearing loss is seen as a disability, an illness, or a condition. In the consumer model, hearing loss is a quality-of-life matter, woven into the tapestry of living successfully because it can lead to strained social relationships, isolation, diminished independence, and safety issues related to reduced alertness. Clinicians are concerned with medical outcomes. Consumers want to live well every day, in bite-size pieces. The new model prompts us to translate medical management and advice into acts of daily living.
AARP's experience with Avenues to Better Health has shown us what healthcare is like if it is seen through the eyes of the patient, if it involves patients in making holistic, personal decisions about their health—decisions that can facilitate better care, a pathway to healthy aging, and better well-being. Healthcare doesn't always consider what matters to people—their values, their self-worth, their families, or their happiness. But it should.
(Re)Imagining Well-Being as We Age
Some years ago, a watershed book, The Mature Mind, by renowned medical researcher Gene Cohen (2006), challenged the conventional wisdom about mental aging. Grounded in brain science, the book offered proof that as we get older, our minds improve and our brains continue to open new fronts of thinking. The happy consequence is that we can reimagine aging with renewed confidence that growth, positive change, and vitality are not only possible, but likely.
So, as people ages 50 and older continue to reset the terms of aging and see their own healthcare through a consumer lens, what do well-being and healthy aging look like "on the ground?"
Confucius said, "I hear and I forget. I see and I remember. I do and I understand." In fostering well-being and healthy aging, we would do well to provide experience rather than just education or information. We cannot be content with telling people how to be well or to age well. We must work with them to adopt lifestyle changes and be better healthcare consumers.
Dr. Paul Nussbaum, a noted brain researcher, helps us do this by providing a useful five-pillar framework for pursuing a healthy brain lifestyle, and, by extension, enhancing well-being. AARP has developed resources and programs around these five pillars to help people age well and remain sharp: keeping fit—engaging in regular exercise; learning more—playing games, doing puzzles, learning a new language, or traveling; managing stress—learning relaxation techniques or enjoying quiet time; eating right—avoiding processed foods and bad fats; and being social—getting involved in something you care about, taking up a new hobby, or connecting to a new community.
All of these pillars are, in large measure, "do-it-yourself." And they reflect a key insight of the consumer mindset: healthcare and aging unfold more from the everyday choices people make at home, and less from the occasional visit to the doctor's office. While the healthy aging and well-being rubrics are there to guide people ages 50 and older, it is how we fill them in on a daily basis that matters.
More generally, AARP research continues to stake out the importance placed by members on the vitality, resilience, and quality-of-life dimensions of aging. An AARP report (AARP, 2011) on hearing loss, for example, suggests that "maintaining a vibrant attitude and full participation in life requires keeping all five senses in order, as much and for as long as possible." Doing so is a form of well-being that helps shield people from costly other problems such as depression, dementia, or cognitive impairment.
(Re)Engaging the Healthcare Consumer
More than ever before, people ages 50 and older have the resources and the wherewithal to take charge of how they age. The knowledge and research is there, the technology is there, the support is there, and the healthcare paradigm is getting there. Most importantly, the conversation—about healthy aging and what it means to feel well-being as we age—is gaining traction.
This suggests there is broader understanding of healthcare as a consumer engagement issue. In the minds of consumers, managing one's health is more about maintaining a vibrant lifestyle than it is about fixing a loss of function. This way of thinking gives us that new worldview on aging. It gives us a way forward. It gives us the possibility of resilience. And it certainly helps debunk the myths of aging.
---
Charlotte Yeh, M.D., is the chief medical officer at AARP Services, Inc., in Washington, D.C.
Editor's Note: This article is taken from the Spring 2015 issue of ASA's quarterly journal, Generations, an issue devoted to the topic "Self-Empowered Aging." ASA members receive Generations as a membership benefit; non-members may purchase subscriptions or single copies of issues at our online store. Full digital access to current and back issues of Generations is also available to ASA members and Generations subscribers at Ingenta Connect. For details, click here.
---
References
AARP. 2011. Hearing Made Clear Hearing Resource Guide. Washington, DC: AARP. Retrieved March 4, 2015.
Cohen, G. 2006. The Mature Mind: The Positive Power of the Aging Brain. New York: Basic Books.
Heart+Mind Strategies. 2012. Beyond Happiness: Thriving. Washington, DC: Heart & Mind Strategies. Retrieved March 4, 2015.
The Boston Foundation and The New England Healthcare Institute. 2009. Healthy People in a Healthy Economy: A Blueprint for Action in Massachusetts. Cambridge, MA: New England Healthcare Institute. Retrieved March 4, 2015.