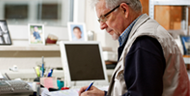 By Elizabeth Isele
Although the media continue to depict entrepreneurs as tech-savvy innovators in their early 20s, research by the Kauffman Foundation has established that the highest rate of business start-up activity is among people in the 55-to-64 age bracket. More than half of all U.S. small business owners were ages 50 and older in 2012—up from 46 percent in 2007. Further, Civic Ventures and the MetLife Foundation recently documented that more than 30 million boomers want to start their own businesses.
In 2014 I helped to design for Sen. Mary Landrieu (D-VA) the first U.S. Senate Joint Committee hearing on Senior Entrepreneurship. At the hearing's conclusion Landrieu asked what would be my one recommendation for the committee, if I were limited to only one.
I took a deep breath, and after weighing the risk of offending the committee said, "It's time to stop the prevalent gloom and doom attitude coursing through the hallowed halls of Congress as senators and representatives speak of the huge demographic shift as a 'silver tsunami.' We need to change that mindset by recognizing that seniors are assets not liabilities and, as such they represent a 'silver lining,' yielding golden dividends."
The world is on the leading edge of a powerful social and economic change movement—senior entrepreneurship. But when it comes to recognizing its potential economic impact, the United States lags far behind the rest of the world. The European Union, for instance, has designated senior entrepreneurship as the key to Europe's economic recovery in their 2020 strategic plan.
Many of the complex societal challenges that we face require precisely that mix of life experience and understanding that older people have in abundance. Leaders have the creativity and power to create paths for channeling that wisdom and talent into opportunities. Such opportunities are able to match needs with interests, and change millions of lives. Far too few organizations are creating, as my organization SeniorEntrepreneurhipWorks does, strategies to harness older adults' potential to create not only their own economic self reliance, but the economic self-reliance and revitalization of their communities—even their nations.
Why Senior Entrepreneurship Matters
Let's shine a light on a few of the myths and realities surrounding senior entrepreneurship:
Senior entrepreneurs and employed adults ages 60 and older are not depleting entitlement programs, they contribute more than $120 billion in federal taxes annually to support federal programs and reduce dependency on entitlement programs (this does not include the billions of dollars they contribute to state and local taxes).
People in their retirement careers are three times more likely to be entrepreneurs and small-business builders than young people. (2014 Merrill Lynch study, Work in Retirement: Myths and Motivations)
Under the United Nation's standard assumption that a working life ends at 65, with no increases in productivity, "retired" aging populations could cut growth rates in parts of the world by one-third and then one-half over the coming years. (The Economist, "Age Invaders," April 26, 2014)
More than half of all U.S. small business owners were ages 50 and older in 2012—up from 46 percent in 2007.
While the majority of senior entrepreneurs create small and micro-businesses, they have an enormous cumulative effect on job creation. As Gina Harman, the CEO of Accion USA says, "Of the 27.8 million businesses in the U.S., 91 percent have fewer than five employees. These businesses have been the largest net contributor of new jobs to the U.S. economy in the past 15 years, and collectively employ 50 percent of all private sector employees."
If one in three micro-enterprises in the U.S. hired an additional employee, the U.S. would be at full employment. ("One in Three" research sponsored by the Association for Enterprise Opportunity)
Senior Entrepreneurship Works' Role in Advancing Senior Entrepreneurship
Here's what Senior Entrepreneurship Works has on the docket for 2015 to foster senior entrepreneurship:
We are expanding the geographic outreach of our entrepreneurship education and training programs to include Ireland, England and Australia.
We are opening our eProvStudio "Introduction to Entrepreneuring" workshops to include people of all ages to optimize cross-mentoring.
We are, in partnership with Jeff Skoll's Participant Media, creating and hosting the first Global Summit Series on Senior Entrepreneurship. The summits will precede a special pre-release screening of "The Second Best Exotic Marigold Hotel," Participant Media's sequel to "The Best Exotic Marigold Hotel," a movie that captured the heart and soul of senior entrepreneurship. The summits comprise 30 thought and action leaders in 10 cities worldwide.
This is a groundbreaking event in which new voices will elevate, exponentially, the conversation from a health and age issue to an economic one, and drive new public policy in unprecedented ways. These influencers will bring innovative solutions to the table, along with the power to implement them. 
---
Elizabeth Isele is the co-founder and president of SeniorEntrepreneurshipWorks, co-founder and president of eProvStudio, Senior Innovation Fellow at Babson College in Forest Park, MA, and MetLife Journalism in Aging Fellow. 
This article was brought to you by ASA's Business Forum on Aging (BFA).
Help us improve AgeBlog and rate this post by clicking here!