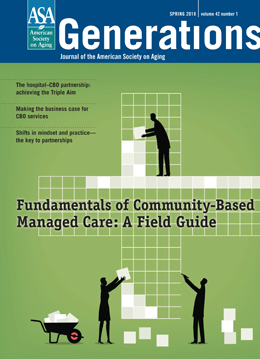 The Spring 2018 issue of Generations, guest edited by Erin Westphal and Victor Tabbush, is the second in a series of three issues to tackle the managed care partnerships between healthcare and the community, this one centering on building business acumen.
In "The Community's Emerging Role in Value-Based Health and Social Services," author Margie Powers addresses the growing recognition that non-medical services are as important as those received in a provider's office, especially for high-need, high-cost populations. Healthcare organizations are now looking for close partnerships with community-based organizations (CBO), and there is ample opportunity to develop cross-sector payment mechanisms to support these populations and to provide financial stability to valued community organizations.
Co-guest Editor Erin Westphal, in her article, "Teaching CBOs to Develop Business Strategies," talks about how the Affordable Care Act's passage created new opportunities for CBOs and the healthcare sector by shifting the focus from fee-for-service to fee-for-outcomes. CBOs need to develop business strategies that leverage their strengths, such as aligning core competencies, focusing on areas for improvement, and being willing to evolve with the environment. The SCAN Foundation created the Linkage Lab to address these challenges, and Westphal explains the Lab's work.
Co-guest Editor Victor Tabbush has written several features in this issue of Generations, and in "Making the Business Case for CBO Services" explains how CBOs that provide support services can capitalize on new business opportunities with partners in the healthcare sector, but must first demonstrate that they are creating significant economic benefits for said partners. Tabbush lays out the method, steps, and key success factors for CBOs to create and make a business case to potential partners in the healthcare sector.
In her article, "Monitoring and Evaluation: Key Steps for Long-Term Services and Supports," Julie Solomon outlines the need for CBOs to conduct monitoring and evaluation (M&E) to demonstrate community reach and positive patient and system outcomes to their budding healthcare partners. The key M&E steps she describes are developing an M&E plan; executing agreements; developing data collection tools; collecting data, analyzing it, and interpreting it; and communicating and using findings. These actions can improve programming and communicate value and lessons learned to all stakeholders.
Gayle Northrop's article, "Building a Strong Nonprofit Board Goes Beyond Best Practices," discusses the fundamentals of building a strong board of directors. Most boards go through stages, including Organizing/Founding, Governing, and Institutional; and these stages do not necessarily correlate with a board's age. Boards need a governance committee and an established assessment process, as well as a plan for cultivating diversity.
In the case study, "A Colorado-Based CBO Launches a Pilot to Keep People with Disabilities out of Nursing Homes," Patricia Yeager describes the business acumen process a CBO used to identify and plan a Hospital to Home transition program to disrupt the pipeline of people with disabilities going into long-term nursing facilities after an acute hospitalization. A non-residential Center for Independent Living offering social determinants of health services and home health, all for persons with disabilities, will conduct a pilot project with a local hospital in 2018 to test this idea.
ASA is pleased to offer this latest issue of Generations online at no cost to you. Single copies can also be purchased from our website.