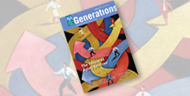 As it approaches fifty years, the aging network, born from the Older Americans Act of 1965, is at a critical juncture. With the incredible growth of the older population one might have thought that these would be the boom years for those with vast experience in delivering aging services. Instead, the traditional aging network is facing major challenges and in many states long-standing providers are fighting for their very survival. How and why has this happened? And what are the implications of these changes for the delivery of services to older people in the United States?
The Summer 2014 issue of Generations, "The Future of Aging Services," guest edited by Robert A. Applebaum, focuses on the current and future changes facing the system that has developed to serve older people in this nation. In Section 1 of the issue, "The Changing World of Aging Services," Guest Editor Robert A. Applebaum  discusses how the aging services sector must foster and embrace change if it is to evolve to meet the demands of our modern world.  W. Andrew Achenbaum and L. Christian Carr give a brief history of aging services in our nation, illustrating how America had stitched together and now retains a patchwork quilt of services for elders, given that our society has always expected families to shoulder most of eldercare. In Section 2, "Innovations and Approaches to Aging Services," Alan S. Rosenfeld and Linda Donoghue explore the following question: How will shifts in policy and reimbursement mechanisms affect the way the aging service network manages services and programs at every level? Robert Blancato and Meredith Ponder take the long view on aging services, advocating for how important the aging services network is, for how it enhances the lives of millions of older adults in America, and exploring what the future might hold for the network and OAA reauthorization. In Section 3, "The Future of Aging Services," Jung Kwak and Larry J. Polivka take a hard look at the future of long-term care (LTC) and the aging network, arguing that before concluding that proprietary organizations should provide LTC services, that aging services professionals should analyze the effectiveness of the existing community-based LTC system. Contributor Robyn Stone wraps up the issue with a crystal ball look into the future, putting forth a vision of the network "when it's 64."
For your own crystal ball look into the future of how the aging services network might survive, change and adapt to best serve America's older population, read the Summer 2014 issue of Generations, which is free to all ASA members. Not a subscriber or an ASA member? Click here to join ASA now. Or, subscribe to Generations.
In this issue...
The Changing World of Aging Services
What the Paradox of Change Means for the Future of Aging Services
By Robert A. Applebaum
read on AgeBlog
A Brief History of Aging Services in the United States
By W. Andrew Achenbaum and L. Christian Carr
read on AgeBlog
Delivering Aging Services: Stability and Change in Policies and Programs
By Karen A. Roberto, Raven H. Weaver, and Robbyn R. Wacker
The Aging Network and Long-Term Services and Supports: Synergy or Subordination?
By Robert B. Hudson
The Evolution, Innovation, and Future of Area Agencies on Aging
By Suzanne R. Kunkel, Heather R. Reece, and Jane K. Straker
Innovations and Approaches to Aging Services 
Surviving and Thriving in the New World of Aging Services
By Laurie Petrie
Managing Aging Services in an Unmanaged World
By Susan Kohler
Register to attend a web seminar based on this article
A Foot in Both Worlds: A Case Manager's Story 
By Susan K. McGeehan
Managing Aging Services in a Different World: Lessons of Change
By Alan S. Rosenfeld and Linda Donoghue
read on AgeBlog
The Aging Services Network: Has Its Time Come—or Gone?
By Robert B. Blancato and Meredith Ponder
read on AgeBlog
Nine Strategies to Transform Community Service Organizations That Assist Older Adults
By James Firman
The Future of Aging Services
The Future of Long-Term Care and the Aging Network
By Jung Kwak and Larry J. Polivka
read on AgeBlog
The (Uncertain) Future of the Aging Network: May You Live (and Work) in Interesting Times!
By Richard Browdie
The Future of the Aging Network
By Robert L. Kane
The Future of Participant Direction in Aging Services
By Kevin J. Mahoney, Mark Sciegaj, and Ellen K. Mahoney
The Future of Aging Services in a Neoliberal Political Economy
By Carroll L. Estes
The Aging Services System—When It's 64
By Robyn I. Stone
read on AgeBlog