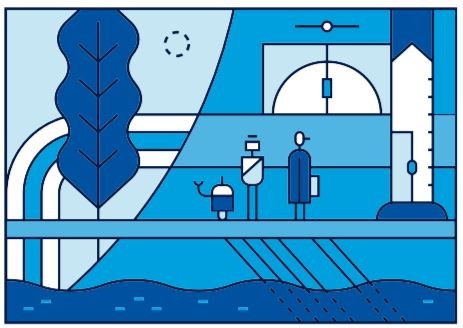 By Ramsey Alwin
Editor's Note: This column, "Aging with Options," is sponsored by the AARP Public Policy Insti­tute. Column content will focus on innovative solutions to change systems and empower indi­viduals and their families to thrive at home and in community. 
The world is witnessing a major transformation in how people work. According to the World Economic Forum's report, "The Future of Work Jobs Report 2018," 65 percent of children entering primary school today will work in jobs that don't now exist. In addition to the rapidly changing nature of work, the relationships between employer and employee are evolv­ing, as longevity trends push individuals to want—and need—to work longer.
To better understand such trends driving the future of work, AARP embarked upon a listening tour, engaging the country's leading experts in conversations about the trends and implications for individuals who are in mid-life and mid-career. A consensus on the biggest trends emerged from these conversations: globalization, automation and disruptive technologies, ever-changing em­ployer-employee relationships, a rise in contingent work and the gig economy, increasing inequal­ity, fast-changing education and training approaches and longevity and longer work lives.
Tech Is Re-Shaping Jobs and Organizations
Technology is fundamentally transforming jobs, from the types of tasks workers perform to com­pany organizational structure. In recent years, there has been an increasing focus on what some call "The Fourth Industrial Revolution" Broadly speaking, this revolution is defined by the exponential pace of technological advance­ment (e.g., artificial intelligence and robotics), use of digital data and reliance on data-driven deci­sions, which all contribute to the rise of new industries and the inevitable decline of others . As business models adapt to this digital revolution, organi­zations are redefining their workforce hierarchies and job roles. This evo­lution may change work as we know it.
Meanwhile, less attention has been paid to another trend that may produce equally profound changes. That trend is longevity.
The Implications of Longevity
By the middle of this century, adults ages 60 and older will represent 22 percent of the world's population—double that share today. And a great many are remaining in the labor force and creat­ing a workplace that is more age-diverse than ever before.
Today, four—even five—generations work side by side. For the modern global economy, the in­creasingly age-diverse workplace is new territory. Also, it is an opportunity waiting to be seized. Employers who take the right steps can leverage this multigenerational workforce as a competitive advantage, toward a better understanding of the needs and desires of the full population at large.
Given the depth of this transformation, methods and strategies used in the past to navigate such changes will be no match for what's needed to traverse the uncharted waters of the future. Many of the leaders AARP listened to believe that the future of work is bigger than just work—it involves how people will approach income and wealth generation. Experts suggested a need for a new 21st-century (and beyond) economic model, as current models and systems supporting world economies are largely based on the agrarian and manufacturing economies of the distant past.
As the experts suggested, today's economic system is far more complex than the one defined by those historic economic drivers. It is time to construct a new economic model that better address­es income adequacy and productivity in light of significant changes ahead.
Social Insurance—a Relic of Another Time?
In the 19th and 20th centuries, when the United States was industrializing and urbanizing, workers, businesses and civic leaders cooperated to adopt a series of pioneering social policies. Many of these policies and programs—including Social Security, unemployment insurance, workers compensation and healthcare coverage through Medicare and Medicaid—protect millions of Americans today.
But changes that will define work's future have implications for these policies and programs. What emerging risks should social insurance programs address as the nature of work changes? Is there a need to develop new economic and social policies to ameliorate risks that face future gen­erations? And, how might existing policies and programs be improved to address challenges con­fronting various communities and generations? How might the changing nature of work be lever­aged to narrow income inequality?
It is time to re-examine the social contract, as well as the earning and learning components of work, in light of the trends driving work's future. To ensure economic stability and growth, we must move toward and create the future by redefining roles for all—for employers, employees and members of society at large.
Tech Is Re-Shaping Jobs and Organizations
There are many benefits to the longevity trend, but to tap into them, we must now be proactive. Maximizing longevity's benefits falls not only on the individual, but provides an opportunity for organizations, social institutions and governments to re-evaluate the public, private and nonprofit sectors' roles in ensuring that economic prosperity and individual potential are maximized.
To spur discussion about the implications of longevity, AARP has teamed up with the World Economic Forum and the Organisation for Economic Co-operation and Development in an effort called "Living, Learning and Earning Longer." Over the next two years, AARP will engage global corporations, establish the business case for age diversity and highlight best practices from around the globe.
In addition to extensive research, AARP is planning a learning collaborative for employers and thought leaders that develops insights from workshops, site visits and case studies. This work will culminate with the release of a digital learning platform at the 2021 World Economic Forum's an­nual meeting in Davos, Switzerland. Employer engagement is vital to the success of this program. To learn more, visit www.aarpinternational.org/llel.
Ramsey Alwin is director, Thought Leadership–Financial Resilience, at AARP, in Washington, D.C. Readers can follow her on social media @ElderNomics.