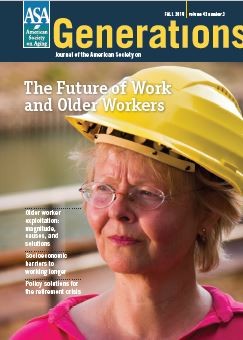 Older people in the United States today often need to work past their desired "retirement age." However, evidence demonstrates that this is not easy for most older workers; instead 52 percent of retirees left their jobs before they had intended to. Wages, hours, and working conditions for older adults often are much worse than their career jobs, and frequently do not accommodate aging bodies. As well, age discrimination flourishes on the job and in hiring. This Fall 2019 issue of Generations focuses on the economic conditions of older people as they stay or reenter the workforce, and takes a critical look at the older labor market.
In "Older Worker Exploitation: Magnitude, Causes, and Solutions," Guest Editors Teresa Ghilarducci and Siavash Radpour give readers a realistic look at the disempowered status of America's older workers and their rocky paths to a secure or insecure retirement. Work is good, and many Americans like it, but working in a job with the benefits of a secure pension is obviously preferable to taking a job with decreased benefits, as many older adults must.
Carl E. Van Horn and Maria Heidkamp, in their article, "Older Workers, Precarious Jobs, and Unemployment: Challenges and Policy Recommendations," describe findings from two large surveys that posit solutions for the millions of older Americans working in precarious or part-time jobs. Despite a current stellar labor market, millions of older Americans work in precarious or part-time jobs with low wages and no benefits, or are unemployed. But they need to work, as they have limited savings and pensions and must supplement their Social Security payments. Findings from the studies reveal policies that could help such older workers.
David Neumark's article, "Age Discrimination in the U.S. Labor Market," explains and reviews the direct and indirect evidence of age discrimination in employment practices. Age discrimination in hiring can create demand-side barriers to achieving longer work lives. Indirect evidence points to discrimination against older workers, and a growing body of direct, experimental evidence shows age discrimination in hiring, especially in regard to older women. Stronger age-discrimination laws, which exist in some states, may help, but bigger changes are necessary.
"Extended Work Lives and the Rediscovery of the 'Disadvantaged' Older Worker," by David Lain and Chris Phillipson, points out that disadvantaged older workers are virtually invisible in policy debates about extended and extending work lives. But these workers are greater in number than is assumed, according to the U.K.'s English Longitudinal study of Ageing and the U.S.'s Health and Retirement Study. Qualitative research with hospitality workers in England reveals the personal and negative effects of expecting people to work beyond traditional retirement ages when they have low levels of health and education and struggle to keep working in physically demanding jobs.
Monique Morrissey, in her article "Policy Solutions for the Retirement Crisis," addresses the looming retirement crisis and the remedy, which she believes to be the expansion of Social Security and a move to ensure that both employers and workers contribute to simple, affordable retirement plans, such as Guaranteed Retirement Accounts. America's current do-it-yourself retirement plan, which relies on 401(k) plans, is not working, and instead leaves workers without access to employer plans, plus such plans have high fees, poor investment choices, upside-down tax subsidies, and longevity risk.
ASA is pleased to offer this latest issue of Generations, which will reach ASA members and subscribers in late September through October 2019. Single copies of the issue can also be purchased from our website.