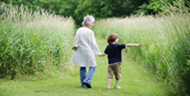 By Sheri Y. Steinig and Donna M. Butts
Generations are linked throughout time. Health, hope, culture, and community braid together with other elements, to be passed up and down from age group to age group. Perhaps nothing so well illustrates the degree to which one generation cares about future generations as how much it invests in protecting the environment. Learning about and cherishing a healthy environment is taught, not passed on genetically. Elders always have been, and always should be, the keepers of this covenant and have always worked to pass on a commitment to the environment. Intergenerational environmental programs are a valuable mechanism for fulfilling this role.
A Recent Resurgence
Recent years have seen a resurgence of interest in the environment among both younger and older generations looking for ways they can protect and improve it. It makes sense. Older adults are concerned about the world they are leaving behind for their grandchildren and other younger generations. The young are concerned about the state of the world they will inherit. Both populations are often particularly susceptible to the same environmental health hazards—air pollution alert days, for example. They are each at an age when they are more likely to live life in their neighborhoods and have more flexibility with their schedules than working, commuting middle generations.
Intergenerational environmental work is compelling for practitioners working in the environmental arena and for those focused on promoting intergenerational understanding and cooperation. As Kaplan and Liu (2004) note, these programs can do the following:
Broaden awareness and increase participation among new audiences.
Add meaning to environmental information by showing environmental health risks to families and communities.
Provide a focal point for strengthening relationships across the generations.
Build community capacity.
A rich pool of practice and program models exists and can be used by those interested in strengthening their communities by engaging people of all ages.
Generations United Builds Capacity
As the largest membership organization for intergenerational practices in the United States, Generations United (GU) and our member networks recognize the value of bringing the generations together to improve the environment. We began to expand our work in intergenerational environmental programs in 2003 with a contract from the U.S. Environmental Protection Agency (EPA). The goal of this project was to identify the intersection of intergenerational and environmental health programming and promote the concept to new audiences. GU convened a full-day training event, developed training and promotional materials, and identified intergenerational environmental health programs and program models that could be adapted to include intergenerational strategies.
Based on the training, GU worked with a noted expert in the intergenerational environmental field, Matthew Kaplan of Penn State University, to produce a guidebook, Generations United for Environmental Awareness and Action (Kaplan and Liu, 2004). This publication provides a theoretical framework, program development tools, and examples and activities to help those who are interested in developing such programs get started. The guidebook describes a variety of promising strategies for bringing children, youth, and older adults together as partners to explore, study, and work to improve environmental health.
The initiatives highlighted provide rich examples and demonstrate that participants in intergenerational environmental programs display an increased readiness to take action to protect and care for the environment.
In 2005, Generations United received a grant from the EPA to use their earlier work as a basis for building capacity to develop and deliver intergenerational environmental health programs while educating people of all ages about environmental issues in their communities. GU awarded small grants and provided technical assistance to five groups across the country to develop and implement the projects.
More recently, GU has joined with the EPA, Dance Exchange, and the Rachel Carson Council, Inc., in sponsoring an annual "Rachel Carson Sense of Wonder" intergenerational photography, essay, poetry, and dance contest in honor of the pioneering environmentalist. The contest, now in its third year, encourages younger and older people to share their love of nature with those around them.
Benefits of an Intergenerational Framework
By using an intergenerational framework to address environmental issues, communities are able to reap the demonstrated benefits of intergenerational programs while enhancing the environment. The following are some of the potential benefits of intergenerational environmental projects:
Bringing people of all ages together to work toward a common goal—to protect human health and the environment.
Encouraging exploration, study, and action to improve the environment.
Expanding the numbers of environmental stewards who are committed to the environment, feel a sense of responsibility to improve it, and have the skills to take effective action.
Drawing attention to the shared environment.
Providing opportunities for collaborative activity to improve the environment.
Demonstrating that participants display an increased readiness to take action to protect and care for the environment.

Helping people see the relevance and vital importance of the environment not only to their own well-being, but also to the well-being of their families and communities (Generations United, 2006).
Program Examples
The opportunities for connecting intergenerational and environmental work are vast. Younger and older people can work as teams on projects to improve their environment. As environmental stewards, older adults can serve as mentors and guides for younger people. Younger people can support older people in a number of ways, from building raised gardening beds at a senior residence to assessing environmental hazards in the home. The following are just some of the creative initiatives from around the country that engage children, youth, and older adults to improve their environment. More examples can be found in GU's online intergenerational program directory at www.gu.org.
In Yonkers, New York, the ComNET (Computerized Neighborhood Environment Tracking) program, sponsored by Groundwork Hudson Valley, an environmental organization, engages teams of teens and older adults who use handheld computers to identify and report physical problems in their neighborhood that need fixing, such as cracked sidewalks, burned out streetlights, trash, and other blights to their community. The problems and their exact GPS location are logged into handheld computers. Then, back at the office, Groundwork staff assemble the problem descriptions into detailed reports that are then forwarded to the appropriate Yonkers government official, and monitored to ensure that the problems are remedied. 
E-Cycling
In Prescott, Arizona, a group of young people from the Youth Count program recognized the need for a recycling center for electronics in their community. Since there was not one anywhere close, they started their own business. With the help of retired business leaders, they built their e-cycling business from the ground up. More than 70,000 pounds of computers, monitors, and other electronic waste have been recycled instead of entering landfills since the initiative was launched in 2005 (Steinig, 2008).
Garden Mosaics is a science education and national outreach program based at Cornell University that combines community action and intergenerational learning. Youth ages 10–18 learn about plants, planting practices, and cultures in the urban community through interviews with older gardeners. Youth participants balance what they learn from older adults with learning from the project web-based Science Pages that explain key science principles behind the practices that youth observe in gardens. Finally, the youth put into practice what they have learned by working in intergenerational teams that take on projects to the benefit of gardens and communities surrounding them: building raised beds, designing new gardens, and organizing educational events.
Habitat Intergenerational Program
The Habitat Intergenerational Program promotes awareness and conservation of the natural environment through educational programs and community service projects coordinated by the Massachusetts Audubon's Habitat Wildlife Sanctuary in Belmont. Community service and educational activities take place within the 84-acre sanctuary and out in the surrounding communities. Program activities bring people of all ages together to work on a variety of environmental service projects: removing invasive species, helping to rejuvenate a pond, restoring walking trails, and creating wildlife habitat areas at schools, using only native plants (Generations United, 2006).
Home Safety Inspections
In this project in Prescott, Arizona, youth volunteers form partnerships with adults to conduct home inspections for older adults in their community. The inspections include checking the house for working detectors of smoke and carbon monoxide, replacing batteries if needed; looking for proper ventilation and for health hazards like sealed windows; yard clean-up and minor home repairs (Steinig, 2008).
Groundwork Hudson Valley has developed the Intergenerational Green Teams program to mobilize older adults and youth to turn vacant lots into gardens and play areas in Yonkers, New York. The teams create and tend parks, gardens, and green spaces in low-income neighborhoods.
Senior Environment Corps
The Senior Environmental Corps is a program of the Peak Center, a senior activity facility serving the age-50-plus community in Lansdale, Pennsylvania. To enhance their education and outreach program, the corps volunteers developed and conducted an intergenerational summer program for youth from the North Penn Valley Boys and Girls Club. Participants learned about watersheds, source pollution, and streams and monitored water quality and engaged in other field work at a neighboring stream (Kutler, 2009).
Roots and Shoots School Garden
Roots and Shoots is an intergenerational gardening project integrated into the school curriculum in Lexington, Virginia. Working with older-adult community volunteers and school-age children (Head Start through fifth grade), the program uses a garden as an outdoor classroom with carefully designed science lesson plans. The garden is an integral part of the year-round school program. 
The Wild Friends program at the Center for Wildlife Law at the University of New Mexico teaches young people that they can make a difference for wildlife, the natural world, and their own lives. Through hands-on experiences with wildlife issues, law, and policy, teachers and other adult mentors are invited to share their wisdom, skills, and experience with the younger generation. Together they explore why and how our wildlife is at risk today, and how protecting wildlife and habitat is a complex issue. They learn how law and policy affect wildlife conservation today and then develop strategies and activities through which to act in these areas. Wild Friends have initiated more than fifteen state laws to strengthen wildlife and habitat preservation, almost all of which have been enacted. 
In addition to the intergenerational programs described above whose primary objective is improving the environment, an increasing number of agencies and organizations are adding an intergenerational environmental component to their primary activities, with a positive impact on the environment.
For example, in Ann Arbor, Michigan, a unique partnership has formed between Ann Arbor Meals on Wheels and All Stars Driving Education in which driver's education students volunteer to deliver meals to older adults to make special use of the fifty hours they must spend behind the wheel to get a drivers' license (Peeple, 2008). This program has not only increased the number of available drivers to deliver meals but has reduced need for extra cars on the road.
As part of its efforts to support foster children and those who care for them, the State of Washington is making outdoor experiences in state parks more accessible to foster children. A new law allows for reduced prices or free passes for Washington foster parents and relative caregivers of children when they camp with the children in their care (Moore, 2009). 
Another way that intergenerational strategies can have a positive impact on the environment can be seen in shared sites and in housing developments that integrate the generations. These can significantly decrease the impact of development on our environment. Shared sites can protect green spaces by having one edifice that houses a senior center, a recreation center, a youth center, and a library, for example, instead of two or three separate buildings. In addition, a number of new intergenerational facilities are built using environmentally friendly practices. 
Sankofa House in Chicago provides affordable housing for grandparents raising their grandchildren and young adults aging out of the foster care system. This innovative development incorporates a number of sustainable elements such as natural light, roof gardens, sun shades, an eco-friendly elevator, low-flow plumbing fixtures, and built-in recycling bins. There are also plans to mount urban wind turbines in the future (Devereaux, 2009).
Recommendations for Program Development
So how do you achieve the goal of engaging older adults and children and youth as co-learners, educators, and activists in improving their environment? What are the implications for program development? The level of success of an intergenerational environmental program depends on many factors, including decisions about organization and partnership, strategies used to recruit older adults as participants, program and activity development strategies, program facilitation strategies, and decisions regarding program setting.
As the program examples above show, intergenerational environmental initiatives can be launched from a wide range of organizations, including the following:
Elementary and secondary schools, community colleges, and universities.
Youth and adult service organizations.
Faith-based organizations.
Child and adult daycare centers.
Museums, libraries, and historical associations.
Retirement communities.
Senior centers and community centers.
Local government.
Developing any intergenerational program requires an emphasis on creative partnerships. In their Guide to Senior Environmental Programs, Benjamin and Knight (2000) offer the following advice to new Senior Environmental Corps groups working to set up new programs:
Some linkages might not be immediately apparent. For instance: You may contact the Juvenile Justice system and offer senior mentoring to youthful offenders for a community garden project or to repair stream bank erosion. Perhaps local housing officials need help in inspecting buildings they suspect may contain lead-based paint or old plumbing that could lead to lead poisoning. Transportation officials in your community may appreciate your adopting roadsides to maintain so they are free of litter and protect local waterways from runoff. p. 10
Integration of an intergenerational component into environmental activities introduces certain complexities and considerations that must be taken into account when recruiting, training, and supporting participants and working to ensure positive, productive group dynamics. And of course, an intergenerational component also enriches and enhances the enterprise, particularly when basic principles for effective program development are employed. Following are recommended actions to ensure that all goes smoothly:
Prepare participants before the program begins.
Make it fun.
Promote discussion among program participants.
Encourage participants to explore the human dimension of the environment.
Provide meaningful opportunities for taking action.
Focus on the relationship as well as the task.
Pay attention to community relations and publicity, encouraging public officials and community leaders to participate and informing the public through press releases and other kinds of announcements example (Kaplan and Liu, 2004).
Conclusion
In the words of Rachel Carson (1962), "If a child is to keep alive his inborn sense of wonder, he needs the companionship of at least one adult who can share it, rediscovering with him the joy, excitement and  mystery of the world we live in."
Intergenerational environmental programs are as much about nurturing the connection between people and their environment as they are about fostering connections between different generations. The focus is on ways to bring young people and older adults together to learn about the environment, address significant community issues, share their talents and resources, and gain insight into each other's lives. Those involved in these projects achieve a greater sense not only about how the environment is relevant to their own well-being, but how it contributes to the well-being of their family, community, and others. Intergenerational environmental projects have the potential to not only change the lives of current participants, but also to make a tremendous impact on the well-being of future generations. 
---
Sheri Y. Steinig, M.S.W., is special projects director, and Donna M. Butts is executive director, both at
Generations United, Washington, D.C.
Editor's Note: This article is taken from the Winter 2009-20010 issue of ASA's quarterly journal, Generations, an issue devoted to the topic "Gray and Green: The Intersections of Aging and the Environment." ASA members receive Generations as a membership benefit; non-members may purchase subscriptions or single copies of issues at our online store. Full digital access to current and back issues of Generations is also available to ASA members and Generations subscribers at Ingenta Connect. For details, click here.
---
References
Benjamin, T. P., and Knight, P., eds. 2000. A Network of Volunteer Stewardship: EASI's Guide to Senior Environmental Programs. Catlett, Va.: Environmental Alliance for Senior Involvement.
Carson, R. Silent Spring. 1962. New York: Houghton Mifflin.
Generations United. 2006. Fact Sheet: Environmental Health for All Ages. Washington, D.C.
Devereaux, H. E. 2009. Intergenerational Housing Development Opens, Aims to Support Specific Overlooked Populations at Risk for Homelessness. www.harleyellis.com/uploads/press/SankofaHouseOpens.pdf. Retrieved September 15, 2009.
Kaplan, M. S., and Liu, S. 2004. Generations United for Environmental Awareness and Action. Washington, D.C.: Generations United.
Kutler, B. 2009. "The PEAK Center's Intergenerational Summer Program Sets Its Sights on the Environment." Together 14(1):6.
Moore, L. 2009. "Relative Caregivers and Children in Washington State Benefit from New Parks Program."
Together 14(1): 13.
Peeple, S. 2008. "Ann Arbor Area Driver's Ed Students Tapped to Deliver Meals to Senior Citizens."
http://blog.mlive.com/annarbornews/2008/08/ann_arbor_area_drivers_ed_st…. Retrieved
September 15, 2009.
Steinig, S. 2008. Generations United for Environmental Awareness and Action. Final Report to the EPA Aging Initiative. Washington, D.C.: Generations United.