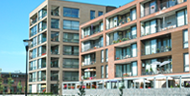 By Victor Regnier
The decades ahead will produce an inevitable demographic: enormous numbers of mentally and physically frail older people. Some will stay at home with families, but many will require the help and assistance generally associated with assisted living or skilled nursing care.
What if there were a housing environment providing peripatetic homecare support at the margin of need? Might it be possible for services to escalate as they were needed, and be delivered in a 700- to 1,000-square-foot apartment or condominium designed to meet the most up-to-date universal design standards—in short, a home where you could gracefully and independently age in place?
The good news is yes, it is possible. The not-so-good news is that so far, the model has been incubated only in the Netherlands.
Introducing Apartments for Life
Rundgraafpark exterior. Built in 2006, Rundgraafpark in Veldhoven, Netherlands, is an atrium-style Apartments for Life building that includes 40 condos and 113 units or rental housing, daycare for 20 community residents and three small group clusters for people with dementia.
Rundgraafpark interior atrium. Rundgraafpark's rental housing is formed on two sides of an atrium. The roof opens automatically, with ventilators that maintain a comfortable temperature in the summer.
Holland's Apartments for Life (A4L) movement has existed for nearly two decades, with the first A4L project, the Humanitas Bergweg development, situated in downtown Rotterdam. Individuals who range in age and competency from completely independent to extremely dependent may age in place there, in their own dwelling unit, until death.
Homecare workers provide scheduled help and assistance—once a day for more independent residents, or four to eight times in 24 hours for frailer residents. Unlike continuing care retirement communities (CCRC) here, which also provide a continuum of care, residents in A4L settings remain in the same unit and services are increased based on need. Some A4L buildings have a robust discretionary meals program, while others provide qualified individuals with prepackaged meals via a government assistance program.
This housing type satisfies the desire older frail people might have to age in place, even to the end of life. It also makes it possible for couples to share a dwelling unit longer and for residents with dementia to transition to a separate shared unit in the building when that becomes necessary. These homecare-based service models create a more private, choice-rich setting, while using care personnel more effectively: this building-service hybrid can offer a better quality of life with a cheaper price tag—a combination that is hard to top.
The A4L Package
The A4L dwelling units average 800 square feet, are constructed to a universal design standard and typically contain a full kitchen and a fully accessible bathroom. Buildings tend to be larger than the typical 40- to 60-unit assisted living building: most are mid-rise structures with 150 to 200 units. Many buildings have atrium-type designs that let in sunlight between rows of units, support abundant plant life and offer attractive areas for sitting, eating or socializing.
The A4L buildings typically house first-floor common spaces that are open to neighborhood residents and those living in the housing above. These common areas include activity spaces, but also might have room for physical therapy as well as neighborhood-friendly services like a restaurant, coffee bar and beauty shop. The buildings' units are primarily rentals but, increasingly, are mixed with condominium-style choices. In the Dutch system, units can either be sold, rented at market rate or qualified for at below-market rate.
The A4L housing model serves both building residents and adjacent residents in the neighborhood because the buildings are natural settings for services—meals-on-wheels programs, homecare and emergency response aid—that can be organized and distributed to older people in nearby conventional housing. These mixed-use buildings often house grocery stores or child daycare centers. And their size and bulk make them natural choices for transit-oriented-development, so that public transpor-tation is conveniently accessible to home-care workers and older residents.
A now-standard component of the A4L model consists of small group homes for people with dementia. Typically, a building might have 12 to 18 dementia units (arranged in groups of six) that serve the building population, but these units' services are also offered to neighborhood residents, as are elder daycare services.
Behind the Dwelling's Door
Typically, new A4L buildings have more independent residents and regularly attract couples; they are particularly appealing for couples where one partner is more dependent than the other, as services can be arranged for the frailer spouse while the independent unit (and lifestyle that accompanies it) satisfies the more active spouse. It is not uncommon for a new building's move-in population to be in their mid-70s, with 30 percent to 40 percent couples—a demographic younger than that seen in assisted living, but not so different from the profile often found in CCRCs.
A "use it or lose it" philosophy encourages residents to do as much as they can for themselves, but with regular assessment by case workers. Very often, one-third of residents are involved in volunteer programs, or popular activities such as selling groceries at the building's store, or distributing meals-on-wheels offerings. Like in many CCRCs, volunteers run the activity programs, and couples and younger residents are appreciated because they are active and helpful to their neighbors.
Model Outcomes
Given the structure of services provided, the A4L housing model requires that at least 175 to 200 people occupy a building in order for it to be cost efficient. Providers like Humanitas in Rotterdam have found that this building type can be 10 percent to 15 percent less expensive than a traditional institutional model, although formal studies have not been conducted to verify this cost saving.
Beyond any cost savings, providers report that residents do more for themselves, and also help others out more. In its 15-year existence, the A4L model has seen only a handful of residents with complex cases that required transfer to a full-time nursing home.
In order to make this model a reality in America, we should begin experimenting with ideas that help us better resolve the aging-in-place problem. We must think creatively about supporting residents at their margin of need, and work on separating housing with services from institutional building-use groups. Assisted living is expensive, partly because the buildings are often constructed like mini-hospitals—an unnecessary standard.
Most importantly, we need exemplars to test the idea and acclimate U.S. consumers to the concept. For one thing is certain: what we are doing today is not sustainable.
---
Victor Regnier, F.A.I.A., is professor of architecture and gerontology, vice dean and ACSA Distinguished Professor of Architecture at the USC School of Architecture in Los Angeles, Calif.
Editor's Note: This article appears in the July/August 2012, issue of Aging Today, ASA's bi-monthly newspaper covering issues in aging research, practice and policy nationwide. ASA members receive Aging Today as a member benefit; non-members may purchase subscriptions at our online store.
Interesting report on aging in place lifestyle and building. I hope we at least give the model a test in our own country. It would work well for me.
~Carol, age 72 and hoping to age w/ grace, humor, and fun every day as independently as possible