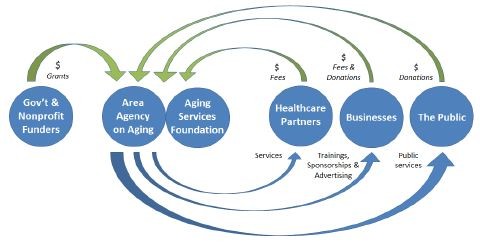 By Sherry Leach and Jacob Bielecki
Editor's note: The SCAN Foundation, The John A. Hartford Foundation, the Administration for Community Living, the Gary and Mary West Foundation, the Marin Community Foundation and the Colorado Health Foundation have united to fund a three-year grant to develop and establish the Aging and Disability Business Institute, housed within n4a. Under the grant, ASA and n4a are collaborating on a series of articles and case studies in Aging Today that will help to prepare, educate and support community-based organizations and healthcare payers to pro­vide quality care and services.
The call for community-based organizations (CBO) to become more business savvy has become nearly dogma in the field of managed care. Based on the examples and experiences seen in webinars, conferences and publications, every CBO working to build its business acumen and secure its fiscal future does so in its own way.
Efforts to strengthen Boulder County Area Agency on Aging's (BCAAA) long-term fiscal stabil­ity started in 1999, when BCAAA created the Aging Services Foundation (ASF). The ASF was struc­tured as a 501(c)(3) public charity, and its board of directors was tasked with raising funds from corporate sponsors and private funders to help BCAAA sustain and broaden its programs. Since then, the ASF has expanded its support for BCAAA from a single program in 2000 to 16 in 2018. The ASF's financial contributions to BCAAA total more than $1.5 million since its inception—aver­aging about 5 percent of BCAAA's annual budget each year.
The ASF has allowed BCAAA to be a much more flexible organization, providing additional resources to enable it to engage in more innovative program developments outside of traditional Older Americans Act confines. In today's uncertain times, when the release of federal OAA funding is not always predictable (at least not in Colorado), BCAAA can rely on the ASF to fill limited fund­ing gaps so it can avoid disruptions to core services.
BCAAA has a growth mindset in its DNA, due to a history of stable, creative and open-minded organizational leadership, supported by trusting and forward-thinking county leadership. The agency tends to think and act more like a nonprofit than a typical division in local government; it is adaptive and imaginative, with limited bureaucracy from above. In recent years, BCAAA has be­come much more agile in how it operates—thanks in large part to its workplace culture and the types of employees it attracts.
When Kathy Greenlee, the former Assistant Secretary for Aging under the Obama Administration, was beating the drum for area agencies on aging to align themselves in more business-oriented ways ("Don't give away things you can sell"), BCAAA was listening.
In 2014, when one of its program managers retired, BCAAA created a new "Business Results Manager" position with a flexible job description that included generating a compelling vision of business acumen for the agency, designing feedback loops to encourage culture change and creat­ing and implementing a new business plan for future growth.
In 2015, the agency hired its new manager, who was recently out of graduate school and who had professional and academic experience in public-private partnerships, operational analytics and organizational development. One of the manager's first tasks was to apply to participate in the Colorado Linkage Lab, a 19-month training program of the Colorado Health Foundation for CBOs look­­­ing to build business acumen and attract partnerships from the health sector. The timing was perfect and, in late 2015, BCAAA was fortunate to be chosen to have its leadership team participate in the program.
The Linkage Lab was an extremely beneficial training opportunity for the BCAAA team, ex­posing managers to multiple "mini-MBA" seminars with experts and academics in business de­velopment, management, healthcare and marketing. The leadership team brought insights and new ideas back to staff and facilitated workshops on what the leadership team was learning. A new business model emerged (see Figure 1, this page).
The Linkage Lab solidified the team's conceptual understandings of how the agency's work ad­dresses the social determinants of health, and how this knowledge could be used to inform health­care integration efforts. This was shared in all-staff meetings, where staff explored how BCAA's services could improve health outcomes for the people it serves. Through these and similar work­shops, staff developed deeper conceptual understandings of and confidence in how the organiza­tion's work is tied to its clients' health, and consequently to areas of opportunity for partnership in the healthcare sector.
Analyzing Existing Programs, Developing New Models
BCAAA knew it wanted to build healthcare partnerships, but it had much to learn and to do to prepare the organization. First, the mission statement was rewritten to better reflect the agency's work and role in community.
Focusing on monitoring and evaluation efforts, BCAAA revisited its program theories of change and logic models, hired analysts to conduct assessments on core programs and is now integrating pro­gram assessments into service workflows. Communications materials were upgraded to use a softer tone and have a less institutional appearance.
The agency branded the public events it produced—putting more energy into improving the qual­ity of sponsorship solicitations—and published a first annual report. BCAAA also added depth to its professional networks, engaging more with local business and healthcare groups than ever before.
In 2017, after two years of gradual quality improvements and intentional networking, BCAAA saw a 72 percent increase in individual giving, a 68 percent increase in corporate sponsorships and fee-based revenues and a 35 percent increase in attendance at its largest public events.
Also, the agency entered 2017 with two promising paths for new business and revenue develop­ment in its healthcare work. The first was delivering the National Diabetes Prevention Program to health plan members through a performance-based payment agreement. The second was piloting a funded case management model with a local hospital. BCAAA's earlier Linkage Lab work pre­pared the agency for making a business case and value proposition with the hospital partner; this is now being prepared to pitch to other providers in community.
Early on, BCAAA had developed a funding target and projections model to track its ability to meet growing demand for services in community (see Figure 2, this page). Since 2001, the gap be­tween the ages 60 and older annual population growth rate and that of BCAAA's revenue has gen­erally been expanding. In the last three years, that gap has shrunk due to an existing veterans ser­vices program that recently joined the agency, increased private grants and fee-based revenues and increased sponsorship revenues and donor contributions.
To strengthen the organization's sustainability, the leadership team is embracing the broad work of building diverse revenue streams while ensuring the design and delivery of high-quality services. In a smaller organization such as BCAAA, and in today's uncertain climate, it is impera­tive that the agency encourages a growth mindset and fosters a culture that is trusting, open and willing to learn. Without a strong awareness of existential threats and growth opportunities—and the courage to take action and, if necessary, change—CBOs are at risk of obsolescence.
Sherry Leach, M.A., is division manager of the Boulder County Area Agency on Aging in Boulder, Colo. Jacob Bielecki, M.Sc., is business results manager of the Boulder County Area Agency on Aging.
Editor's Note: This article appears in the May/June 2018 issue of Aging Today, ASA's bi-monthly newspaper covering issues in aging research, practice and policy nationwide. ASA members receive Aging Today as a member benefit; non-members may purchase subscriptions at our online store.