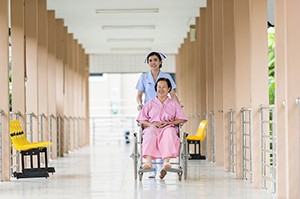 By Eric Carlson
No one in their right mind would choose a new home in a mere 48 hours, based on a list of possibilities from a hospital discharge planner, and after making a few phone calls and (maybe) a couple of visits.
Yet it is common practice for many nursing home residents. Many nursing homes are "chosen" in exactly this way and, unfortunately, a future resident's lack of control often persists throughout life in these settings.
Inconsistent Quality of Care, Often Mediocre
Some nursing homes provide high-quality care. The majority, however, do not. Nursing homes are roughly divisible into three strata: a narrow top level with a consistent focus on residents' well-be­ing, a large mid­­dle level characterized by low-energy mediocrity and a bottom level emphasizing cost-cutting for a presumably captive clientele.
What does this mean for older Americans? In a poor-quality facility, residents are more likely to develop bedsores or infections, or to suffer other bad outcomes. An older woman may never walk again after being denied needed physical therapy. An older man with mild dementia may never have opportunities to do anything enjoyable and fall into persistent melancholy or depression for his last years.
The federal Centers for Medicare & Medicaid Services (CMS) bears significant responsibility for lackluster care and too frequent abuse. Monetary penalties are rarely assessed: surveyors in fiscal year 2016 noted 124,000 violations but assessed only 2,700 monetary penalties. In addition, even when monetary penalties are assessed, they often are not large enough to force improve­ments.
This is particularly true when monetary penalties are assessed on a per-incident basis, rather than a per-day basis. These per-incident penalties averaged $3,200 in fiscal year 2016, and CMS, under the current Administration, is changing policies to shift from per-day to per-incident penal­ties in many instances. Month by month, CMS policies are falling into line with the frequent re­quests by provider lobbyists that CMS be more of a partner than a regulator.
Effective government enforcement is necessary but not sufficient by itself, and aging network professionals should do their part to promote truly person-centered care. A good place to start is pushing back against long-standing illegal practices. Justice in Aging publishes a guide on 20 Com­mon Nursing Home Problems (goo.gl/5sGYGM), as certain common but illegal practices have in­fected nursing homes around the country.
Shabby Care Planning, Financial Discrimination
One pernicious problem is the general shabbiness of much care planning. Federal law states that an interdisciplinary team that includes the resident as an active participant should develop care plans. The nursing home must reasonably comply with a resident's requests, except in rare in­stances when accommodation would endanger the health or safety of others. But many nursing home residents and employees would perceive this as fantasy. Today, it is more likely that staff presenting a pre-prepared plan dominate any care plan meeting. And that care plan likely will not be individualized, but instead will march through a pairing of the resident's deficits and problems (as identified in an assessment) with generic interventions.
Residents, their families and friends and professionals in aging services should demand better. A key for residents and families is advance preparation: specifically, to talk ahead of time to iden­tify which changes and accommodations residents want. Overall, residents and family members must believe that residents deserve reasonable accommodation of preferences.
Too often, residents are apologetic in making requests, but no apology is necessary. Nursing homes receive multiple thousands of dollars monthly to care for residents, and must promise to follow federal nursing home law as a condition of federal funding.
Another common problem is financial discrimination. Under federal law, a nursing home must not discriminate against Medicaid-eligible residents. Thus, a resident's therapy interventions should not completely disappear just because his or her Medicare Part A coverage concludes. Therapy should be based on assessments and physician orders, not on form of payment. To be sure, cessation of Medicare Part A coverage often is linked to changes in a resident's therapy needs, but such changes do not justify the falling-off-a-cliff elimination of services that often occurs as resi­dents switch from Medicare to Medicaid. Recovery from a broken hip or a stroke is a laborious process, and abruptly terminating services may well mean that the resident never walks again.
In a related type of financial discrimination, many nursing homes move to push out residents when Medicare Part A reimbursement ends, rather than allowing them to remain under Medicaid. Offending facilities often style themselves as therapy specialists or "short-term" facilities, in order to develop a business model with a high volume of short-stay Medicare-funded residents. Such churn­ing of Medicare-reimbursed residents may benefit the nursing home's bottom line, but it is hardly fair to residents—and is in direct conflict with the eviction protections within federal nursing home law. Professionals in aging should reject (or continue to reject) such callous business practices, and individual residents should request appeal hearings when threatened with eviction.
Professionals in aging have important roles to play in improving nursing homes. CMS and state regulators need support and public pressure, and aging network professionals are well-positioned to pro­­­vide both. Also, in counseling and advocating for nursing home residents, such professionals can be the difference between a resident suffering or thriving. The federal standards are strong, but strengthened individual and public policy advocacy is necessary to ensure that truly person-cen­tered care becomes a reality.
Eric Carlson is a directing attorney at Justice in Aging, in its Los Angeles, Calif., office, advocating for improved long-term services and supports for older Americans; he is the author of 20 Common Nursing Home Problems and the legal treatise, Long Term Care Advocacy (Miamisburg, Ohio: Mat­thew Bender, 2017).