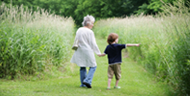 By Nancy Orel
Because the most significant demographic trend during the past decade has been the "graying of America," it should come as no surprise that the number of Lesbian, Gay, Bisexual, and Transgender (LGBT) older adults is also dramatically increasing. These trends demand societal attention to the challenges and opportunities of an aging LGBT population. Researchers, clinicians and practitioners have become increasingly aware that LGBT older adults constitute sexual and gender minorities with unique and varying needs.
Empirical research on the specific needs and concerns of LGBT older adults has flourished in the past decade, and this body of work has been reported in the gerontological literature ("Aging and Sexual Orientation: A 25-Year Review of the Literature"). Most importantly, a special issue of the Journal of Homosexuality (in press) will highlight current research focusing on LGBT older adults, reporting findings from assessments and surveys of LGBT older adults conducted by communities, agencies and organizations around the country. In this special issue of the Journal of Homosexuality, I report the results of both quantitative studies (LGBT Elders Needs Assessment Scale) and qualitative studies (focus groups and in-depth interviews with LGBT older adults) that sought to investigate the unique needs and concerns of LGBT elders. The results identified seven areas (medical-healthcare, legal, institutional-housing, spiritual, family, mental health and social) of concern, and recognized that we must address the needs and concerns of LGBT older adults across multiple domains, not in isolation.
In addition to reporting findings from older adults who participated in LGBT focus groups and-or completed the LGBT Elders Needs Assessment Scale, the results also provide a comprehensive summary of findings from in-depth interviews with LGB grandparents. Historically little attention has been given to understanding the diversity and contextual variation within the grandparent-grandchild relationship when grandparents self-identify as LGBT, because the majority of research has emphasized the experiences of family members from a heterosexual (heteronormative) perspective. Unfortunately, the terms lesbian mother, gay father, lesbian grandmother, and gay grandfather have been seen historically as contradictory because homosexuality was viewed as inconsistent with the ability to procreate, parent, and grandparent (Bigner, 1996, 2000; Clunis and Green; Orel and Fruhauf). LGBT persons are mothers, fathers, grandmothers or grandfathers, and these instrumental family relationships are salient and worthy of investigation.
Fuzzy Numbers
Accurate estimates of the number of LGBT parents and grandparents are not available. However, using U.S. Census data, the Williams Institute estimated in 2011 that there are approximately 9 million LGBT individuals in the United States, and same-sex couples in 1999 were raising approximately 250,000 children under age 18. Yet, these are conservative estimates, according to Lesbian and Gay Parents and Their Children: Research on the Family Lifecycle, given that LGBT people often do not lead openly lesbian, gay, or bisexual lives ("Lesbian, Gay, Bisexual and Transgender Families") and data are often miscounted (Colorado Census Snapshot, 2010).
Optimistically, because the 2010 U.S. Census was the first time individuals were given the opportunity to report same-sex partners and same-sex spouses, more accurate, less conservative statistics will become available in the future about LGBT parenting and grandparenting. Additionally, with the increase in same-sex couples adopting children, finding surrogate mothers to bear children, and becoming pregnant through artificial insemination (The Gay Baby Boom) the number of same-sex parents is increasing (Lesbian and Gay Parents and Their Children: Research on the Family Lifecycle). It is likely that the current and future aging LGBT population will experience grandparenthood in greater numbers than previous LGBT cohorts. Because of this, it is important to understand the grandparent-grandchild relationship within the context of LGBT families.
The Popular Press and Lesbian Grandmothers
Since the 1980s, the popular press and anthologies have discussed lesbian grandmothers—some in an unfavorable manner. In a 1994 Alberta Report, a Christian Fundamentalist magazine, published a piece protesting a Vancouver judge's decision to award custody of a child to its lesbian grandmother instead of to its biological father. In the collected papers on Lesbian Parenting, Living with Pride and Prejudice, Jessica Walker wrote about her lesbian grandmother's struggles with sexual orientation and her inability to be with her lesbian partner. Jessica wrote that she personally "cried over the tragic way that the lovers had been forced apart." Two additional anthologies that included chapters on lesbian grandmothers were Women in love: Portraits of lesbian mothers and their families and Lives of lesbian elders. These anthologies shared the stories of lesbian grandmothers and highlighted both their struggles and joys.
Whalen, Bigner and Barber in 2000 published the first scholarly paper  examining the grandmother's role as experienced by lesbian women. In 2005, Serena Patterson conducted interviews with 14 lesbian grandmothers ranging in age from 41 to 73, who were living in Canada's greater Vancouver and Toronto areas. According to Patterson in "This Is So You Know You Have Options," the most significant finding was that a lesbian grandmother's identity as a lesbian occurred late in her life. The majority of lesbian grandmothers came out when their children were adults, and-or their heterosexual marriages had ended. These women viewed their lesbian identity formation as "an accomplishment or a gift of middle age" and then negotiated this new identity with their identities as mothers and grandmothers. Orel and Orel and Fruhauf were the first to specifically and systematically explore the effects of sexual orientation on the grandparent-grandchild relationship. Their qualitative research explored the perceptions, attitudes and beliefs of lesbian and bisexual grandmothers by using the life course perspective as a guide ("The Life Course Perspective Applied to Families Over Time").
What About Gay Grandfathers?
There are fewer studies that have investigated grandparenting by gay grandfathers. Similar to what was previously reported for lesbian grandmothers, the first publications that highlighted the role of gay grandfathers appeared on LGBT elder websites, or in newspaper articles. These articles highlighted gay grandfathers in a favorable manner and illustrated the diversity in the role of being a gay grandfather ("The grandparents are out"). In order to better understand the sociocultural and sociopolitical context of gay grandfathers' lives, Fruhauf, Orel and Jenkins examined the experiences of gay grandfathers' coming out processes to their grandchildren. Their research revealed that gay grandfathers took different approaches to disclosing their sexual orientation to their grandchildren, but all grandfathers indicated that adult children played a profound role in the coming out process.
Collectively, the research on LGB grandparents indicated that managing disclosure about sexual orientation was the primary issue for LGB grandparents, and that the ability to disclose sexual orientation to family members was salient for LGB grandparents' identity development. LGB grandparent's decision to disclose or remain closeted was influenced by their perceptions of the level of sexism, heterosexism and homonegativity within their setting and context, as well as reflecting their familial relationships over time (Orel and Fruhauf; Fruhauf, Orel, & Jenkins). Although one could argue that all LGBT people struggle with decisions related to coming out, LGB grandparents are unique in that their adult children influence their decisions.
Additional research on the coming out process for LGB grandparents is underway, and the experiences of transgender grandparents are also being investigated. Most importantly, the results of such research have led to the development of the LGBT Grandparent Survey, a 53-item questionnaire that will be distributed in 2013. This quantitative research will investigate on a national level the centrality of sexual orientation on the grandparent-grandchild relationship. A link to this survey for interested LGBT grandparents will be available soon.
---
Nancy Orel, Ph.D., L.P.C., is the Interim Associate Dean for Undergraduate Studies and Community Engagement in the College of Health and Human Services at Bowling Green State University (BGSU). She is also an Associate Professor and Director of the Gerontology Program at BGSU. Contact her at norel@bgsu.edu.
This article was brought to you by the editorial committee of ASA's LGBTQ Aging Issues Network (LAIN).