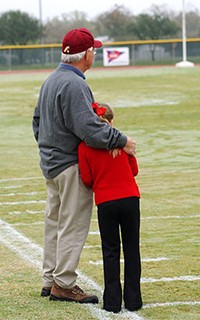 By Jaia Peterson Lent and Adam Otto
Substance use, most recently the opioid epi­demic, is hurting America's families and often placing greater responsibility upon grandparents to care for their grandchildren. Increasingly, child welfare systems, as they face shortages of foster parents to meet a growing need, are loo­­k­ing to grandparents and other relatives to care for children who have entered foster care due to parental drug and alcohol use.
The growing impact of the opioid crisis is becoming increasingly evident. In a recent sur­vey of programs across the United States that primarily serve grandparents and other rela­tives raising children (known as grandfamilies), nearly all reported serving families impacted by parental substance use. More than 70 percent identified opioids, including heroin, as one of the most common types of drugs affecting the fami­lies (Generations United, 2016a).
Recent data show the percentage of children entering foster care due to parental substance use rose from 22 percent to nearly 30 percent in just five years (National Data Archive on Child Abuse and Neglect [NDACAN], 2009-2017)—the largest increase in any reason for removal to fos­ter care. Some pockets of the country report a 33 percent increase in the numbers of children in state custody (Quinton, 2015).
After years of decline, in 2012 the over­all number of children in foster care began to rise (NDACAN, 2009-2017). Experts attribute the increase in large part to the opioid and her­oin epidemic affecting many parts of the United States (U.S. Congress, 2016). By 2016, 32 percent of all children in foster care were living with rel­atives, which is an 8 percent increase since 2008 (NDACAN, 2009-2017). More than a third of all children removed from their homes because of parental alcohol and drug use are placed with relatives (Children and Family Futures, 2016).
Yet it is important to recognize that the impact of parental substance use disorders on grandfamilies is not a new challenge. For decades, grandparents and other relatives have provided safe and stable homes for children whose parents have been unable to parent due to alcohol and-or drug use. As grandparent care­giver Chris Mathews explains, "Grandparents are doing whatever it takes to bring their grand­children to safety."
Statistics on Children, Grandfamilies, Foster Care
In total, about 7.6 million children live in house­holds headed by kin—a grandparent, uncle, aunt, or other relative (U.S. Census Bureau, 2017). More than 2.6 million children are living with grand­parents, relatives, or close family friends with­out either of their parents in the home (Annie E. Casey Foundation Kids Count Data Center, 2017).
There is increasing recognition that placing children with relatives when they cannot remain with their parents can reduce the trauma of that separation and result in better outcomes for chil­dren than in those children who are placed with non-relatives (Generations United, 2016b). 
While caregivers in grandfamilies may be aunts, uncles, siblings, or other relatives, the ma­­jority are grandparents. More than 2.5 million grandparents report they are responsible for their grandchildren (U.S. Census Bureau, 2017). Forty-one percent are older than age 60, and approxi­mately 57 percent are in the workforce. About 69 percent are married and nearly two- thirds are female. Nearly one in five live in poverty and more than a quarter have a disability. A slim majority (53 percent) are white, approximately 20 percent are black or African American, 20 percent are of Hispanic or Latino origin, 3 percent are Asian, and 2 percent are American Indian or Alaska Native (U.S. Census Bureau, 2017).
While the child welfare system relies heavily on relatives, the number of grandparents, uncles, aunts, and others who step in to care for children and keep them outside the foster care system far exceeds those raising children inside that system. For every child being raised in foster care with a relative, there are twenty children living with grandparents or other relatives outside of the fos­ter care system (Generations United, 2017).
Some grandparents prefer to care for children outside of foster care. The children may not need the child welfare agency's ongoing support and oversight, and the grandparents may be uncom­fortable not only with their grandchildren being in legal custody of the state, but also with the nec­essary rules and restrictions that accompany that status. However, their lack of legal custody or guardianship of the children may make it difficult to access information and services and receive ade­quate financial support on the children's behalf.
For other families, it may be best for the grand­parents to become licensed foster parents, which often comes with greater financial support and services such as case management, counseling, and in-home supports.
Whether a child is raised inside or outside the child welfare system depends upon a complex set of factors, which often are related to how the child first began living with their grandparents. In some cases, an incident occurs that brings the child to the attention of the child welfare sys­tem. In these situations, the agency may place the child with his or her grandparents and may or may not give them the option to become licensed foster parents (by going through the extensive training and home study as would traditional, unrelated foster parents). In other cases, the grandparents begin to care for the child before there is a need for the child welfare system to become involved; in these cases, the grandpar­ents are not usually eligible for licensure.
The Challenges of Grandfamily Caregiving
Unlike parents or foster parents who plan for months or years to care for a child, these grand­parents or other relatives usually take on their caregiving role unexpectedly. Some may get a late-night call telling them to come and pick up their grandchildren or they will end up in foster care. Suddenly, they must navigate complex sys­tems to help meet the physical, emotional, and cognitive health challenges of the children who come into their care.
Grandparent caregivers may struggle with their own mental health issues stemming from feelings of shame, loss, or guilt about their adult child's inability to parent. They may suffer from social isolation and depression because they do not want their peers to know about their situ­ation, or because their peers are no longer par­enting. Caregivers who are relatives often are grieving a host of losses, including that of the traditional grandparent role, control over their future and financial security, or the loss of lei­sure time (Generations United, 2016a). The stress and additional pressures of car­­ing full time for a grandchild can also negatively impact a caregiver's physical health.
While many of the grandparents may expect their full-time caregiving role to be temporary, about 42 percent of grandparents responsible 
for their grandchildren report they have been providing care for five or more years (U.S. Cen­sus Bureau, 2017). Many may prioritize the needs of their grandchildren over their own, which can lead to chronic stress, depression, or physical ill­ness such as hypertension (Solomon and Marx, 2000; Minkler et al., 2000).
The unexpected expense of raising a grand­child can be especially devastating to care­givers living on fixed incomes. Grandfamilies report spending down their retirement savings to address the health, mental health, food, and clothing needs of the children, or to pay legal expenses incurred through seeking legal child custody (Generations United and Corporation for Enterprise Development, 2015). Others turn their retirement savings into college tuition pay­ments. And many older caregivers live in one-bedroom apartments or in senior housing where children are not welcome, and must move into larger, more expensive housing (Generations United, 2005).
Fortunately, caregivers also report positive outcomes from their caregiving role, often cit­ing an increased sense of purpose, happiness and satisfaction, and opportunities to nurture family relationships, continue family histories, and receive love and companionship (Hsieh, Mercer, and Costa, 2017; Langosch, 2012; Silver­­stein, 2007).
Intergenerational Issues in Grandfamilies
Many birth parents with opioid or other sub­stance use disorders have a deep longing to par­ent, but their ability to do so is severely impacted by their addiction and the barriers they face find­ing treatment services and other supports to help them reunite with their children in a safe and stable home. Parents to children in grandfamilies may have undiagnosed mental health disorders or may have experienced significant trauma that, if left untreated, may perpetuate substance use disorders (Generations United, 2016a).
Grandparent caregivers of children whose parents are using drugs may experience addi­tional stresses in trying to maintain or navigate an ongoing relationship between their grand­child and the child's parents; often they are un­­aware if the parents are currently using drugs or alcohol and how these behaviors will impact the grandchild.
Caregivers often face challenges related to the dual loyalties to both the grandchild and their parent. They may be working to help the parent get substance use and-or mental health treatment, housing, work, or other supports, but their first priority must be the grandchild's safety and well-being. Finding appropriate child­care for their grandchild, while helping the child's parent, may be difficult. In some cases, the safety of the child and-or requirements of the child welfare agency may dictate that the par­ents are not allowed to live or spend the night in the house with the grandparent and child, or to spend time with the child alone. Enforcing these restrictions can cause tension between the child's parents and the caregiver.
Stepping in to raise grandchildren also impacts the grandparents' relationships with other family members, including their par­ents and siblings, other adult children, or other grandchildren. Grandparent caregivers may feel concerned that they don't have enough time to spend with other grandchildren. One grand­parent caregiver said, "Our ability to 'grandpar­ent' our other grandchildren was drastically impacted by our need to 'parent' this child."
The grandparent caregivers' other adult chil­dren may feel the loss of the storybook "doting grandparent" to their children, as well as shifts in their relationship with their parents. The adult daughter of one grandparent care­giver said, "It has thrown off the entire balance of our family roles. Even as an adult, I don't want to share them sometimes—especially when I have been tapped out from the struggles and strains 
of raising my own kids" (G. Engel, C. Piscoya, L. Urvina, and J. Wagner, email message to authors, June 6, 2018).
Furthermore, other family members often express strong concerns about the grandparents' decision to take the child, related to the impact of caregiving on the grandparents' health, financial well-being, and retirement plans. These dynam­ics can be stressful for the grandparents to navi­gate, even if the family is well-meaning. In the long run, many grandparent caregivers report that their families are supportive and have come to accept the importance of the grandparents' decision to care for the child and give him or her a safe, stable, and loving home (Engel et al., email message to authors, June 6, 2018).
Finally, grandchildren in grandfamilies may be dealing with difficult mental health issues and emotions related to feelings of abandon­ment, anger, and sadness related to their par­ents' substance use. Those emotions may man­­i­­­fest as difficult behavioral challenges, such as running away, withdrawal, or verbal or physical outbursts.
Characteristics, Experiences of Children in Grandfamilies
Children of parents with substance use disorders may have health issues directly related to their parents' drug or alcohol use; they may have been prenatally exposed to alcohol or drugs, which can cause temporary or permanent health and developmental challenges. Children living with grandparents are more likely to live in poverty and lack health coverage than children living with their parents, posing challenges to address­ing health problems (Ellis and Simmons, 2014).
Children also may have been exposed to vio­lence, abuse, neglect, or other adverse child­hood experiences (ACE) related to their parents' substance use. The term ACE is used to refer to stressful or traumatic events that occur in child­hood, including those perpetrated by the person the child relies upon to keep them safe. Experi­encing multiple ACEs can cause toxic stress and trauma, which can lead to a range of physical, mental, and behavioral problems. Children who experience four or more ACEs are twelve times more likely to have negative health outcomes than the general child population (Stambaugh et al., 2013). 
More than half of the children in the child welfare system have had four or more ACEs (Stambaugh et al., 2013). Children in foster care are at least five times more likely to have anxi­ety, depression, and-or behavioral problems than children not in foster care (Turney and Wildeman, 2016). While there are no national data showing the numbers of ACEs for children in grandfamilies, nearly a third of all children in foster care are cared for by grandparents or other relatives (NDACAN, 2009–2017), and the reasons children are removed from their parents' care and placed with relatives typically involve multiple ACEs (Stambaugh et al., 2013).
Grandfamilies and Children's Well-Being
Fortunately, children with multiple ACEs are not destined to experience negative outcomes. When a child cannot remain with its parents, going to live with a familiar grandparent or other rela­tives can help minimize the trauma and loss that accompany the separation. As one grandchild raised by her grandmother said, "Grandma took us away from all of the drama and made us feel wanted" (Generations United, 2017).
Research shows that certain family-based protective factors can help mitigate the impact of trauma in children who have suffered vio­lence or other adverse experiences (McCon­nico, 2017). Many common characteristics in grandfamilies—such as positive child-caregiver relationships, stable living environments, and relationships with extended family—align with these evidence-based protective factors (Gen­erations United, 2017). Most important among these is a positive relationship with a caring adult who can buffer the effects of children's stress response systems (U.S. Department of Health and Human Services [HHS], Administra­tion for Children and Families [ACF], 2005). In grandfamilies, the grandparent can be that car­ing adult who helps children learn to cope with stress and to develop healthy stress response sys­tems over time.
With these protective factors in place, chil­dren can thrive in grandfamilies. Compared to children in non-relative foster care, children in foster care with relatives have more stability, are less likely to run away, and are more likely to have a permanent home. They experience fewer school changes, have better behavioral and men­­tal health outcomes, and are more likely to report feeling loved. They are more likely to stay connected to brothers and sisters, to extended family, and to their cultural identity (Genera­tions United, 2016b). Moreover, children in foster care with relatives are less likely to re-enter the foster care system, if and when they return to their birth parents (Falconnier et al., 2010).
Supports and Services Help Grandfamilies Thrive
While outcomes for children in foster care with relatives are better than those with unrelated foster parents, grandfamilies still need tailored supports and services. As grandparent caregiver Jan Wagner said, "One thing I know to be true: you can't love away the effects of trauma from neglect and abuse. Our children need the same amount of intensive therapy and services as [chil­dren in] traditional foster placement and we, as their caregivers, desperately need the same to help them heal" (Generations United, 2017).
Children and caregivers in grandfamilies benefit from services such as support groups, mental health services, case management, care­giver training, and kinship navigator services that help connect families to housing, mental health, financial and legal assistance, and other benefits. Grandfamilies who receive support from such programs experience better social and mental health outcomes than those without sup­port, including improved safety, increased sta­bility, lower rates of foster care re-entry, reduced behavioral problems in children, and increased caregiver strengths (Garcia et al., 2014; HHS, ACF, Children's Bureau, 2013).
Unfortunately, the majority of grandfami­lies are not receiving the benefits for which they are eligible. Less than 12 percent of grandfami­lies receive Temporary Assistance for Needy Families (TANF), even though most children in the families are eligible. Less than half receive Supplemental Nutrition Assistance Program benefits, even though most report food insecu­rity. Less than half of eligible children in the families receive Medicaid. Less than 17 percent of low-income, working caregivers in grand­families receive childcare, and less than 15 per­cent receive housing assistance (Annie E. Casey Foundation, 2012). Many grandfamilies do not have access to or are unaware of supportive ser­vices for grandfamilies in their communities or to kinship navigator services to help them access the available services.
Supportive Policies for Grandfamilies 
Fortunately, recently passed pieces of legislation take significant steps toward helping grand­families. In February 2018, Congress passed the bipartisan Family First Prevention Services Act, a wide-sweeping child welfare reform bill that allows states to use Title IV-E funding of the Social Security Act to provide services to children, birth parents, and relative caregivers to prevent children from entering foster care. Previously, this funding was primarily limited to help children only after they entered foster care.
The legislation also requires states to address inappropriate barriers to licensing relatives as fos­ter parents to help them secure improved ser­vices and financial help to meet the children's needs. Finally, it provides reimbursement to states and tribes that provide evidence-based kinship navigator programs, which provide information, referral, and follow-up services to grandfamilies to link them to the benefits and supports that they and-or the children need. Furthermore, as part of the FY2018 appropria­tions bill, Congress appropriated $20 million to states, tribes, and territories to develop kinship navigator programs where they do not exist, and to evaluate and improve existing programs to help them meet evidence-based standards.
During July 2018, the bipartisan Supporting Grandparents Raising Grandchildren Act was signed into law. The law will create an advisory council to identify best practices and gaps in ser­vices to grandfamilies, develop a related report to Congress, and create a central source of infor­mation to help the families.
Policy makers and social service providers can help improve outcomes for grandfamilies by promoting supportive services tailored to the specific needs of relative caregivers, such as kinship navigator programs, kinship caregiver training, and support groups; changing federal and local policies to improve access to benefits and supports, such as reducing unnecessary barriers to licensing relatives as foster parents or streamlining applications for TANF, Medi­caid, SNAP, or other benefits; and championing research and replicating evidence-based prac­tices to ensure available services are proven 
and effective.
Grandparents and other relatives who step in to raise children when the parents cannot, serve to keep children with family and reduce the trauma of separation. With the proper supports and ser­vices, children thrive in grandfamilies and expe­rience better outcomes than those in foster care with non-relatives. Furthermore, grandparents and other relative caregivers save taxpayers $4 billion each year by keeping children out of foster care. Practitioners and lawmakers should help families by tailoring, evaluating, and improving services to grandfamilies and addressing barri­ers to accessing benefits and supports.
Jaia Peterson Lent, M.S.W., is deputy executive director of Generations United in Washington, D.C. Adam Otto, B.S., is policy and program assistant for Generations United.
References
Annie E. Casey Foundation. 2012. "Stepping Up for Kids: What Gov­ernment and Communities Should Do to Support Kinship Families." tinyurl.com/y7udpcxs. Retrieved July 5, 2018.
Annie E. Casey Foundation Kids Count Data Center. 2017. Chil­dren in Kinship Care. tinyurl.com/y8lw9lm2. Retrieved July 3, 2018.
Children and Family Futures. 2016. Analysis on the Public Use 2014 Adoption and Foster Care Analy­sis and Reporting System Dataset. tinyurl.com/yajna7mo. Retrieved July 3, 2018.
Ellis, R., and Simmons, T. 2014. 
Co-Resident Grandparents and Their Grandchildren: 2012. Current Population Reports P20–576. Wash­ington, DC: U.S. Census Bureau.
Falconnier, L. A., et al. 2010. "Indi­cators of Quality in Kinship Fos­ter Care." Families in Society: The Journal of Contemporary Social Services 91(4): 415-20.
Garcia, A., et al. 2014. "The Influ­ence of Caregiver Depression on Children in Non-relative Foster Care Versus Kinship Care Place­ments." Maternal and Child Health Journal 19(3): 459–67.
Generations United. 2005. Grand­parents and Other Relatives Rais­ing Children: An Action Agenda to Create Affordable Housing Oppor­tunities. Washington, DC: Genera­tions United. tinyurl.com/y7lnurfo. Retrieved July 11, 2018.
Generations United. 2016a. State of Grandfamilies 2016, Raising the Children of the Opioid Epidemic: Solutions and Support for Grand­families. Washington, DC: Gen­erations United. (Excerpts from report used with permission of Generations United.)
Generations United. 2016b. Chil­dren Thrive in Grandfamilies. Washington, DC: Generations United. tinyurl.com/ydh3cbcf. Retrieved July 3, 2018.
Generations United. 2017. State of Grandfamilies 2017. In Loving Arms: The Protective Role of Grandparents and Other Relatives in Raising Chil­dren Exposed to Trauma. Wash­ington, DC: Generations United. (Excerpts from report used with permission of Generations United.)
Generations United and the Cor­poration for Enterprise Develop­ment. 2015. The Resounding Resil­iency of Grandfamilies: Financial Stories from Older Relatives Car­ing for Children in Lower-Income Communities. tinyurl.com/j8jtnzn. Retrieved July 3, 2018.
Hsieh, J., Mercer, K., and Costa, S. 2017. "Parenting a Second Time Around: The Strengths and Chal­lenges of Indigenous Grandparent Caregivers." GrandFamilies: The Contemporary Journal of Research, Practice and Policy 4(1): 8.
Langosch, D. 2012. "Grandpar­ents Parenting Again: Challenges, Strengths, and Implications for Practice." Psychoanalytic Inquiry 32(2): 163–70.
McConnico, N. 2017. "Little Listen­ers: Protecting Young Children by Reducing Community Violence." Presentation at July 13, 2017, con­gressional briefing. tinyurl.com/yc2sjzoc. Retrieved July 11, 2018.
Minkler, M., et al. 2000. "Grand­parent Caregiving and Depres­sion." In B. Hayslip and R. Gold­berg-Glen, eds., Grandparents Raising Grandchildren. New York: Springer.
National Data Archive on Child Abuse and Neglect (NDACAN). 2009–2017. Adoption and Foster Care Analysis and Reporting Sys­tem, Foster Care Files 2008–2016. tinyurl.com/j6zonoy. Retrieved July 3, 2018.
Quinton, S. 2015. "How Heroin Is Hitting the Foster Care System." Pew Charitable Trusts, Stateline (blog), October 9.  tinyurl.com/yb28m4v5. Retrieved July 3, 2018. 
Silverstein, M. 2007. "Benefits of Grandparents Raising Grandchil­dren." Journal of Intergenerational Relationships 5(3): 131–4.
Solomon, J., and Marx, J. 2000. "The Physical, Mental and Social Health of Custodial Grandpar­ents." In B. Hayslip and R. Gold­berg-Glen, eds., Grandparents Raising Grandchildren. New York: Springer.
Stambaugh, L., et al. 2013. Adverse Childhood Experiences in National Survey of Child and Adolescent Well-Being (OPRE Report #2013–26). Washington, DC: HHS, Office of Planning, Research and Evalua­tion, Administration for Children and Families.
Turney, K., and Wildeman, C. 2016. "Mental and Physical Health of Children in Foster Care." Pediat­rics 138(5). tinyurl.com/ybxao5s5 Retrieved July 5, 2018. 
U.S. Census Bureau. 2017. Amer­ican Community Survey 1-Year Estimates. tinyurl.com/jkwl6l4. Retrieved July 18, 2018. 
U.S. Congress, Senate Commit­tee on Finance. 2016. Examining the Opioid Epidemic: Challenges and Opportunities. Hearing before the Senate Committee on Finance. 114th Cong., 2nd sess., February 23 (statement of Nancy K. Young, Director, Children and Family Futures). tinyurl.com/ydaqre4l. Retrieved July 19, 2018.
U.S. Department of Health and Human Services (HHS), Admin­istration for Children and Fami­lies (ACF). 2005. National Survey of Child and Adolescent Well-Being (NSCAW) CPS Ample Component Wave 1 Data Analysis Report, April 2005. Washington, DC: HHS, ACF. tinyurl.com/ybum4a5y. Retrieved July 3, 2018.
HHS, ACF, Children's Bureau. 2013. Family Connection Discretion­ary Grants: 2009-Funded Grant­ees Cross-Site Evaluation Report—Final. tinyurl.com/y7rnfs2d. Retrieved July 3, 2018.
This article is taken from the Fall 2018 issue of ASA's quarterly journal, 
Generations
, which takes a look at older adults who provide caregiving, not receive it. ASA members receive 
Generations 
as a membership benefit; non-members may purchase subscriptions or single copies of issues at our online store.