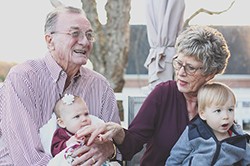 By Teri Kennedy
More than 215,000 students at 217 primary and secondary schools have experienced gun violence at school since the 1999 shooting at Columbine High School,
according to
John Woodrow Cox and colleagues with
The Washington Post
. Be­tween 1999 and May 2018, school shootings were responsible for a cumulative 141 deaths and 287 injuries of children, teachers and other adults. January through May 2018 saw 23 school shootings, more than in any year since 1999,
an average of one shooting per week
. 
Gun violence is a major public health issue and a leading cause of death in America, according to the
American Public Health Association
, with 38,000 deaths and nearly 85,000 non-fatal injuries due to gun violence annually. Data compiled by
Mosher and Gould
found a 1 in 315 lifetime odds of death due to assault by a gun, excluding suicides and accidental deaths. According to the
National Safety Council
, gun assaults were the leading cause of death by gun among people ages 5 to 34, exceeding accidental deaths by gun among children ages 4 years and under.
Forty-four percent of U.S. adults
report
personally knowing someone who has been shot, and 23 percent say that they or a family member have been threatened or intimidated by someone wield­ing a gun. Seventy percent of American voters say that "mass killings by U.S. citizens is a bigger problem than mass killings by people from other countries," as per a Febru­ary 2018
Quinnipiac University Poll
.
Gun Culture and Gun Policy
Gun culture runs deep in America. A 2017 Pew Research Center poll found that 42 percent of all re­spondents reported living in a household with a gun. There was
little variation
in gun ownership be­tween age groups, with a high of 45 percent of adults ages 65 and older and a low of 39 percent among adults ages 30 to 49 reporting a gun in the household.
Primary reasons
for gun ownership include protection (67 percent), hunting (38 percent) and sport shooting (30 percent).
February 2018 polls by Quinnipiac University and Gallup reinforce general findings of the Pew poll: a majority of American voters support stricter gun laws, with 66 percent (up 19 percent over two years) and 57 percent support, respectively. Quinnipiac respondents agreed on support for universal background checks (97 percent), a ban on assault weapons (67 percent) and a mandatory waiting period (83 percent).
While more liberal on social issues, people younger than age 30
generally share
their parents' and grandparents' views on gun control. In fact, three years of polling by
Gallup
found that "age isn't much of a factor." Sixty per­­cent of respondents ages 18 to 29 favored stricter gun laws, only one percentage point higher than the 57 percent aver­age of all respondents. Similarly, the
2017 Pew poll
found that 50 percent of Millennials thought gun laws should be stricter, echoing a 52 percent share of the general population, and large ma­jorities supported policies expanding universal background checks and restricting gun sales to individuals living with mental illness.
Pew
found one significant and surprising difference between generations: both Republican and Democratic Millennials held more conservative views on banning assault-style weapons and high-capacity magazines than older cohorts representing Generation Xers, baby boomers and the Silent Generation. To understand this seeming disconnect, it is important to note that polls count those of voting age only, and to distinguish the cohort of Millennials (ages 18 to 36) from teenagers who have become politically active in the wake of the Parkland shooting and are not yet eligible to vote. Future polls are likely to see a cohort effect as this new group of Gen­eration Zers come of voting age.
Grandparents and Culture Change
Following the Sandy Hook shooting, a grassroots organization,
Grandmothers Against Gun Vio­lence
, was founded in 2013 in Kansas/Missouri (now Grandparents Against Gun Violence). Since then, chapters have arisen in states including Washington, Florida and Tex­as supporting policies to:
•
close gun sale loopholes;
•
require universal background checks and ban the sale of high-capacity am­­mu­ni­tion magazines and military-style assault weapons;
•
promote safe storage of guns;
•
improve access to and delivery of mental health services; and
•
increase research into the causes and prevention of violence.
In the
aftermath
of the Parkland Valentine's Day 2018 shooting, another shift in attitudes and activism began. An 83-year-old major Republican donor made an ultimatum: "I will not write an­other check [to candidates or organizations] unless they all support a ban on assault weapons. Enough is enough!" Another Republican donor, age 72, joined in saying the shooting was a turning point in gun control: "It has to start somewhere."
When the Parkland survivors led the 2018 March for Our Lives, about 50 "grannies for gun control" from a Washington, D.C.,
retirement home
joined the rally demanding universal back­ground checks for gun buyers, handing out hundreds of heart-shaped cookies to let young people know "we love you, and we're going to do what we can to help take care of you." Ranging in age from 70 to 97 years old, in their youth, some had protested the Vietnam War and supported civil and women's rights and environmental protection.
A Public Health Solution: A Six-Point Strategy
Interestingly, gun policies advocated by grandparents look very similar to those advocated by the APHA, which views gun violence as a contagion that can become epidemic within society and, as such, requires prevention efforts including:
Better surveillance. Expand the National Violent Death Reporting System to support data col­lection in all 50 states, the District of Columbia and Puerto Rico; this is important to developing targeted gun violence prevention strategies.
More research to better understand the causes of gun violence.
The omnibus funding
bill
signed by the President in May 2018 clarified that the Centers for Disease Control and Prevention can conduct research on gun violence, previously barred by a 1996 omni­bus bill Dickey amendment. Congress must now appropriate funding to support this research.
Commonsense gun policies. Require criminal background checks for all gun purchases, includ­ing closing the gun show and Internet sales loopholes, and rein­state the 1994 federal ban on assault weapons and high-capacity magazines, which expired in 2004.
Expanded access to mental health services. Increase funding for mental health services, in­cluding the Substance Abuse and Mental Health Services Administration, to ensure adequate re­sources for community-based behavioral health systems.
Resources for school and commu­nity-based prevention. Support school-based health/be­havioral health centers and school-wide programs that address bullying, violence, anger and de­pression.
Gun safety technology. Support investment in research and technology to prevent unauthor­ized gun access, misuse and accidental shootings.
As a grandmother and retired nurse recently remarked on my Facebook feed, school shootings lead us to be "more aware of the vulnerability of innocent children." Such awareness can inform common­sense gun policies that support the rights of gun owners while "[e]nsure[ing] a safe environment outside the home" for our grandchildren.
Teri Kennedy, Ph.D., L.C.S.W., F.G.S.A., F.N.A.P., is a grandmother and director of the Office of Gerontological and Interprofessional Initiatives with the School of Social Work at Arizona State Uni­versity in Phoenix.
Editor's Note: This article appears in the September/October 2018 issue of 
Aging Today
, ASA's bi-monthly newspaper covering issues in aging research, practice and policy nationwide. ASA members receive 
Aging Today
as a member benefit; non-members may purchase subscriptions at our online store.