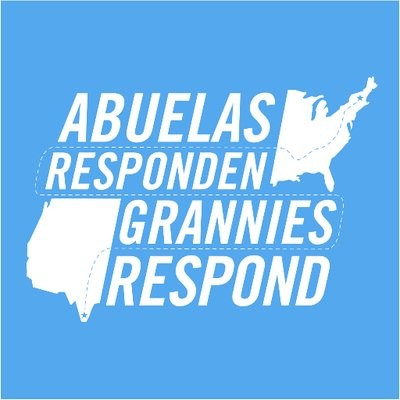 Grannies Respond—also known as Abuelas Responden—started up this past June, sparked by a an idea from activist Dan Aymar-Blair, 43, who wondered via social media what would happen if a group of grandmothers met at the U.S. southern border to protest the govern­ment's family separation policy. In the wildfire way of modern communications, word spread rap­idly to activists, and the grannies began to organize.
Lynne Iser, a member of Grannies Respond who lives in Philadelphia, describes herself as an elder activist and teacher of workshops on conscious aging, creating community and other such topics that "support our lives and further our values." A new, first-time grandmother (of a girl, born June 1), Iser this past summer rode nearly 2,000 miles, over seven days, in a caravan with other "grannies" as part of a movement to protest family separations at the southern border.
Grannies Go on the Road
First, there was a protest by about a dozen grannies (including at least one grandpa) in Beacon, N.Y., which eventually morphed into a caravan from six states, picked up other vehicles along the way and traveled to the end point of McAllen, Texas. Once there, the grannies intended to trace steps immigrants commonly take from the border to detention, then either boarding a bus to be housed with a sponsor, or going to a Catholic relief house while awaiting a bus trip.

The Beacon caravan drove 2,000 miles and made six stops. A West Coast caravan began in Van­couver and picked up grannies in Portland, Ore., and Sacramento, Calif. Another caravan started in Houston; one woman traveled in her trailer from Wisconsin (along with her dog); and more car caravans originated in Oklahoma and Kansas. Along the way, townspeople would meet the cara­vans for rallies and vigils, with signs, organized events, dinners and immigrant speakers telling their stories of being detained.

"The whole thing was a mixture of delight and horror," Iser says, referring to her delight in the number of people willing to spend their free time driving to Texas, as well as the hospitality received from strangers who welcomed the grannies into their homes for a night, to connect and share a meal, even when the caravans arrived late in the evening and would leave early in the morning.

Iser's sense of horror came from reflecting on how the U.S. government is treating immigrants, and how this wasn't at all the way in which she, or her contemporaries, were raised to think about immigration and American values.

"We're just compassionately appalled at what is going on," says Iser. "This wasn't the democ­racy I was taught or the political system or activities I want my tax dollars to support. It's an American value to raise our voices in protest."

On their way south, the grannies heard from a Honduran immigrant in Louisville, Ky., who de­scribed how a Honduran gang tried to recruit him, killing his father when he attempted to inter­vene and protect him. The gang members then threatened the rest of the family, forcing the son, mother and siblings to flee. This man had passed his "credible fear" interview and was awaiting a court date in January or February, trying to gather evidence to support his asylum claim.
An Education in McAllen, Texas
Once in McAllen, advocates held a rally to educate the grannies on what was happening locally, then the grannies—now a group of nearly 300, including local activists—walked to the bus station where they greeted immigrants being released from ICE detention. Iser was impressed by the children who would wave and cheerily high-five the crowd, but "one 2 1/2-year-old was just cling­ing to his father's neck," Iser said, "and it broke my heart that our government could tear this child away from her parents."

Two groups of grannies attempted to visit the Dilley South Texas Family Residential Center three and a half hours northwest of McAllen. Dilley, the largest center in the country, recently made headlines when an immigrant toddler died shortly after being released from detention there.

"It looked like a prison," said Iser, adding that the facility was surrounded by a fence topped with concertina wire. As the grannies approached, the Center's guards blocked their way and threatened them with arrest if they didn't leave immediately.
The next morning, Iser and other grannies traveled across the border to see families waiting for asylum interviews under a tarp in the pouring rain, and to have a listening session with an immi­gration attorney, who was carrying a 2,000-person caseload. The next morning Iser flew home.
Activism Continues at Home

Many grannies now are speaking at rallies back home, and raising money to rent an apartment across from the McAllen bus station so locals can cook for immigrants who are awaiting buses, and offer them a place to stay overnight. Also, Grannies Respond is organizing an "Above Ground Rail­road," which would connect immigrants arriving in different U.S. locations to local grannies who could offer food, diapers, change of clothes, and help them travel to their sponsor's location.

Iser says that as an older person, she has the luxury of time to take on such projects. "There are so many things happening that are appalling, but just as many or more people who want things to be good, who are compassionate and caring—it's incredibly inspiring," she said.
Editor's Note: This article appears in the November/December 2018 issue of Aging Today, ASA's bi-monthly newspaper covering issues in aging research, practice and policy nationwide. ASA members receive Aging Today as a member benefit; non-members may purchase subscriptions at our online store.