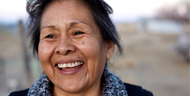 By John Feather, PhD, CEO, Grantmakers In Aging
Those of us who care personally and professionally about aging recognize the saying, attributed to screen legend Bette Davis, that "old age is no place for sissies." While I could say a lot about this, I would suggest that the essential word here is "place."
A sense of place is part of our identity and even shapes our capacity for successful aging. Millions of people who know nothing about the scholarly study of successful aging nevertheless know instinctively that they want to "age in place." They long for the ability to stay at or near home, safely and independently, to avoid ending up by default in an age-segregated retirement community or isolated in the faraway hometown of a younger relative.
They're on to something. Done right, aging in place does help many older people preserve their independence, functionality, and, often, their health. That said, we have a lot of work to do to remove obstacles and enhance the possibilities.
Welcome to the age-friendly movement -- a fast-growing, interdisciplinary approach to community development that strives to promote aging in place and make communities great places to grow up and grow old. It does this by working to make it possible for older adults to stay mobile, to volunteer and in some cases to continue working, to contribute to their families and neighborhoods, and most importantly, to maintain a sense of purpose and belonging.
Grantmakers In Aging, the organization I lead, sees huge upside in this approach and has launched Community AGEnda: Improving America for All Ages, to accelerate the work of five ambitious age-friendly projects. Supported by the Pfizer Foundation, Community AGEnda also seeks to inspire aging professionals, funders, planners, nonprofits, developers, and people of all ages in joining or starting a project to make their own community more age-friendly.
While it encompasses aging services, age-friendly development is a broader cross-cutting effort that requires longterm vision, collaboration, political and community buy-in, and diversified, sustainable funding. All of us who want to see the experience of aging in America improved can contribute, and learn something from it.
To that end, GIA is releasing an important new set of research and tools to help cities and towns prepare for, and benefit from, the growing number of aging Boomers. These include Age-friendly America a searchable online database with contact information and background on more than 200 age-friendly projects; Age-Friendly Communities: The movement to create great places to grow up and grow old in America: An introduction for private and public funders, an overview of the goals and accomplishments in the field to date; and Aging Power To Aging Power Tools: A curated selection of resources to promote stronger, age-friendly communities, a robust collection of tools from top practitioners. We hope you will investigate them and find something useful to your own practice. 
What does age-friendliness look like? Projects tend, appropriately, to be highly customized. Age-Friendly New York City, a standout example and an early member of the WHO Global Network of Age-Friendly Cities and Communities, has had success with reserving hours at local swimming pools exclusively for older adults, increasing seating, particularly in places where people wait in line, and improving access to laundry in public housing. Ruth Finkelstein, ScD, Senior Vice President for Policy and Planning at The New York Academy of Medicine and director of Age-Friendly New York City, also says the human factor is critical. "We found social participation to be the single most important dimension for older New Yorkers. Being able to live in a neighborhood where you know people, where people know you, and where places outside of your home include you is the key characteristic of an age-friendly city—everything else flows from that."
Mobility becomes an issue as we age, and many communities have followed another of New York's leads by extending "walk" signal time at pedestrian crossings and adding audible signals. Some communities take a more sweeping urban planning-based approach. Bloomington, Indiana is seeking zoning and development incentives to create a Lifetime Community District with many age-friendly features including accessibility promoted by Universal Design, "complete streets" suitable for bicycles and walkers as well as cars, access to fresh food, and affordable housing.
Other age-friendly initiatives analyzed by Community AGEnda have taken a different focus, including:
Linking health and social services in innovative ways to serve older adults better;
Revitalizing aging network services that no longer meet the needs of today's older adults, or that have been affected by federal and state budget cuts;
Improving one aspect of a community, such as transportation, recreation, arts, or healthcare;
Taking a place-based approach by focusing efforts in a discrete neighborhood with a large population of older people; or
Meeting the needs of a single racial or ethnic population of elders.
This is how Phil Stafford, director of the Center for Aging and Community at the University of Indiana in Bloomington and a Community AGEnda advisor, describes Elderburbia, his name for an age-friendly ideal: a place where, "communities are radically transformed from isolating spaces to authentic places where elders thrive as essential players in communities for life."
Americans' growing longevity is something to prepare for, and something to celebrate. In building more age-friendly communities, we can work together to do both. 
One of the most important aspects of age-friendly communities should be a focus on the "community" as well as "age".  Housing opportunities for elders have for too long been restricted to self-contained islands where only seniors live.  We do not want to deteriorate into a society where it is a zero sum game of having to decide if financial preference is given either to children or the older population.  Elders need to reintegrate into neighborhoods so all can benefit.  Neighborhoods where children learn to understand and respect their elders and seniors learn that voting for school levies benefits them by benefiting their neighbors should be the future of America.
Let us all fight the partisanship which has infected our country and its political leaders and work toward integrated communities, not age-segregated ones.