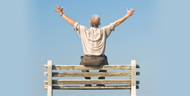 By Michael Smyer & Jim Gilmartin
It's time to connect two global patterns: Climate Change and Population Aging.
When Tom Friedman wrote Hot, Flat & Crowded, he overlooked one important element: Graying! 
Climate Change: What's Age Got To Do With It?
But Freidman's not the only one who is overlooking the connection. Recent research from Stanford, The New York Times, and Resources for the Future reported age differences in assessing how important Global Warming will be for the US:

Source: The New York Times, Stanford & Resources for the Future, Jan 30, 2015
The focus of the report, however, was on reaching the Millennials. The Yale Project on Climate Change Communication takes a similar approach.
Climate Communication: What's Age Got to Do With It?
It's time for gerontologists to add our basic questions to the mix of climate communication:
How do age and cohort affect climate belief?
How do age and cohort affect the effectiveness of climate communication?
How do age and cohort affect action in response to climate change?
Why try to engage older adults in climate communication? Two reasons—developmental and political. Developmentally, older adults are primed to be thinking about future generations and legacy issues (Insert grandchildren here!). Politically, older adults vote disproportionately more than other age groups in developed societies and are thought leaders in traditional societies.
When we pitch this idea to climate scientists and climate communicators I get one response: "Huh!" We've decided that "Huh" means "That's not a crazy idea; I just hadn't thought about it."
One first step is to reach out to folks who already know how to market to the graying portion of the population. That's exactly what we've done for our session on Graying Green at the upcoming ASA meetings.
Jim Gilmartin of Coming of Age, an expert in marketing to older adults, will be sharing his insights on how to reach and connect including focusing on life stage rather than age. With more than 25 years in the business, Jim will teach us the tricks of the trade, as we try to engage older adults in climate communication and action.
Risky Business
To make the topic manageable, we will focus on Risky Business, with a particular emphasis on the findings for the Midwest. Risky Business applies the business discipline of risk assessment to climate change and assesses the impact of climate change on human health and economic activity in eight regions of the country.
Climate Change: What Can YOU do?
It is easy to feel overwhelmed by the scope of the health and economic challenges that climate change presents. But there are things you can do:
Start with educating yourself on the issues, beginning with our session at ASA on Tuesday, March 24, from 2:30 to 3:30 PM.
Consider how your organization and your clients can get motivated and mobilized.
A first step is to review Risky Business with its regional reports.
We look forward to seeing you on March 24 as you answer "Climate Change: What's Age Got to Do with It?"
---
Michael Smyer, PhD, is Provost at Bucknell University in Lewisburg, Penn., Smyer has written and lectured extensively on the topic and before coming to Bucknell was a professor of psychology, Dean of the Graduate School of Arts & Sciences, and Associate Vice-President for Research at Boston College. Jim Gilmartin is President of Coming of Age, a marketing agency focused on older people, in Oakbrook Terrace, Ill. Jim has more than 25 years in business development leadership and marketing and sales leadership positions. Serving as CEO and COO of two community service companies, and as senior vice president for a Chicago-based international health care system, he provided leadership to position the system as a leading provider of services and products to baby boomer and senior customers.
Their 2015 Aging in America conference workshop, titled "Graying Green: Linking Climate Change and Population Aging," is scheduled for 2:30 PM on Tuesday, March 25 in the Acapulco Room at the Hyatt Regency Chicago. You can search the full conference program (and registered attendees can build a custom conference itinerary) using our Event Search tools.