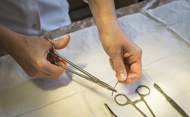 By Frank A. Roberts, Arthur C. DiMarco, Susan M. Skillman, and Wendy E. Mouradian
Oral health is an integral part of overall health and an important part of healthy (U.S. Department of Health and Human Services, 2000). The oral cavity is the gateway to the body and its first line of defense. Infections in the teeth and gums can contribute to health consequences elsewhere in the body and, conversely, health conditions and their treatment can affect the mouth. Healthy, pain-free dentition is essential for good nutrition, and plays a role in an individual's expression and self-esteem across the life span.
Older adults are at special risk for oral health problems, and those living in rural areas face additional challenges accessing dental care. Gum tissue shrinks with age, leaving the roots of teeth more vulnerable to caries (decay), while chronic illnesses such as diabetes can trigger gum infection and inflammation. Another factor contributing to dental decay is dry mouth (xerostomia), which is a side effect of many medications taken by older adults—medications such as those used for pain (narcotics), high blood pressure (diuretics), seasonal allergies (antihistamines), and depression (numerous antidepressants).
Smoking tobacco and using smokeless tobacco—practices prevalent in many rural-area populations—also increase the risk of periodontal (gum) disease, dental caries, and oropharyngeal cancer. If unchecked, periodontal disease can lead to tooth loss. Significantly, adults who have lost their teeth are still at risk for cancerous lesions and should have regular oral examinations and evaluations of their dentures.
Older adults with poor dentition and chewing capacity can experience malnutrition or over-consumption of soft foods that are calorie-dense (but nutrient-poor) and are potentially cariogenic (cavity-causing). Concurrent with an increase in their oral health needs, older adults frequently experience diminished neuromotor or cognitive abilities, which, along with other medical problems, may hinder their capacity to maintain oral hygiene and to access dental care.
These challenges are increasing as the U.S. population ages. Timely access to dental healthcare can ameliorate many of these problems, but this access is an ongoing challenge in rural areas of the United States. While those older than age 65 represent about 15 percent of the U.S. population, in rural areas about 20 percent of the population is older than age 65 (U.S. Census Bureau, 2016). As baby boomers age, many move to less populous or geographically isolated areas, and their numbers in these communities are expected to grow disproportionately.
Rural Health Disparities
Rural populations face many barriers to achieving good health, and studies demonstrate differences in the health of rural versus urban populations. A recent study from Oregon revealed multiple differences between the health of rural residents older than age 85 compared to those living in urban areas. These differences included higher disease burden, higher medication usage in some settings, and shorter life expectancy (Goeres et al., 2015). The differences also hold true for oral health: rural populations have higher rates of dental caries and permanent tooth loss than do urban populations (Doescher and Jackson, 2009).
The reasons for these health disparities are multiple and complex. One is the shortage of health professionals in rural areas, especially dentists. More than 46 million people in the United States live in federally designated Dental Health Professional Shortage Areas. Individuals living in these communities often must travel great distances to access dental care.
Also driving health disparities are the higher rural rates of poverty, which mean that rural residents can have difficulty covering extra expenses like travel, medications, and dental care costs. A recent report found that 16 percent of rural residents have sufficiently low incomes to qualify for Medicaid insurance coverage, compared with only 13 percent of urban populations. And 8 percent of rural residents receive Social Security benefits, versus only 4 percent of urban populations (Hartman and Weierbach, 2013). Also of note, rural residents frequently rely on well water, and thus have less exposure to the fluoride in community water supplies—a critical caries-preventive intervention for all ages (Skillman et al., 2010).
Access to dental care for older rural residents is a significant problem. Approximately 70 percent of Americans older than age 65 have no dental insurance. Rural populations of all ages have lower rates of dental insurance coverage and dental care use compared with urban populations (Doescher and Jackson, 2009). Older adults who rely on Medicare discover that it does not cover dental care, excepting some medical emergencies (required extractions, severe abscesses, etc.). There is no mandate for dental insurance under the Affordable Care Act (as there is for medical coverage), and Medicaid dental coverage for poor adults varies widely from state to state.
Even those who qualify for Medicaid may have trouble finding a provider who accepts Medicaid's typically lower payments for dental care. In California, in 2012, only one dentist accepted Medicaid for every 71,830 county residents (Shanafelt, 2012). Moreover, Medicaid dental benefits are typically the first to be cut by states in times of fiscal crisis. De-funding leads to increased emergency room visits for dental problems, with untreated dental problems becoming more severe and consequential to health (Lee et al., 2012). In one study, four counties in Northern California had the highest rates in the state for emergency and urgent care visits attributed to preventable dental issues (Shanafelt, 2012). That study found that 28 percent of the rural residents in those counties who lived at or below the federal poverty level had not been to a dentist in five or more years.
The RIDE (Regional Initiatives in Dental Education) Approach
In Washington State, the disparity between access to dental services in urban and rural areas is stark. King County, home to Seattle, has six times as many dentists per capita as Pend Oreille County in the state's northeast corner.
To address this disparity, the University of Washington School of Dentistry (UWSOD) opened the Regional Initiatives in Dental Education program (RIDE) in 2007. RIDE students spend about 40 percent of their time in less populous Eastern Washington communities, away from Seattle, where they learn, live, and practice. The goal is to graduate dentists who will practice in rural and underserved areas in the region (University of Washington School of Dentistry, 2016). Students indicating a preference for the RIDE program during the admissions process often are from rural and under-served communities.
RIDE is based upon the University of Washington School of Medicine's long-standing, successful model for regional education in the WWAMI states of Washington, Wyoming, Alaska, Montana, and Idaho. RIDE is operated in conjunction with Eastern Washington University (EWU), the UW School of Medicine WWA MI program in Spokane, Washington State University (WSU), Federally Qualified Health Centers (FQHC) in Eastern and Central Washington, and community dentists. Students who enroll in RIDE spend their first year at the Spokane health sciences campus located in eastern Washington, about 300 miles from Seattle, and about five months at FQHCs in Eastern and Central Washington.
In general, RIDE students take the same courses as Seattle-based UW dental students. Some courses are delivered via distance learning and/or from faculty in Spokane. The EWU Dental Hygiene Department, at the Spokane health sciences campus, hosts most of the RIDE activities in the first year. During that year, RIDE students work with dental hygiene senior students as they care for underserved patients, including many older adults. After the first year, students spend a month in FQHCs in a rural area. There are clinics in Spokane, Colville, Lake Spokane, Okanogan, Othello, Moses Lake, Yakima, Wenatchee, and Chelan, among others. Students return to Seattle to take second- and third-year courses, completing their requirements by December of their senior year so they can then return to their community sites.
Working in the FQHC setting exposes students to a public health model of care. All FQHCs accept patients with Medicaid insurance and offer care to others at reduced costs, depending upon ability to pay. They also offer primary care and behavioral healthcare, and serve patients of all ages, including those with disabilities. The backbone of dental health in many rural communities, these clinics often have satellite offices in surrounding locations, improving access for those living in more remote areas.
When students first arrive at a FQHC, they engage in a "walk-around" of the rural community in which they are serving, to understand its demographics and problems. Students are asked to develop a small project focused on a community need, which they share with students in Seattle. One such project focused on community water fluoridation efforts in Spokane County; another examined use of community transportation to medical and dental appointments.
"Super Generalists" Serve Rural Patients' Complex Health Needs
During clinic rotations, RIDE students adjust to a quicker pace of seeing six to eight patients per day, compared with the customary two or three in the typical dental school environment. "They provide lots of care, including emergency care and extractions," says Dr. James Sledge, RIDE's first regional clinical director in Eastern Washington. "They also get a wonderful opportunity to function as a team member—working with dental assistants, hygienists, front-office staff, and their preceptors. And . . . they are exposed to a community health clinic population they might not ordinarily see, in terms of the breadth of experiences they get." That experience includes older adult patients, plus those with special needs.
In rural areas where specialists may not be readily available, dentists need the skills to handle a broad range of problems, which is why these potential rural dentists receive additional training in oral surgery, oral medicine, periodontics, and pediatric dentistry. RIDE students are required to study geriatric dentistry and rotate at sites that provide care for elders. They also work in the Dental Education in the Care of Persons with Disabilities clinic. This preparation, along with the intensive clinical experiences of working in the community-based rotations, helps ensure RIDE students graduate with the confidence and competence to practice in rural areas. From the very beginning the RIDE model has been to train a super-generalist who could function confidently and competently in an environment requiring a wide-ranging set of skills.
Rural practitioners need to thoroughly understand the relationship between oral and overall health, and must cultivate the ability to collaborate with other healthcare professionals in their communities; thus, RIDE students engage in interprofessional educational activities, which may include working with pharmacists, nurses, nurse practitioners, physicians, physician assistants, and/or behavioral and social work specialists. In Spokane, they take certain fundamental classes alongside medical and dental hygiene students; this helps all participants gain a more holistic understanding of the relationship between oral and overall health, and between the dental and medical care systems.
By the time they leave the EWU campus, these students have a better sense of the importance of the medical-dental relationships, and have bonded with each other and other health professional students in a common mission to serve the needs of rural and underserved patients.
Recruiting and Retaining Dentists in Rural Areas
The RIDE program is successful partly because it explicitly addresses challenges to recruiting and retaining dentists in rural and underserved areas. RIDE first identifies newly enrolled dental students who are attracted to rural practice, then provides them with a targeted and rigorous educational program so they can serve effectively in this setting. Central to this philosophy is the RIDE student training taking place in rural and underserved areas, and students' exposure to mentors who are practicing in these communities. Spokane faculty from EWU, WSU, trained dental preceptors working at clinical sites with RIDE students, and dentists in the Spokane District Dental Society (who feel a special pride in RIDE students) are among those who can become invaluable role models. Many of these professionals have dedicated their careers to the care of rural and underserved populations.
At the same time, rural practitioners often admit to experiencing professional isolation and a lack of colleagues. RIDE supports rural dentists by inviting them to play a role in educating the dentists of the future. Considered part of the UW network of faculty, dentists at the community health centers are frequently in touch with their Seattle colleagues. At annual UWSOD continuing education courses and regional meetings, they meet colleagues from other rural clinics and share lessons learned and approaches to various challenges. The goal is to improve the satisfaction and retention of rural dentists, while helping to enhance the quality of care provided. The RIDE training network aims to create the kind of professional environment that will attract graduates to these communities and increase the professional satisfaction (and, hopefully, retention) of the dentists participating in RIDE.
As RIDE students live, study, and work in rural communities, they experience what it is to be a health professional in such a setting. Connected to other RIDE members and the School of Dentistry via distance-learning technologies, they can reflect with colleagues on the social, cultural, and clinical aspects of providing care for underserved patients. By the time they graduate, RIDE students will also know many of their regional dental colleagues. Finally, RIDE students learn about loan repayment programs for graduates who commit to practicing in rural and underserved communities, an important incentive for students who face debt amounts of $200,000 to $300,000 (Nicholson et al., 2015).
Outcomes
It is not surprising that more than 70 percent of RIDE graduates who are in practice have settled in rural and-or underserved communities in the region. The RIDE program enjoys the support of state and local dental societies and FQHCs hosting RIDE students, Delta Dental of Washington, and regional universities, and has received several awards for innovation and use of distance-learning technologies. Originally funded by the Washington State legislature in 2007, augmented by federal grants from the Health Resources and Services Administration and state Department of Health, RIDE is a cost-effective model for delivering graduates to regions having a critical need for dentists.
Building on the success of RIDE, the UWSOD is now developing similar RIDE-type experiences in communities in western Washington, at tribal sites, and in other states in the region. The Washington State Board of Health has recommended expanding the RIDE program, and it will be part of future legislative initiatives.
Conclusion
The most important thing a dental school can do to address the needs of older adults, who are disproportionately represented in rural areas, is to help get appropriately trained dentists out there. Accomplishing this task requires a vision for building a pipeline of dental graduates and supporting them in their practices, so they can find long-term sustainable, rewarding work in these communities. By selecting students with an interest in rural practice, training them to provide care for complex populations, and exposing them to role models and communities needing dentists, RIDE has taken a significant step toward meeting the needs of rural residents. RIDE is a unique program that can be replicated—a key factor that can increase older adults' access to rural dental care.
Frank A. Roberts, D.D.S., Ph.D., is associate professor and director of the RIDE program at the University of Washington School of Dentistry in Seattle, Washington. Arthur C. DiMarco, D.M.D., is professor and regional director of the RIDE program at Eastern Washington University in Spokane. Susan M. Skillman, M.S., is deputy director of the Center for Health Workforce Studies and associate director of the WWAMI Area Health Education Center at the University of Washington School of Medicine. Wendy E. Mouradian, M.D., is professor emeritus and strategic advisor for Regional Affairs at the University of Washington School of Dentistry.
References
Doescher, M. P., and Jackson, J. E. 2009. "Trends in Cervical and Breast Cancer Screening Practices Among Women in Rural and Urban Areas of the United States." Journal of Public Health Management Practice 15(3): 200–9.
Goeres, L. M., et al. 2015. "Rural-Urban Differences in Chronic Disease and Drug Utilization in Older Oregonians." Journal of Rural Health 32(3): 269–79.
Hartman, R. M., and Weierbach, F. M. 2013. National Rural Health Association Policy Brief: Elder Health in Rural America. Leawood, KS: National Rural Health Association. www.ruralhealthweb.org/. Retrieved February 1, 2016.
Lee, H. H., et al. 2012. "Visiting the Emergency Department for Dental Problems: Trends in Utilization, 2001 to 2008." American Journal of Public Health 102(11): e77–83.
Nicholson, S., et al. 2015. "The Effect of Education Debt on Dentists' Career Decisions. Journal of the American Dental Association 146(11): 800–7.
Shanafelt, C. 2012. "Dentist Shortage Leading to More Emergencies." California Health Report.   www.calhealthreport.org/2012/05/ 30/dentist-shortage-leading-to-more-emergencies-2/. Retrieved February 5, 2016.
Skillman, S. M., et al. 2010. "The Challenge to Delivering Oral Health Services in Rural America."   Journal of Public Health Dentistry 70(Suppl 1): S49–57.
U.S. Census Bureau. 2016. "Quick Facts." Suitland, MD: U. S. Census Bureau. www.census.gov/quickfacts/table/PST045215/00. Retrieved April 22, 2016.
U.S. Department of Health and Human Services. 2000. Oral Health in America: A Report of the Surgeon General. Rockville, MD: U.S. Department of Health and Human Services, National Institutes of Health, National Institute of Dental and Craniofacial Research. www.nidcr.nih.gov/DataStatistics/SurgeonGeneral/sgr/home.htm. Retrieved February 16, 2016.
University of Washington School of Dentistry. 2016. Mission and Vision of the UW RIDE Program. https://dental.washington.edu/ ride/missionvision/. Retrieved January 3, 2016.
Editor's Note: This article is taken from the Fall 2016 issue of ASA's quarterly journal, Generations, an issue devoted to the topic "Aging and Oral Health." ASA members receive Generations as a membership benefit; non-members may purchase subscriptions or single copies of issues at our online store. Full digital access to current and back issues of Generations is also available (and free of charge to ASA members and Generations subscribers) at Ingenta Connect.
Support for the Fall 2016 issue of Generations, "Aging and the Importance of Oral Health," was provided by the Gary & Mary West Foundation.