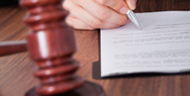 By Natalie Chin
Thinking about who will make medical and financial decisions for you if you are unable to do so is an anxiety-producing process. Even more stressful may be discussing end-of-life decisions with your loved ones. For lesbian, gay, bisexual and transgender (LGBT) people, advance planning can be especially daunting, owing to often-complicated family relationships and a wish to involve chosen families in a system that oftentimes doesn't recognize that structure.
Past experiences of discrimination by medical professionals may also lead some LGBT individuals to resist executing a healthcare directive out of fear that healthcare professionals won't respect it. Robert Espinoza's article discusses some of the fears and apprehensions surrounding these issues, and provides a list of resources for information and guidance on beginning these difficult conversations.
When a loved one is no longer able to make medical or financial decisions because of age or illness, questions will arise about who has the legal authority to make those decisions. For LGBT elders, this issue is increasingly important because of the uneven legal landscape surrounding the recognition of same-sex relationships—and the legal system's general reluctance to acknowledge families of choice.
Without healthcare and estate-planning documents in place, the court system has played an unfortunate role in stripping away the rights of incapacitated LGBT individuals through the appointment of a legal guardian. As Nancy J. Knauer and Andrea Anastasi explain in their article, guardianship laws are implicitly discriminatory against LGBT individuals and often result in an estranged relative having the legal right to make healthcare, financial and other personal and lasting decisions for the incapacitated person.
Karen Loewy's article on advance planning for LGBT individuals demonstrates the urgent need to pre-plan for incapacity. Thirty-one years ago, Karen Thompson fought the legal system after the estranged parents of her longtime partner, Sharon Kowalski, assumed guardianship over Sharon following an accident that had left her with severe brain damage. With guardianship power, Sharon's parents isolated Karen from her life and moved her into a nursing home hundreds of miles from Karen. It took 10 years, and the support of a national LGBT rights organization, before Sharon was able to return home with her partner.
While this tragic story took place more than three decades ago, LGBT individuals remain vulnerable to a guardianship system that is intrinsically designed to discriminate against chosen family. Karen outlines steps that LGBT elders can make to reduce the chances of guardianship should a loved one become incapacitated.
---
Natalie Chin is a clinical teaching fellow in the Guardianship Clinic of the Benjamin N. Cardozo School of Law at Yeshiva University in New York, NY. This position, combined with her years of working as a staff lawyer with Lambda Legal in New York, make her eminently qualified to guest-edit a series of articles that explore the needs of LGBT older adults around the issues of incapacity, planning and guardianship. Natalie can be reached at nchin@yu.edu.
This article was brought to you by the editorial committee of ASA's LGBT Aging Issues Network.
Help us improve AgeBlog and rate this post by clicking here!