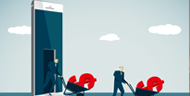 By Tamari Hedani and Mary Twomey
Cherie Bourlard fights elder abuse and fraud every day as a deputy district attorney in Santa Clara County, Calif. But the issue hit close to home when Bourlard had to step in to help her elderly mother evade incessant robocalls from scammers. These automated telephone calls that deliver recorded messages are very common. And although some types of pre-recorded calls are allowed—those telling you that a prescription is ready or emergency alerts—law enforcement and Adult Protective Services are seeing that scammers use robocalls to lure older victims to reveal private information and entangle them in fraudulent schemes.
Technology Boosts Robocalls
Because of technology that can generate thousands of auto-dialed calls per minute, and at the same time protect scammers from detection, robocalls are becoming one of the main modes of contact for telemarketing scammers to reach victims. Also, new technology makes it easy to fake the caller ID information that pops up on the phone ("ID spoofing").
Consumers Union estimates that phone scams total $350 million in losses annually. Hundreds of thousands of consumers submit complaints to the Federal Communications Commission (FCC) each month, voicing their distress over incessant ringing of phones. This distress, especially if occurring in an older adult's home, may exacerbate existing health problems or even lead to new problems, such as anxiety and sleeping disorders. Additionally, older adults are disproportionately affected, as they are perceived to be easy targets and tend to have traditional landlines with limited robocall-blocking options. More alarming is that once a person answers a potential scammer's call, their telephone number is marked as "live" and the number of calls likely will increase.
Phone Companies Not (Really) on Board
Consumers have ways to fight back against robocalls, but without greater participation by U.S. telephone companies, available strategies are neither the most advanced nor cost-effective. Consumers can list their numbers on the national Do Not Call Registry (DNC), which is meant to protect them from unwanted solicitations. Unfortunately, this is often ineffective against robocalls because most scammers and illegitimate businesses do not follow DNC regulations.
Another option is for consumers to change phone numbers, but this is less than ideal if the consumer has had the same number for decades and is worried about falling out of touch with friends and family. Fortunately, in Bourlard's case, her mother's phone company, for a small monthly fee, offered a "gateway and call authentication robocall-blocker" that she was able to subscribe to before any fraud occurred.
Bourlard is glad her mother is now safe from predatory callers, but she worries about those who can't afford the monthly fee or don't know how to activate the robocall-blocking feature. Experts have declared that phone companies have the power to apply solutions to reduce robocalls, but implementation has been met with resistance.
Henning Schulzrinne, the FCC's former chief technologist, says that "[t]here are at least eight technical solutions that, individually and in combination, can reduce robocalls," but phone companies claim to be concerned about interfering with legitimate calls, according to Schulzrinne's testimony at the June 2015 Senate Aging Committee hearing (http://goo.gl/Zxchai).
Phone companies such as AT&T, Verizon and CenturyLink say they are doing everything they can to filter unwanted calls, but they refuse to offer new, advanced options to their customers despite pressure from lawmakers, the FCC and 45 Attorneys General, according to Consumers Union (http://goo.gl/33PrDQ).
In 2007, Canadian company Primus offered their customers a free solution, Telemarketing Guard, which filters incoming numbers and authenticates callers to prevent robocalls from getting through. Primus says this has successfully decreased robocalls to consumers, led to higher customer retention and reduced the amount of time the company dedicates to dealing with consumer issues related to unwanted calls.
In the United States, the technology exists, but the will to bring it to market and offer it to consumers does not. It is time for advocates for older adults to add their voices and signatures to the effort to hang up on robocalls. Consumers Union has challenged AT&T, Verizon and CenturyLink to step up to protect consumers and has initiated an End Robocalls petition (https://consumersunion.org/end-robocalls/).
For more information on robocalls and other scams and frauds, visit the Federal Trade Commission's website: Robocalls, and "10 Ways to Avoid Fraud."
You can report an experience with robocalls to the FTC online or call 1-888-382-1222.
---
Tamari Hedani, M.P.H., is associate director of the Elder Abuse Prevention Program at the Institute on Aging in San Francisco. She can be contacted at thedani@ioaging.org. Mary Twomey, M.S.W., is a consultant on elder justice issues. She can be contacted at marytwomey1@gmail.com.
Editor's Note: This article appears in the March/April 2016 issue of Aging Today, ASA's bi-monthly newspaper covering issues in aging research, practice and policy. ASA members receive Aging Today as a member benefit; non-members may purchase subscriptions at our online store or Join ASA.