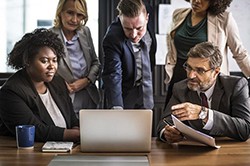 As a leading organization in the field of aging, ASA should have a plan to address the aging of professionals in its membership community and their transition into retirement. So thought Lynn Friss Feinberg, Helen Dennis, Sandy Timmermann and Joanne Handy, the four founding leaders of ASA's Corps of Accomplished Professionals (CAPs) program. Feinberg is a past ASA Board Chair and a senior strategic policy advisor at the AARP Public Policy Institute; Dennis is a speaker, writer and retirement expert; Timmermann is founder and former executive director of the MetLife Mature Market Institute; and Handy is the former CEO and president of LeadingAge California, and a past ASA Board Chair.
Aging Today recently caught up with these four dedicated ASA leaders to chat with them about the CAPs genesis and mission.
CAPs, launched in 2016, aims to tap the talents and expertise of ASA's longtime members and fos­ter their growth in retirement, to keep them involved in ASA and to pass on institutional knowl­edge to and learn from the younger members of the ASA community.
"If you're finished with your main job, what would keep you coming to the Aging in America Conference?" asked Timmermann. "I'm loyal to the organization, and have a hard time with the idea of disconnecting from the field and from the people I've known for so many years."
Feinberg said that while chairing the ASA board (from March 2014 to March 2016), she had been pondering what people in the field of aging could do to help create this new, post-work life stage: "How do we live, how do we redefine our meaning and purpose?" Plus, she knew from per­sonal experience that many ASA members wanted to stay involved in the organization in a mean­ingful way, especially to preserve the relationships forged across their careers in aging—connec­tions that had flourished at the Aging in America conferences.
Feinberg asked Dennis and Timmermann to convene a meeting of ASA leaders to brainstorm about this post-retirement conundrum. This lively, well-attended meeting ("It looked like a who's who in gerontology," said Dennis) included ASA Constituent Group chairs and past ASA Board members and chairs. Joanne Handy soon joined the triad and, in Fall 2016, the group surveyed ASA members to gauge interest in CAPs. Ninety-six percent of respondents said it was important to remain connected to the field of aging as they transitioned from their careers, and two-thirds wanted to maintain ASA member­ships post-retirement—and CAPs was born.
Founder and AgeWave CEO Ken Dycht­­wald felt CAPs' work was so important, he donated $10,000 to the cause. Then it was up to the quartet of founders to make it happen. An inaugural CAPs event, held at the 2017 Aging in America (AiA) Conference, drew 125 participants.
"CAPs is critically important, as we are pioneers in the field of aging—and we are all aging—so we can help build the future of the longevity revolution for many years," Feinberg said.
CAPs founding purpose statement is: "To provide a home for accomplished professionals within ASA to stay connected to the field of aging and to one another, to enhance their professional and personal growth and to enable them to use their talents and experience to give back to ASA and to its members."
Based on initial feedback, the founders last year created three workgroups: one focused on giv­ing back to the field or to ASA in meaningful ways; one supporting members' experience as they transition into retirement and beyond; and one helping members to set up post-retirement con­sulting practices. The workgroups' re­commendations were adopted by CAPs, and are now being implemented.
Feinberg and Tobi Abramson, director, Geriatric Mental Health NYC Department for the Ag­ing, headed the workgroup on giving back, with a focus on creating a dialogue and supporting people new to the field, including utilizing leadership programs for people of color. Efforts are underway to build an online communications forum to connect accomplished professionals and retiring members to younger ones; as well, soon-to-be-retired members can hear and share stories from other members who have been through the process. Feinberg sees this peer-to-peer network as a hallmark of ASA and its values—the affinity of members and their ability to communicate with each other.
CAPs also is tackling recommendations from the experience of retirement workgroup, guided by Timmermann and Dennis, which focused on big questions such as: How to manage the transition from work to retirement? As people age into retirement, how can ASA provide value along the way? How is identity wrapped up with career, and what happens to that identity in retirement? CAPs also will address other issues that are of concern to ASA members, such as financial planning, housing and family relationships issues.
"To be in the field of aging and never talk about our own aging—at some point you look in the mirror and, having spent 40 years in the field, ask, what does it mean to me?" said Dennis.
Handy and Bill Benson lead the consulting workgroup; Benson has years of experience running a consultancy and Handy began consulting in 2016. "This workgroup resonated deeply with me personally as I was asking the same questions that lots of members were asking. I was ready to transition but not sure what my work involvement would be, as I wanted to keep a solid two feet in the field of aging," said Handy.
CAPs conducted a workshop at 2018 AiA; presenters were well-known ASA members who are consultants. It also hopes to develop a listserv so members can continue to learn from one another about consulting and CAPs offers ongoing web seminars to share information on consulting and other topics to a larger cadre of ASA members who are unable to attend in person.
As a side benefit to mentoring, retirement counseling and consulting instruction, CAPs also may help retain older ASA members still interested in attending Aging in America conferences.
The four CAPs founders hope the program can set an example for other membership organiza­tions with large cohorts of members transitioning into retirement. Such organizations likely face challenges with membership retention and recruitment, and have an older member population that wants to remain involved.
"In my personal experience with several nonprofits, universities, corporations and religious institutions—organizations typically don't know what to do with their mature talent," said Dennis. "We need models for how to keep talent connected, and CAPs is one way."
 "I believe that ASA is blazing some trails, as it's really important for the health of the organiza­tion to keep seasoned members involved—we have a lot to give and learn," said Timmermann.
Editor's Note: This article appears in the September/October 2018 issue of 
Aging Today
, ASA's bi-monthly newspaper covering issues in aging research, practice and policy nationwide. ASA members receive 
Aging Today
as a member benefit; non-members may purchase subscriptions at our online store.