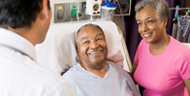 By Diana L. Stilwell
Older adults face many health decisions requiring their active and involved participation. Fortunately, today's older adults have access to more health information than ever before, from traditional sources such as books, magazines, and broadcast media, to online sources like WebMD, Wikipedia, and hospital and medical association websites. And now, even more medical research also is available.
But rather than providing a clear indication about the right care, available evidence can instead demonstrate that there is more than one clinically reasonable approach to treating health problems. Often, the reasonable options involve more or less invasive treatments, and can have quite different consequences. In these cases, patients are wise to look beyond the science and consider their own values, experience, preferences, and goals to make sure they get the care that is right for them. But they may have trouble finding and using health information to support their decision making, including difficulties in identifying high-quality, unbiased information designed with careful attention to health literacy and numeracy.
Making High-Quality Information Available to Older Adults
Professionals who are responsible for developing or purchasing health education and decision-support materials for older adults may wish to consider the following factors to ensure the materials will provide easily understood, actionable information to support decision making.
Best practices for health literacy: Plain language is much more than meeting a specific grade-level target; it is a purposeful approach to developing content that puts the reader first and focuses on ensuring that the content is easy to read, understand, and use. Developing accessible content requires specific skills and expertise. Media other than print, such as video, can be helpful in reaching people with limited literacy. Excellent resources include the Centers for Medicare & Medicaid's (CMS) "Toolkit for Making Written Material Clear and Effective" (McGee, 2010). PlainLanguage.gov, www.cdc.gov/healthliteracy/index.html.
Best practices for health numeracy and risk communication (see Trevena et al., 2013): When choosing or developing health information resources, pay careful attention to which numbers are presented and the way they are presented. Ensure the numbers are relevant to the decisions or behaviors, that they address both
the possible benefits and the possible harms of treatments, and are presented in ways that are easy to under- stand and use. For example, showing the part-to-whole relationship (e.g., with pie charts or icon arrays) is an important part of communicating risk and risk reduction because it gives people context and helps them understand what a particular number might mean to them.
Test materials with the intended patient audience: Even a small test with a few participants can reveal a lot about how well or how poorly the materials are understood and how easily they can be used. Open-ended questions and conversation ("What do you think this number means?") are useful approaches. Revise materials as needed, and test again.
Offer skills training: Providers who are counseling patients about important health decisions often can benefit from learning specific skills such as approaches to values elicitation, risk communication, and "teach back," to ensure understanding.
Patient Preferences Matter
When someone has a heart attack, a fractured hip, or a urinary tract infection, there usually is little debate about the right care, and patient preferences do not play much of a role in the treatment decision. But when there is more than one reasonable option, the patient's involvement is essential to determining the right course of action. Clinicians and patients collaborate in this shared decision-making, and health education materials designed to support the process are known as decision aids. Some of the best evi- dence to support the value and importance of shared decision-making and decision aids comes from studies of several conditions common in older adults.
Women diagnosed with early-stage breast cancer can often choose either lumpectomy, followed by radiation therapy, or mastectomy. Either treatment offers similar long-term outcomes in terms of cancer recurrence and survival. When fully informed about these options, many women prefer to keep their breast, but a substantial number prefer the peace of mind they feel by having a mastectomy (Lee, Hultman, and Sepucha, 2010; Collins et al., 2010).
In the case of prostate cancer, experts have learned that many cancers may never progress to cause symptoms or death (Wilt et al., 2012). Many clinicians now agree that many men with localized, low-risk prostate cancer can choose whether or not to pursue active treatment, and choose between surgery or radiation treatment options. A growing number of men are choosing an "active surveillance" approach to avoid complications of treatment (which can include urinary incontinence and erectile dysfunction) (Thompson and Tangen, 2014), while others are more comfortable treating the cancer.
Hip and knee replacements can offer patients excellent pain relief and improved function when non-surgical approaches do not work well enough to allow them to do the things they want and need to do each day. But these are major operations, with long, challenging recoveries and a small but real risk of serious complications. Some people who are appropriate surgical candidates feel prepared to accept the risks and recovery involved in surgery; others prefer to wait and manage their pain and functional limitations until they feel ready for the operation (Conner-Spady et al., 2014). 
In these and other similar situations, there is no right or wrong choice, and patients need encouragement and support from health professionals and caregivers to consider not just the clinical evidence, but also how the consequences of their choices will affect their daily lives. Pro- viders can help by inviting patients to participate in the decision-making process, and by making available high-quality information about the choices and their pros and cons.
Informing and Involving Older Adults in Decisions about Their Care
This idea—that there can be more than one right way to treat a health problem, or that the patient's preferences for care ought to guide decisions about the right treatment—may be new to some older adults who came of age in the era of "doctor knows best." But when patients do understand that they have options, and that their preferences matter, most say they want to share in making decisions along with their healthcare providers—not just do what the doctor says (Williams and Fleming, 2011).
To partner effectively with clinicians, patients need to understand the pros and cons of each option, consider the tradeoffs and conse- quences of their choices, and be encouraged to think about and share what matters most to them. But it can be challenging to find information that makes these tasks possible. Many health education resources take a textbook-style approach to presenting information, rather than focusing on the key facts that are essential to the choices patients face. Web-based sources may be focused on marketing the benefits of a particular treatment or treatment center, rather than on providing comprehensive, unbiased information on the risks and benefits of the therapy (Sadow- ski et al., 2013). A recent study of hospital website advertisements for a new aortic valve replace- ment procedure found that just 37 percent in- cluded data on the possible benefits, and only 5 percent quantified the possible drawbacks (Kincaid, Fleisher, and Neuman, 2015).
Other barriers relate to factors such as health literacy and health numeracy. Health literacy refers to how well people can find, understand, and use basic health information to make health decisions. More than half of adults have diffi- culty understanding and acting on health in- formation, and most health information sources available in the United States exceed the average person's reading ability (Nielsen-Bohlman, Pander, and Kindig, 2004).
Even people with strong literacy skills can struggle to understand and use the complex "foreign language" of health information when they are sick, in pain, or anxious about a new and frightening diagnosis. Limited health literacy disproportionately affects older adults, who have the greatest need for health information, and it also challenges the caregivers and family members who often help them navigate an increasingly complex healthcare system.
Limited numeracy skills also can pose a barrier to patients who need to understand and compare the tradeoffs involved in health deci- sions and what to expect from their care. Health numeracy refers to the ability to understand, interpret, and use numbers to solve problems (for example, whether and how to respond to particular peak-flow or blood sugar meter reading), perform health-related behaviors (such as following medication dosing instructions or dietary guidelines), or to make decisions about health and healthcare (such as understanding the implications of different success or complication rates of two treatment options). Most adults—even those with adequate health litera- cy—struggle to understand numbers such as frequencies, probabilities, and concepts like relative risk reduction, and use them in the con- text of health decision-making (Institute of Medicine, 2014).
For example, imagine an older smoker considering whether to be screened for lung cancer with low-dose computed tomography. In long-term smokers, screening can lower the risk of lung cancer death by about 20 percent (USPSTF, 2014). This patient also may want to know his or her risk of death without screening (called the absolute risk), and the chance that screening will have a false-positive result that might require more tests or treatments to investigate. Whether the absolute benefit (about three in a thousand fewer lung cancer deaths over six-and-a-half years among people who are screened) seems large or small, and whether the benefits are worth the risk of complications resulting from tests done to investigate false-positive results, is a personal value judgment. The National Cancer Institute provides a useful summary of these facts, but materials like these are not widely available for common health decisions.
Conclusion
Older adults' extensive life experience equips them well to consider their healthcare choices in the context of their preferences, values, and goals. And most older adults want to play an active role in decisions about their health and healthcare. To do so, they need high-quality information that is easy to understand and use. Health professionals who work with older adults have a crucial role to play, through raising awareness of the importance and value of their involvement in decision making about their health and healthcare. Careful selec- tion of health information resources that are unbiased and are developed with thoughtful attention to best practices for health literacy and health numeracy can ensure that older adults have the best chance of getting the healthcare that is right for them.
---
Diana L. Stilwell, M.P.H., is vice president, Shared Decision Making Solution Strategy, Healthwise, Inc., in Boise, Idaho. She can be contacted at dstilwell@healthwise.org.
Editor's Note: This article is taken from the Spring 2015 issue of ASA's quarterly journal, Generations, an issue devoted to the topic "Self-Empowered Aging." ASA members receive Generations as a membership benefit; non-members may purchase subscriptions or single copies of issues at our online store. Full digital access to current and back issues of Generations is also available to ASA members and Generations subscribers at Ingenta Connect. For details, click here.
---
References
Collins, E. D., et al. 2009. "Can Women with Early-stage Breast Cancer Make an Informed Decision for Mastectomy?" Journal of Clinical Oncology 27(4): 519–25.
Conner-Spady, B. L., et al. 2014. "You'll Know When You're Ready: A Qualitative Study Exploring How Patients Decide When the Time Is Right for Joint Replacement Surgery." BMC Health Services Research 14: 454.
Institute of Medicine 2014. Health Literacy and Numeracy: Workshop Summary. Washington, DC: The National Academies Press.
Kincaid, M. L., Fleisher, L. A., and Neuman, M. D. 2015. "Presentation on U.S. Hospital Websites of Risks and Benefits of Transcatheter Aortic Valve Replacement Proce- dures." JAMA Internal Medicine doi: 10.1001/jamainternalmed. 2014.7392.
Lee, C. N., Hultman, C. S., and Sepucha, K. 2010. "Do Patients and Providers Agree about the Most Important Facts and Goals for Breast Reconstruction Decisions?" Annals of Plastic Surgery 64(5): 563–6.
McGee, J. 2010. "Toolkit for Making Written Material Clear and Effective." Washington, DC: Centers for Medicare & Medicaid Services. Retrieved January 30, 2015.
Nielsen-Bohlman, L., Panzer, A. M., and Kindig, D. A. 2004. Health Literacy: A Prescription to End Confusion. Washington, DC: Institute of Medicine, The National Academies Press.
Sadowski, D. J., et al. 2013. "Proton Therapy for Prostate Cancer Online: Patient Education or Marketing?" The Canadian Journal of Urology 20(6): 7015–20.
Thompson, I. M., and Tangen, C. M. 2014. "Prostate Cancer Screen- ing Comes of Age." The Lancet 384: 2004–5.
Trevena, L. J., et al. 2013. "Presenting Quantitative Information about Decision Outcomes: A Risk Communication Primer for Patient Decision Aid Developers." BMC Medical Informatics and Decision Making 13(Suppl 2): S7.
United States Preventive Services Task Force (USPSTF). 2014. Final Recommendation Statement: Lung Cancer: Screening. Rockville, MD: U.S. Preventive Services Task Force. Retrieved January 30, 2015.
Williams, N., and Fleming, C. 2011. "Consumer and Provider Perspec- tives on Shared Decision-making: A Systematic Review of the Peer- reviewed Literature." Center on Health Care Effectiveness. Retrieved January 30, 2015.
Wilt, T. J., et al. 2012. "Radical Prostatectomy versus Observation for Localized Prostate Cancer." New England Journal of Medicine 367(3): 203–13.