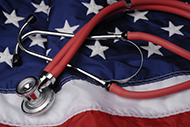 ASA Board Chair Bob Blancato and Public Policy Committee Chair Bill Benson have sent a call to action to ASA members concerning the latest effort in the Senate to repeal and replace the Affordable Care Act. The text of the message follows.
We call on our members with Republican senators to make immediate contact with their senator's office to urge these senators to oppose any effort to pass the so-called Cassidy-Graham Amendment (formally, the Cassidy-Graham Heller-Johnson Amendment to H.R. 1628, the "American Health Care Act of 2017").
We are most persuaded by a bi-partisan letter released today and signed by 10 state governors urging the Senate to not even consider this bill. This included four Republican governors (Kasich of Ohio, Scott of Vermont, Sandoval of Nevada, and Baker of Massachusetts) and an independent governor (Walker of Alaska). Republican Governor Hogan of Maryland has also announced opposition to the bill.
ASA members have responded twice in the past when legislation to repeal and replace the Affordable Care Act first came before the House and then the Senate. Your voices in opposition helped prevent any bill from achieving final Congressional passage, leaving the ACA as the law of the land.
This latest version may be the most harsh of all the so-called "reform" bills proposed. Perhaps the two worst provisions are:
The proposed legislation would make major cuts in Medicaid, stop Medicaid expansion, and convert the program to a block grant with unprecedented state control over Medicaid, as well as over the federal funds now being used for subsidies to help low-income Americans gain coverage (in effect, these subsidies could disappear).
The proposed legislation would seriously weaken the existing protections against discrimination of those with pre-existing conditions.
The voices of ASA members, especially in states with Republican senators, are needed right now! Hearings have been scheduled next week in the Senate with a floor vote to follow. The bill must be passed by September 30 for it to pass with a simple majority—the only way it can pass at all. This effort can be stopped if voices are raised now and every day until September 30. Make contact—make a difference!
To reach your senator's office, call 202-224-3121 or toll-free (hosted by SEIU, a member organization of LCAO), 866-426-2631. To get additional contact information for your specific Federal representatives and officials, click here to use an easy locator hosted by our colleagues at NCOA.
Thanks for everything you do on behalf of older Americans and their families.