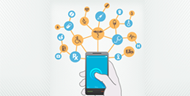 This article is the first in a series of three columns on aging and technology. The January–February 2014 issue of Aging Today will feature the University of Illinois Urbana–Champaign and the work of Deana McDonagh, an industrial designer with postings in both the School of Art and Design, and the Beckman Institute for Advanced Sciences and Technology.
By Kate Finn
Many older adults, even some older professionals who work in the aging services industry, struggle to make sense of our technology-infused world—a landscape constantly reinventing itself. But there are innovators who are trying to make technology more age-friendly: they can be found at the intersection of design, aging and technology, in places like the Gerontechnology Program at Pace University, New York, N.Y.
Begun in 2005 by members of the Westchester Alliance of Academic Institutions for Aging Related Studies and Workforce Development, the program aims to increase college students' awareness of aging issues and aging services–related careers, and foster service-based learning in collaborative community partnerships. The team includes researchers, faculty and staff from Pace University, Westchester Community College, Fordham University, the Westchester County Department of Senior Programs and Services, Case Western Reserve University, United Hebrew Geriatric Center and the Center for Technology and Mental Health of Older Persons.
Generations Pair Up for Learning—and Friendship
Jean Coppola, one of the program's founders, began offering an intergenerational computing course in 2006. This undergraduate course typically attracts 30 to 50 students from information technology, education, nursing, business, and arts and science majors. Students are required to complete a service project in the community; most choose affiliated senior residential facilities. But first they receive sensitivity training simulating the sensory experiences of elders, and become familiar with options that can make computers, tablets or other devices easier for older people to use.
Each Pace student is paired with two elders residing in a geriatric facility, and teaches the older adult how to use email, Google and Skype; how to access and manage online photos; and how to play online brain games. While the college students learn about the newest in digital devices, the aging process and how to instruct elders, they also develop respect and patience, and often form lasting friendships.
"I never did computers before, I didn't even know how to turn it on or do email," says Pam, a 55-year-old diabetic in a wheelchair who was living at Hebrew United in New Rochelle, N.Y., when she signed up for tutoring on a touchscreen device four years ago. "[The computer] has changed my life a lot. Now I write email letters, do Facebook, Twitter, Google, video chat—I do it all."
Gina, an elementary school teacher who earned a master's degree in educational technology at Pace, is still in touch with a couple of her former older students. "It was incredible to see their faces light up. They felt smart and just wanted to continue to learn … I think I was placed on this planet to help older adults instead of children …"
Telehealth Apps—in the Key of Real Life
A more tangible example of the Gerontechnology Program's success occurred during a pilot study in May 2013 of Vital Care Services' telehealth monitoring device, VICS. 
The study measured elders' receptiveness and response to monitoring their vital signs with VICS, a touchscreen tablet that records health data such as pulse, blood pressure, weight, blood oxygen level and medication. During the study, 18 residents of the Hallmark of Battery Park City in New York City met weekly with students from the intergenerational computing course. Students taught residents how to use the touchscreen device, then introduced new features that would allow residents to collect their own health data, record it and interpret results. The elders were receptive to the device, which they mastered after a few training sessions, and also wanted to keep monitoring their health after the study ended.
Music's Powerful Effect
A dramatic illustration of the effect of music on Alzheimer's patients is Henry's Story, a video made in support of the Music and Memory project, a New York nonprofit that brings personalized music to elders and the infirm through digital music technology.
Henry has lived in a nursing home for 10 years and is described as "inert, maybe depressed, unresponsive and almost un-alive." Then a staff member puts some headphones on him and plays music from an iPod stocked with songs he loves. Henry immediately reacts, singing and moving to the music. Even after the headphones are taken off, he is responsive, animated, communicative. He does a fantastic rendition of Cab Calloway's "I'll Be Home for Christmas."
Noted psychiatrist and neurologist Oliver Sacks, who appears in the video, says music has "restored Henry to himself."
-Kate Finn
Participating in the study may have saved one resident's life. Anita, 87, had been suffering from a variety of symptoms (nausea, dizziness, weakness, exhaustion). At a weekly health screening, her blood pressure was found to be dangerously high. The student team advised Anita to see her doctor, who determined that she was unwittingly taking two blood pressure−lowering meds, plus one that elevated it.
"They had to wean me off of [these] … I felt so much better. Technology does scare me. But I feel that I can do it, and I will do it," said Anita.
Mobile Apps Challenge and Connect
In 2013, students produced a mobile application for the iPad. Aware that technology could help keep the mind active and facilitate social connectivity, they were motivated to explore options for easy-to-use, relatively low-cost mobile tablets. They also knew that music can decrease agitation in people with Alz-heimer's and dementia, while helping them reconnect with their lives, according to a 2010 study by Sung and colleagues from the Journal of Clinical Nursing (19(7−8): 1056–64). (For more on music's effect on those with Alzheimer's, see the sidebar.)
These were the driving forces behind Gallery App, which displays photos and plays music provided by clients' families. The team observed participants' experiences first-hand when they tested Gallery App in several adult daycare centers in Brooklyn. Cognition assessments administered before and after the trials showed improved scores.
Fostering the next generation of age-sensitive technology designers may not have been one of the Gerontechnology Program's primary goals—but it is turning out to be one of its most notable achievements.
---
Kate Finn is CEO of Wiser Usability, Inc., a consultancy that evaluates websites and other user interfaces to make them more age-friendly.
Editor's Note: This article appears in the November/December 2013 issue of Aging Today, ASA's bi-monthly newspaper covering issues in aging research, practice and policy. ASA members receive Aging Today as a member benefit; non-members may purchase subscriptions at our online store.