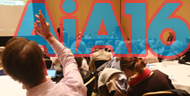 As the nation's largest multidisciplinary conference on aging, Aging in America brings together people working across the field of aging for five days of collaboration, sharing and networking. For this reason, ASA's annual conference is often a place where professionals get to connect with colleagues they don't see at any other event and creates a space for direct service providers to explain their challenges and victories with folks doing research, advocacy, and policy work, and vice versa. This vibrant exchange of knowledge and ideas creates a special atmosphere that was evident throughout day three of the conference.
Here are some highlights:
Aging and Its Financial Implications: Planning for Housing
During Tuesday's general session we heard from Kathleen Pritchard from Legg Masson Global Asset Management. Pritchard explored the financial implications of housing, including the challenges many are likely to face as they age. According to the presentation, 36% of an individual's expenses at age 75+ are likely to go toward housing. Women, who often outlive men and are likely to end living alone, may be disproportionately faced with financial burdens when it comes to where and how they reside. Legg Mason recognizes the challenges facing older Americans as they age in terms of housing and have worked with Johns Hopkins' Center for Innovative Care in Aging to develop financial planning education programs that can help people prepare for financial hurdles they may encounter throughout retirement, even as they plan for the best. And, as Pritchard stated in her keynote, "whether you have a plan or you don't have a plan, there will be a plan made..."
National Forum on Ageism
The National Forum on Ageism featured experts including Bob Blancato, MPA, President of Matz, Blancato & Associates; John Feather, PhD, CEO of Grantmakers in Aging; Meredith Ponder, JD, Senior Associate, Matz, Blancato & Associates; Laura Robbins, MS, MBA, Principal, Laura A. Robbins Consulting, LLC and Andrew Volmert, PhD, Director of Research at FrameWorks Institute.
In addition to exploring funding and policy challenges related to ageism, participants were challenged to confront the cultural views of aging in the following video, developed by the FrameWorks Institute for an initiative called, Reframing Aging: Seeing What You're Up Against and Finding a Way Forward: 
If you didn't get to attend the National Forum on Ageism, you can still read the entire issue of Generations which served as the framework for the event on ASA's AgeBlog.
Reactions from Attendees During Day 3
You can join the conversation on the AiA16 mobile app and by following #AiA16 on Twitter.