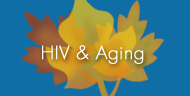 HIV and Aging Consensus Project
The American Academy of HIV Medicine (AAHIVM), the American Geriatrics Society (AGS) and the AIDS Community Research Initiative of America (ACRIA) have released the first clinical treatment strategies for managing older HIV patients: The HIV and Aging Consensus Project: Recommended Treatment Strategies for Clinicians Managing Older Patients with HIV. Order hard copies for free from the Academy, aahivm.org, or visit www.aahivm.org/hivandagingforum.
The Expert Panel, composed of HIV specialists, geriatricians and other participants in the HIV & Aging Consensus Project, also invite you to join the interactive discussion forum to help advance communication in this area of medical uncertainty.
The report was developed to assess how the presence of HIV and common age-associated diseases alter the optimal treatment of HIV, as well as other co-morbidities. It is meant to provide best-practice guidance for HIV practitioners and other healthcare providers who treat, diagnose and refer older patients with HIV disease.
—Ken South, Director of Membership Services, American Academy of HIV Medicine, Washington, D.C.
Aging POZitively
LGBT older adults are at a high risk of contracting the HIV virus. Many prevention campaigns tend to be targeted toward younger people, so Center on Halsted, Chicago's Lesbian, Gay, Bisexual and Transgender Community Center, commissioned and produced a new prevention film, Aging POZitively. A 30-minute documentary, it tells the story of three older adults, Helena, Frank and Walter, who are aging with HIV in Chicago. 
Directed by Dennis Belogorsky, the captivating film weaves together the three stories while providing essential information on HIV from experts. The film aims to raise awareness about older adults living with HIV, and to promote safer sex and other prevention measures among the older adult population. Check it out here.
—Britta Larson, M.NA
Senior Services Director, Center on Halsted, Chicago, Ill.
The Graying of AIDS—Stories from an Aging Epidemic
By 2015 more than half of all people living with HIV in the United States will be older than 50. With few exceptions, AIDS education materials rarely prioritize the experiences and concerns of older adults; similarly, care-provider training programs rarely address the aging of the epidemic. The Graying of AIDS is working to address these gaps by creating a web-based educational campaign based on older adults' experiences living with HIV. Documentary photography portraits, oral histories and videos are situated in a larger public health context on the project's web site: www.grayingofaids.org.
The gripping personal narratives in The Graying of AIDS explore how the challenges and indignities that come with aging in America can be compounded by living with HIV, and honor the extraordinary strength and resilience many older adults exhibit as they confront these challenges. The project is ongoing, with additional portraits and special features under development. On-line resource links, an "anecdotal bibliography" of multi-disciplinary artists responding to aging and HIV, and other training materials target a range of audiences and can be used as educational tools in classrooms, community spaces, and healthcare/social service environments.
Thirty years into the AIDS epidemic, AIDS specialists are increasingly aware of the "graying" of the epidemic, but geriatric providers and allied health professionals are still largely unaware of what this demographic shift means for their patients. And many older adults don't have access to the information and care they need to stay healthy.
We hope to change that using the emotional impact of documentary storytelling to reach out—through partnering community-based organizations and classrooms, retirement communities and professional organizations.
—Katja Heinemann, Visual Journalist and Project Director, and Naomi Schegloff, MPH, health educator, writer and Co-Director.