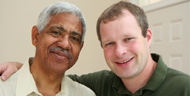 By Wendi Burkhardt
In the United States, our aging population is currently on a trajectory to swell to more than 132 million people age 50-plus by the year 2030. And this population boasts the highest percentage of homeownership, with more than 45% of all homeowners age 55-plus, and over 70% of homeowners age 65-plus owning their homes without a mortgage.
Yet an alarming number of aging Americans do not have the resources to adequately pay for and manage their homes as housing costs approach 50% of their monthly budgets, complicating the goal of aging-in-place. According to AARP, more than 75% of the aging population want to live in their homes for the rest of their lives.
This "housing tsunami" is further complicated by the growing realities of "gray divorce" (one in four over age 50), financial hardship, and chronic health issues. In fact, more than 65% of Americans ages 50-plus have one chronic health issue, which will double to two by age 65. And, seven in 10 live alone after age 65.
These number paint a rather bleak picture that we at Silvernest are unwilling to accept. Our roommate matching service sits squarely at the intersection of these housing challenges and technology innovation to position homesharing as a viable aging in place alternative for this growing population.
Our goal? To tap into the power of the sharing economy, to pair homeowners with space to share with roommates looking for a new home via secure and easy to use online resources. And its easier than you think for this growing population to get on board. Baby Boomers represent the largest demographic on the Internet with more than 75% as digital buys and 65% active on social media; their buying power eclipses that of much-ballyhooed younger generations.
The outcome? To address this crisis by creating opportunities for improved financial stability and greater emotional connections later in life—key factors in healthy aging.
Join us during the poster sessions at the Aging in America Conference to talk through these statistics and discuss how the industry can work together to reshape aging in America with aging-in-place at its core.
---

For Silvernest CEO Wendi Burkhardt home is where the big ideas are. Wendi has decades of experience uniting strategy and technology to build success for everyone from venture startups and rapid-growth tech firms to Fortune 500 corporations. Learn more about Silvernest at www.silvernest.com or follow them @SilvernestLife on Twitter.