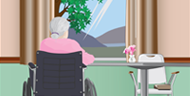 By Patricia L. McGinnis
For more than 30 years, California Advocates for Nursing Home Reform (CANHR), a nonprofit advocacy organization in San Francisco, has been dedicated to improving the choices, care and quality of life for California's long-term-care consumers and their family members. Although CANHR is known for its work on nursing home reform issues, the organization deals with a variety of issues affecting long-term-care consumers and their caregivers, including pre-placement counseling, elder financial and institutional abuse, and, most importantly, access to alternative settings other than nursing homes, including assisted living, known as Residential Care Facilities for the Elderly (RCFE), in California.
California LTC Oversight Is Broken
California has more than 7,400 RCFEs, which range in size from three beds up to 200-plus beds. The quality of care in RCFEs long has suffered the consequences of annual budget cuts to California's Community Care Licensing, the state's extant oversight agency. With licensing visits reduced to once every five years and a "one-size-fits-all" regulatory system that failed to account for the ever-increasing acuity levels of the residents, the RCFE system was broken and unsafe for elder consumers.
A June 2013 Frontline/ProPublica documentary and investigation, "Life and Death in Assisted Living," highlighted some of the critical issues faced by RCFE residents in California. A September 2013 investigative report by the San Diego Union Tribune and the California Healthcare Foundation Center for Health Reporting revealed that hundreds of elders suffered broken bones, deadly bedsores and sexual assaults in San Diego RCFEs, while documenting at least 28 deaths in these facilities due to injuries and neglect.
In October 2013, CANHR released a white paper on the status of RCFEs in California. This special report, Residential Care in California: Unsafe, Unregulated & Unaccountable, highlighted the many problems in assisted living, and its oversight and enforcement thereof in California. The report also proposed a number of legislative recommendations for change.
A Criminal Act Spurs Advocacy
This call for reform gained significant traction in October 2013 when the owner/licensee and administrator of a Castro Valley RCFE abandoned the facility and its 19 sick and elderly residents—some bedridden—after the state had ordered the facility closed. The abandonment forced a part-time cook and a janitor to care for the residents for three days until paramedics arrived. The subsequent statewide publicity of this tragic failure resulted in a call for reform from newspaper editors, consumers and California's legislators.
At a January 13, 2014, press conference in Sacramento, CANHR—with a coalition of legislators, consumer advocates and family members of RCFE residents—introduced the RCFE Reform Act of 2014. The thirteen bills that made up the Act were authored by a bipartisan group of legislators. Some of the bills were aimed at improving care in facilities: new training requirements for staff, increased penalties for poor care and creating a resident bill of rights. Others sought to enhance RCFE supervision by the California Department of Social Services (CDSS): mandating annual inspections, timely investigating of consumer complaints and creating an online information system so the public could compare facilities. One bill required that facilities be covered by liability insurance, which previously was not a requirement. Ultimately, Gov. Jerry Brown signed nine of the RCFE Reform bills sponsored by CANHR and several others that CANHR supported. The Governor also increased the budget for CDSS's oversight and enforcement system.
The owner and administrator of the Castro Valley RCFE, Herminigilda Manuel, was charged with 14 felony counts of elder abuse, and one of the RCFE bills signed by the Governor guarantees that she will never again be able to hold an RCFE license. For details on the RCFE Reform Act and to read CANHR's report, click here.
---
Patricia L. McGinnis is executive director of California Advocates for Nursing Home Reform in San Francisco.
Editor's Note: This article appears in the January/February 2016 issue of Aging Today, ASA's bi-monthly newspaper covering issues in aging research, practice and policy. ASA members receive Aging Today as a member benefit; non-members may purchase subscriptions at our online store or Join ASA.