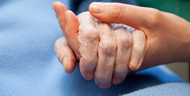 By Joe Rotella
The mission of the American Academy of Hospice and Palliative Medicine (AAHPM) is to improve the care of patients with serious or life-threatening conditions through the advancement of hospice and palliative medicine. AAHPM offers an array of resources to help patients and practitioners get the most from this special approach to care. A couple of definitions may help here. Palliative care is for people of any age and at any stage of serious illness, whether that illness is curable, chronic, or life threatening. It focuses on improving quality of life by managing pain and other distressing symptoms and can be provided along with other medical treatments, including those designed to cure or to prolong life. Hospice is palliative care for patients who are near the end of life. Hospice care can be provided in the home, hospice center, hospital, nursing home, or wherever the patient lives.  Physicians who specialize in hospice and palliative medicine listen to patients and their families and help them establish what matters most to them as they live with serious illness. Experts in pain and symptom control, they work with other doctors and healthcare professionals, align treatments with the patient's goals of care, and support patients and families as they navigate the complex healthcare system and strive for the best quality of life possible.
 
Let's highlight a few of the more popular AAHPM resources:
---
Joe Rotella, MD MBA HMDC FAAHPM, Chief Medical Officer, American Academy of Hospice and Palliative Medicine. You can reach him at jrotella@aahpm.org.
This article was brought to you by ASA's Healthcare and Aging Network.