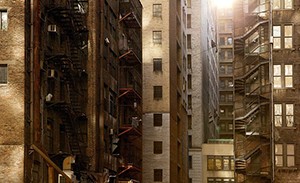 By Alisha Sanders
As we pursue long-term services and supports (LTSS) financing reform, policy makers must bear in mind two related concerns. First, for reforms to be meaningful across the economic spectrum, the needs of low-income older adults will have to be considered. Second, even when resources to pay for LTSS are available to most people, new care delivery models that more effec­tively reach and meet the needs of low-income older adults must be developed. This article pre­sents an idea that speaks to both issues: a new model for affordable housing with services.
While Social Security has played an impor­tant role in improving economic security for older adults, many remain economically stressed. In 2016, 7.1 million adults ages 65 and older (14.5 percent) lived in poverty, according to the Supplemental Poverty Measure (SPM), which takes into account benefits and typical expenses. An additional 21 million older adults (42.4 percent) had incomes below 200 percent of the SPM level (Kaiser Family Foundation, 2018).
Trends in income, wealth, and debt for cur­rent and near retirees indicate continued eco­nomic challenges for many older adults. Declines in defined benefit retirement plans and lim­ited savings will drag on incomes. According to the Employee Benefit Research Institute (2018), a higher percentage of families with heads of households who are ages 55 and older have debt than in previous years, with the great­est increase being among families with heads of households who are ages 75 and older. Mortgage debt is generally the largest contributing factor.
Demographic trends also portend greater economic vulnerability among older adults. The older adult population is becoming more diverse. Retirement income mostly depends upon how much a person earned during their working years, and, on average, people of color earn less than non-Hispanic whites (Johnson, 2015). Mar­ital status also impacts income. Poverty rates are higher among widowed, divorced, and never-married older adults. A growing number of older adults are single, due in part to lower marriage rates among baby boomers and to women's lon­ger life expectancies (Johnson, 2015).
Housing and Health Challenges
Many economically challenged older households are burdened by housing costs. Older adults are more likely than their younger counterparts to spend more than 30 percent of their income on rent. In 2015, about half of renter families headed by someone ages 65 or older were rent-burdened (meaning they spend more than 30 per­­cent of their income on rent and utilities) and more than a fifth were severely rent-burdened (spending more than 50 percent of their income on rent and utilities) (The Pew Charitable Trusts, 2018).
While renters are more likely to pay a higher proportion of their income on housing costs due to their generally lower incomes, many older homeowners also are cost-burdened. Utilities, maintenance and repairs, insurance, and prop­erty taxes cost about as much, on average, as rent (Johnson, 2015). Older adults with mortgages spend even more.
Advancing age increases the likelihood of chronic illness, frailty, and disability, which can lead to greater healthcare and LTSS use (AARP, 2009; Redford and Cook, 2001). To continue liv­ing independently, as most older adults would like to do, individuals may need access to in-home support services and housing that can be adapted to their growing needs (Lawton, 1976). This may be particularly difficult for lower in­­come older adults, who have fewer resources with which to meet their support needs.
Affordable Housing Plus Services: One Promising Solution
This convergence of trends places an enormous strain on older adults, family caregivers, and service and support systems. Research shows advanced age, race and ethnicity, lower incomes, and chronic illnesses and disability result in higher health and long-term-care service use and costs. While older adults have an over­whelming desire to age in their community, low- and modest-income older adults face the challenge of finding affordable housing that can also accommodate their changing needs and support their health and quality of life as they grow older.
Linking affordable housing communities with health and supportive services may provide one cost-effective answer for meeting the needs of lower income older adults. By leveraging an existing network of thousands of housing prop­erties in neighborhoods across the country, the model has several benefits. It creates service-delivery efficiencies, concentrating at-risk indi­viduals in one location for providers and mini­­­­­mizing access limitations for older adults. It also capitalizes on existing housing staff, who have trusted relationships with residents; who know residents' preferences, needs, and capacities; who have regular contact with residents and can notice emerging health needs; and who can help residents with accessing resources that support their social and health needs.
Multiple initiatives are underway at the federal and state levels to reform the nation's health and LTSS systems. Health reform efforts are reshaping delivery and payment mecha­nisms to drive improved health outcomes, par­ticularly among vulnerable populations. Efforts to transform the LTSS system are designed to shift services away from institutional settings and expand opportunities for individuals to receive care in the community. These two areas of reform share the goal of slowing the growth in Medicare and Medicaid spending. Afford­able senior housing communities house a large number of dual eligible individuals, a population these reform efforts commonly target.
Support and Services at Home
The Support and Services at Home (SASH) pro­gram in Vermont is one approach to using afford­able housing properties as a platform for service delivery and care coordination for older adults and individuals with disabilities. SASH operates in 140 properties across the state. Residents who choose to participate are supported by an onsite enhanced service coordinator and wellness nurse team; both provide direct assistance and programming and help residents navigate and connect with health services and social supports in the community. The onsite team collaborates with local service provider organizations—such as home health agencies, councils on aging, or area agencies on aging—and community mental health organizations to comprehensively address residents' needs. The onsite team also works with community health teams that are a part of Vermont's statewide medical home network, further supporting residents in managing their chronic health needs.
An evaluation of the SASH program found that certain groups of SASH participants expe­rienced slower growth in total annual Medicare expenditures by an estimated $1,450 per benefi­ciary, relative to a comparison group. The dif­ference was driven by slower rates of growth for hospital, emergency department, and specialty physician costs (Kandilov et al., 2018).
Selfhelp Active Services for Aging Model
An evaluation of the Selfhelp Active Services for Aging Model (SHASAM) program, operating in eleven housing communities in New York City, found that Medicare beneficiaries in properties offering the program had a 32 percent lower hos­pitalization rate than other beneficiaries in the same zip code (Gusmano, Rodwin, and Weisz, 2018). With support from an onsite service coordinator, the SHASAM program assesses residents' needs; offers onsite wellness, health education, fitness, and social programs; and helps residents to access benefits and resources in the community.
Promising examples of services and programming
Many housing organizations across the country are bringing services and programming to their properties in various ways and are assisting their residents in connecting with resources in the community. Many housing communities employ a service coordinator to assist residents with identifying, accessing, and maintaining benefits and services. These resources often help address social determinants of health needs that affect an older adult's ability to successfully manage and maintain his or her health. One study found that older residents living in housing properties with onsite service coordinators had 18 percent lower odds of being hospitalized than did resi­dents in housing without service coordinators (Sanders et al., 2014).
Examples of services and programming that affordable senior housing communities are bringing to their residents include the following:
Eaton Senior Communities in Lake­wood, Colorado, hosts wellness coaching interns from Metropolitan State University's integra­tive healthcare program to work with residents to identify and fulfill individual wellness-related goals. The housing organization also partners with a rehabilitation agency that provides onsite fitness programming, as well as physical and occupational therapy (see www.eatonsenior.org).
Northgate II in Camden, New Jersey, employs a community health worker who assists residents with accessing and communicating with healthcare providers, and supports them in understanding and managing their chronic con­ditions (see tinyurl.com/ycqstrlz).
Jewish Community Housing for the Elderly in Brighton, Massachusetts, hosts a social club to help engage and support residents who have memory impairments. The property also has an extensive fitness program, which, among other benefits, helps to address fall risks (see jche.org/).
In light of the promising evidence of hous­ing serving as a platform for service coordination and delivery, the U.S. Department of Housing and Urban Development (HUD) is funding a three-year, $15 million demonstration program in forty sites across the country to test the ability of service-enriched housing to help low-income residents manage their health and age in place.
Also, housing plus services programs have the potential to work as a hub for service delivery and to extend into surrounding neighborhoods to assist more older adults. Individuals who live out­side of affordable housing communities can par­ticipate in the SASH program, for example. Older adults can come to the housing properties to par­ticipate in programming and activities, and the SASH team can directly assist them via telephone and home visits. The Gladys and Henry Crown Center for Senior Living in St. Louis, Missouri, invites older adults in the neighborhood to par­ticipate in the Crown Center's wellness and social programming, striving to address health preven­tion and social isolation concerns.
What Is Needed
While affordable housing holds great promise for helping to support older adults as they age and as their health and supportive service needs change, the availability of options to meet cur­rent and future demand looks bleak.
In 2016, approximately 1.7 million low-income older adults received federal rental assistance—only 34 percent of those who are eligible for it. An additional 3.2 million eligi­ble low-income older adult renters received no assistance. The Harvard Joint Center for Hous­ing Studies (JCHS) estimated that just to main­tain a similar level of assistance in 2030, an additional 900,000 older adults would need to receive rent­­al assistance in some form. This would leave 3 to 4 million low-income older adults having to find affordable options in the private market (JCHS, 2014).
The FY 2018 Omnibus Spending Bill provided the first funds for new Section 202 Housing for the Elderly construction since FY 2011, and these funds will only create a nominal amount of new units. New construction is ongoing through the Low Income Housing Tax Credit program, how­ever, that program struggles to serve the low­est income older adults. Over the past several years, funding for rental subsidies that assist individuals with the lowest incomes, such as for the Housing Choice Voucher, has barely kept up with current recipient levels, much less been expanded to address unmet demand.
Housing plus services programs are funded through a variety of sources, including HUD sup­port for a modest service-coordinator function, direct support from health systems and health plans, hospital community benefit dollars, public or philanthropic grants, and in-kind services from community-based organizations. These sources are ad hoc, intermittent, and generally inadequate to fund a more comprehensive program.
To scale housing plus services models on a national and sustainable level to help address the burgeoning low-income older adult popula­tion, increased funding will be needed to expand the supply of affordable housing. New financ­ing mechanisms also are needed to support ser­vice delivery in housing settings. As research indicates, these programs reduce Medicare uti­lization and expenditures. The Centers for Medi­care & Medicaid Services should identify a new placed-based benefit that supports coordination and wellness services in senior housing settings. Such a benefit aligns with recent legislative and regulatory actions to develop value-based deliv­ery and payment models that drive better health outcomes and lower costs.
Many of these initiatives acknowledge that health is affected by more than medical care, and emphasize opportunities to better coordinate care across health and social needs, and increase flexibility in care delivery. In a November 2018 speech, Health and Human Services Secretary Alex Azar recognized the impact social deter­minants of health have on a person's health and hinted at coming potential "solutions for the whole person" that would be more concrete and reach beyond encouraging connections and referrals (Azar, 2018). Creating a specific financ­ing mechanism for models that support service delivery in affordable housing settings would provide a solution for comprehensively address­ing the social, health, and LTSS needs for vul­nerable, low-income older adults.
Alisha Sanders, M.P.Aff., is director, Housing Plus Services Policy Research, at the LeadingAge LTSS Center @UMass Boston, in Washington, D.C. She can be contacted at asanders@leadingage.org.
References
AARP. 2009. Beyond 50.09 Chronic Care: A Call to Action for Health Care Reform. Washington, DC: AARP Public Policy Institute.
Azar, A. 2018. "The Root of the Problem: America's Social Deter­minants of Health." Speech deliv­ered at the Hatch Foundation for Civility and Solutions, Washing­ton, D.C., on November 14. tinyurl.com/ya9fj9fk. Retrieved January 24, 2019.
Employee Benefit Research Insti­tute (EBRI). 2018. Debt of the Elderly and Near Elderly, 1992–2026. Issue Brief No. 443. Wash­ington, DC: EBRI.
Gusmano, M., Rodwin, V., and Weisz, D. 2018. "Medicare Ben­eficiaries Living in Housing with Supportive Services Experienced Lower Hospital Use Than Others." Health Affairs 37(10): 1562–9.
Johnson, R. 2015. Housing Costs and Financial Challenges for Low-Income Older Adults. Washington, DC: Urban Institute.
Joint Center for Housing Studies (JCHS) at Harvard University. 2014. Housing America's Older Adults: Meeting the Needs of an Aging Population. Boston: JCHS.
Kaiser Family Foundation. 2018. "How Many Seniors Are Living in Poverty? National and State Estimates Under the Official and Supplemental Poverty Measures in 2016." tinyurl.com/y7wsjrjt. Retrieved September 6, 2018.
Kandilov, A., et al. 2018. "The Impact of the Vermont Support and Services at Home Program on Healthcare Expenditures." Cityscape 20(2): 7–18.
Lawton, M. P. 1976. "The Relative Impact of Congregate and Tra­ditional Housing on Elderly Ten­ants." The Gerontologist 16: 237–42.
Redford, L., and Cook, D. 2001. "Rural Health Care in Transition: The Role of Technology." Public Policy and Aging Report 12(1): 1–5.
Sanders, A., et al. 2014. Afford­able Senior Housing Plus Services: What's the Value? Washington, DC: LeadingAge LTSS Center @UMass Boston.
The Pew Charitable Trusts. 2018. American Families Face a Growing Rent Burden. Washington, DC: The Pew Charitable Trusts.