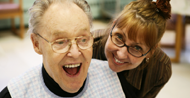 Crystal McGaha
Out of my concern for and curiosity about older adults I often wonder, "How can we, as professionals in aging, encourage and help elders find substance, happiness, healing, inspiration and, importantly—purpose and fulfillment? How can we shift focus away from decline, deficiency and loss in late life to encourage growth and possibility?"
As I am learning, there is a difference between the meaning of life and individual purpose. I am deeply saddened to think about the vast number of adults in the final stages of life who feel they will never reach their full potential. Purpose is something to be pondered, something I believe everyone should yearn to examine and something I hope everyone will have the opportunity to seek and find.
As Geriatric Care professionals, it is important to be aware that every person operates differently, with individualized emotions and ideals and, regardless of age or ability, everyone has dreams—whether on the surface or buried deep down. Keeping in mind that ideals and passions vary according to preferences, beliefs, abilities, talents and backgrounds, we must strive to find an approach that works best for each situation, to guide and support elders striving to reach their fullest potential and obtain their greatest sense of fulfillment.
A critical, often neglected aspect of caring for older adults and trying to improve their quality of life is purpose and/or dream fulfillment. As Geriatric Care professionals, it is vital to understand the complex, interconnected parts of an individual, considering mental, physical, spiritual and social factors and how they not only affect older adults' physical health, but also their outlook, fulfillment and well-being. To assist in improving older adults' quality of life, we must confront matters that damage quality of life, assist in making decisions that are in the best interest of clients and their loved ones and seek to improve the process of aging. The aging individual has often had a world of experiences and interactions contributing to who he or she is, who and what he identifies with, what he practices, how he behaves, what he believes, what he is passionate about, what he wishes to achieve in life and how or if he wants to contribute to society in late life.
When seeking to assess and improve upon the developmental process and quality of life in older adults it is vital to consider their experiences, beliefs, practices, values, setbacks, challenges, preferences and goals. Using questionnaires, conversation, group activities and offerings (with attention to who participates) we can identify passions, interests, needs, desires, sense of purpose and direction. During this process one also must pay attention to how an older adult behaves, what makes them smile, what they talk about, what they collect, what they cherish, what they find troubling and what they like to do.
Perhaps the best way to facilitate this work is through a life-course perspective— the timeframe in which our lives unfold and how culture and history have influenced experiences and development. Often when studying an individual's development and reflecting upon their accomplishments and life's work we fail to consider such historical context and the sociocultural effects of times and events. The life-course perspective dramatically impacts personal development and approach to late life, so it's key that Geriatric Care professionals are attentive to older adults' reflections. A life-course perspective also considers how individuals may have connected through shared experiences within a particular time period and/or how individuals may have been affected in similar ways according to similar lifespans in the same time period. As Geriatric Care professionals, there is great value in listening to and encouraging aging individuals to reflect upon, share and document life experiences, memories, beliefs, feelings, stories, etc. To encourage elders in finding purpose and potential in the later stages of life, the life-course perspective, directed and/or free-flowing conversation, identifying values and priorities, journaling, reflection and revisiting can all prove beneficial.
 As aging professionals, it is important for us to understand the various influences on a life's course and to examine what there is to learn from life experiences in correlation with individual aging experiences. As geriatric care professionals, it is important to encourage and assist older people as they identify activities that are meaningful and fun on an individual level, what interests them, how they wish to spend their time, how or if they currently wish to contribute to the world and how they enjoy expressing themselves. While older adults with physical and mental limitations, chronic illness or disease, and disabilities may not be able to do as much as other individuals with full capacity, professionals in aging can help clients to identify what is possible and how to find purpose, meaning, dignity and fulfillment.  Professionals in aging must seek to assess quality of life and encourage progress toward goals by determining individual meaning associated with elements of quality of life. Providing aging individuals with opportunities for field trips, social and cultural immersion, new experiences, lifelong learning, creativity, exploration and volunteering often aids in a sense of fulfillment and joy in life.
Identifying areas that need to be addressed and/or filtered out of an individual's life to obtain happiness and fulfillment is equally as important as is identifying dreams and implementing new activities. As Geriatric Care professionals, it is vital to shift focus away from deficiency, loss and decline in late life to encourage positivity, possibility and growth. We can significantly improve older adults' quality of life when we strive to go beyond surface evaluations and approaches to identify and address buried interests, talents and desires, finding ways to create exciting possibilities for elders and society as a whole.
---
Crystal McGaha is working toward her M.A. in Gerontology with a concentration in Professional Geriatric Care Management through Nova Southeastern University in Fort Lauderdale, FL. Connect with her through LinkedIn or email.
I would personally like to take this opportunity and time to thank all individuals who are focused and dedicated in taking care of the elderly.
Dr Candace SP Williams