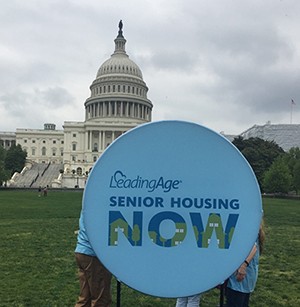 By Amy Herr
More than 1,000 seniors and advocates marched to Capitol Hill on May 8, 2019 to urge Congress to support increase funding for affordable senior housing—a priority issue for the American Society on Aging (ASA).
Organized by ASA and Leading Age, the Senior Housing Now rally drew senior housing residents from 10 states as far away as California. Rally attendees carried homemade signs, including one with the heartbreaking message "I waited five years." No one should have to wait so long for a safe place to live—and yet, millions of Americans do. The demand for affordable housing for low-income older adults far exceeds the supply, resulting in long wait times. Many older adults never make it off the waiting list.
Four members of Congress attended the rally, including:
Senator Tim Kaine (D-VA);

Representative Lacy Clay (D-MO), House Financial Services Subcommittee on Housing, Community Development and Insurance Chair;

Representative Katie Hill (D-CA), House Housing Task Force Co-Chair; and

Representative Donna Shalala (D-FL), former Department of Health and Human Services Secretary during the Clinton Administration.
Every day, 10,000 individuals turn 65, and 10-15 percent of these seniors will live in poverty. And yet, the federal government has chronically underfunded or eliminated subsidized programs for low-income seniors. For seniors living on fixed incomes and with little savings, affordable housing is especially critical.
Congress needs to act now to bolster the senior affordable housing in communities across the U.S.
ASA urges Congress to act now to ensure our nation's low-income seniors have access to safe, affordable homes. Congress should:
Increase federal funding for the HUD Section 202 Housing for the Elderly program,

Increase federal funding to expand availability of Section 8 vouchers, and

Expand federal/state tax credits for affordable housing.
Amy Herr, MHS, PMP, is the Director of Health Policy for the nonprofit, nonpartisan West Health Policy Center. The Policy Center is part of a suite of West Health nonprofit, nonpartisan organizations. West Health's mission is to lower the cost of healthcare to enable seniors to successfully age in place, with access to high-quality, affordable health and support services that preserve and protect their dignity, quality of life and independence. West Health is supporting and advancing scalable and sustainable home- and community-based healthcare and supportive services delivery models that enable seniors to age successfully where they want to be. Ms.  Herr is also the Co-Chair of ASA's Public Policy Committee.
Images from the Senior Housing Now Rally at the U.S. Capitol on May 8, 2019, where older Americans and members of Congress gathered to voice support for increased federal funding for affordable senior housing.