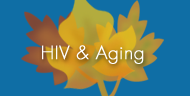 By James P. Campbell
The National HIV/AIDS and Aging Conference happened this past September in Boston, following the annual fall fade of the Red Sox. Each year the New England Association on HIV Over Fifty (NEAHOF), in cooperation with the New England AIDS Education and Training Center and the Lemuel Shattuck Hospital convenes a meeting of more than 400 healthcare professionals concerned with HIV and aging, assembles a faculty of experts, and spends a Friday discussing the newest findings on these issues at the John F. Kennedy Library and Museum (also a collaborator). A welcome note from Jeff Crowley of the White House Office of HIV/AIDS was part of the opening ceremony.
This year's speakers included Dr. Cal Cohen, of the Community Research Initiative of New England, who reviewed the 30-year history of the epidemic, and showed how the epidemic's demographics have evolved. He cited data from the SMART study, led by CRI, which established that early treatment not only benefits the individual, but also decreases the risk of transmission and side effects of treatment, including those related to aging.
Dr. Glenn Treisman traveled from Johns Hopkins Medical Center in Baltimore to share his expertise on AIDS and psychiatry. He reviewed research showing that psychiatric patients have an increased risk of HIV, are less likely to receive and stay on HAART (Highly Active Retroviral Therapy), are less likely to attain an undetectable viral load and are more likely to die from HIV. Triesman expanded on the problem of HIV-related dementia, and suggested easier means of dementia screening. He also suggested that health providers should become more aggressive in the diagnosis and treatment of depression, as well as screening HIV-positive people for cognitive impairment. And they should seek treatment for other mental health concerns, including personality disorders. All treatments should be individualized to each patient.
Stephen Karpiak, Ph.D., gave the keynote address, reviewing epidemiologic data from the ROAH (Research on Older Adults with HIV) study in New York City, and discussed the newly recommended treatment strategy guidelines for older patients issued by the American Academy of HIV Medicine.
Jeanine Reilly, BSN, RN-C, LNHA, an expert in the needs of nursing facilities managing the post-acute needs of people living with AIDS, discussed "The Graying of AIDS," focusing on the limited experience most Gerontological practitioners have with AIDS, the need for increasing AIDS education and sensitivity training for staff, and the need for care management—including managing stigma, possible substance abuse and pain management. She emphasized that many of her clients will eventually be able to return to the community, yet will have problems with placement, including housing, family and support issues.
Other speakers included Dr. Liz Cass, who discussed the primary care issues of caring for the aging AIDS patient; Dr. Steven Grinspoon of Massachusetts General Hospital, who reviewed metabolic disease manifestations and representatives from the Commonwealth of Massachusetts government, including Commissioner John Auerbach, H. Dawn Fukuda and Jeremy Holman, who reviewed HIV/AIDS epidemiology in Massachusetts, and held a panel discussion including community members.
Dr. Nathan Linsk was awarded the Robert F. Kennedy award for Social Justice, and gave remarks relating his long and distinguished work on this issue.
It was gratifying to witness the enthusiasm of the participants and speakers, as each year there is increased interest in the issue of HIV and Aging. Next year's meeting will take place September 28, 2012.
---
James P. Campbell is president and CEO of the New England Association on HIV Over Fifty (NEAHOF). 
This article is brought to you by the editorial board of ASA's LGBT Aging Issues Network (LAIN).